Despite an 0-1 major league record and the roof caving in, the Royals sent out their minor league rosters on Monday with the decision to try to compete at those levels. The Royals, after playoff runs in 2014 and 2015 that cost them a heavy haul of prospects, have a farm system lacking compared to what we've seen in the past. Still, there are a few prospects worth noting as they rebuild their system at the lower levels.
Wilmington Blue Rocks
The '16 version of the Wilmington squad was awful despite a total stud at first base in Ryan O'Hearn for the first month of the season. At first glance, I wouldn't expect a lot more out of this team as it doesn't feature much in big-name prospects, but the defense could be very good with Nicky Lopez and D.J. Burt up the middle and an outfield with four players who could all play center.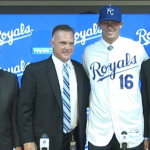 The Players to Watch – The top-ranked prospects on this team according to my in house organizational rankings are Scott Blewett (#9), Chase Vallot (#10) and A.J. Puckett (#14). While I expect those players to have solid seasons, I went with Puckett and a healthy Anderson Miller (#21) to be my breakout players for Wilmington in 2017.
The Surprise – The biggest stunner here is the addition of lefty Cristian Castillo to the Wilmington pitching staff and rotation. The lefty was signed out of Mexico as a 20-year-old in December of 2014 and has been nothing short of solid since that deal, winning pitcher of the year in '15 for the DSL squad and in '16 for the Burlington Royals. As a pitcher, Castillo features a pair of good secondary offerings in his changeup and curve, with good control of his upper 80's to low 90's fastball. Perhaps the Royals have a back-end starter in the making here and the front office is obviously intrigued by the stuff to give him a bump from rookie league up to High-A.
The Omissions – Not a shocker here with Chase Vallot now at Wilmington, but I'm surprised to see neither Luis Villegas or Xavier Fernandez to backup Vallot at catcher. Both catchers had decent seasons last year in Lexington and Wilmington respectively. Other than that some may be surprised to see Ben Johnson and Cody Jones being left off, but it doesn't shock me that much having seen them in comparison to the players on the rosters.
Rotation
Foster Griffin* – '14 1st Rd Pick hasn't seen the velocity that was hoped for at the time of the draft.
Scott Blewett – Youngest player on the roster, still just 20 on Opening Day.
A.J. Puckett – 2016 2nd round pick.
Cristian Castillo – '14 Intl. FA from Mexico.
Colin Rodgers* – '12 3rd Rd Pick and TJ survivor.
Bullpen
Emilio Ogando – Sally League All-Star last season, could work as a piggyback starter.
Luis Rico* – Acquired w/ Luis Sanchez in trade for Clint Robinson and Vin Mazzaro w/ Pirates.
Andres Machado – '10 Intl. FA Venezuela – a solid season for Idaho Falls in '16.
Jared Ruxer – Acquired in trade for Brooks Pounders w/ Angels.
Jake Kalish* – Outstanding between Lexington and Wilmington last season 9 K/9, sub 1 WHIP.
Yunior Marte – As much arm talent as any player in the organization.
Franco Terrero – A Royals high up member of the front office compared him to Kelvin Herrera to me.
Richard Lovelady – '16 10th Rd Pick with a slider/fb combo from a below 3/4 arm angle.
Catchers
Chase Vallot – '14 Supplemental 1st Rd Pick with big power.
Nate Esposito – '15 33rd Rd Pick, hit .317 while being backstop for the league's top-ranked pitching staff.
Infielders
Colton Frabasilio 1b* – '14 23rd rd pick
D.J. Burt 2b – '14 4th rd pick, an athletic and speedy player with a good approach at the dish.
Nicky Lopez SS – '16 5th rd pick, slick fielding shortstop with a decent approach at the plate.
Wander Franco 3b* – Oft-injured third baseball with a quick bat and some power despite a slim frame.
Travis Maezes 2b/3b – '15 13th Rd Pick with power and a tendency to strikeout.
Jecksson Flores SS/2b – '10 Intl FA Venezuela
Outfield
Elier Hernandez* – '11 Intl. FA Dom. Republic, nearly identical seasons between '15&'16 at Wilmington.
Brandon Downes  – '14 7th Rd Pick, lead the Blue Rocks in extra base hits with 49 last season.
Anderson Miller – '15 3rd Rd Pick, smooth-swinging outfielder with some power.
Roman Collins – '15 5th Rd Pick, had an outstanding summer league in Australia.
Lexington Legends
The Royals will search for their first winning season since joining up with the Lexington franchise of the South Atlantic League in 2013. This squad features a group that compares favorably to those in Wilmington and above in terms of tools as they have some outstanding athletes who need to refine those skills to grow as baseball players.
The Players to Watch – If you have been paying attention to what I write, then you know I absolutely love Khalil Lee (#4) and am looking forward to him exploding on the prospect scene in Lexington this season. Along with Lee, fans will need to pay attention to catcher Meibrys Viloria (#12) to see if his offensive season in Idaho Falls last year was for real. In my breakout post, I spotted Cristian Castillo as a pitcher to watch for Lexington, but with his surprise placement in Wilmington, I'll select Gerson Garabito in his place as a pitcher with a good fastball and curve to take advantage of youthful Low-A hitters.
The Surprise – Not a whole lot of surprises here, but Grant Gavin cracking the full league squad over some bigger and higher drafted names in the organization is a nice surprise. The former St. Pius X graduate was selected out of the University of Central Missouri in the 29th round last season and earned Pitcher of the Year for the Arizona squad after joining the organization.
The Omission – The obvious choice here is Ashe Russell. The Royals 2015 1st round pick tossed just 2 innings last year and will look to rediscover his lost velocity in hopes of getting back on a mound consistently in 2017 after seeing his velocity drop to the mid-80s at points in 2016 after tweaking his delivery.
Pitchers
Nolan Watson*- '15 1st Rd Pick, allowed league high HR total in '16 despite a four-pitch mix.
Garrett Davila – '15 4th Rd Pick, lefty with good control and an outstanding season in Burlington last year.
Gerson Garabito* – '12 Intl FA signee DR, Up and down '16 despite a good fastball and curveball combination.
Travis Eckert – '16 7th Rd Pick, without a dominant pitch but a good mix to choose from similar to Matt Boyd.
Jace Vines – '16 4th Rd Pick, struggled at Idaho Falls after signing as a draft-eligible Sophomore.
Andre Davis – '15 8th Rd Pick, can reach the mid to upper 90's from the left side.
Julio Pinto – '12 Intl FA signee from Venezuela, has a good fastball and curve but struggles with control.
Vance "Moonlight" Tatum – '16 18th Rd Pick
Jose Veras – '11 Intl FA signee DR
Grant Gavin – '16 29th Rd Pick
Ofreidy Gomez – '12 Intl FA signee DR
Walker Sheller – '16 9th Rd Pick, RHP with a near 50/50 arm slot that throws in low 90's w/ two plane slider.
David McKay '16 14th Rd Pick, brother in the Marlins system while David had a solid year for Burlington.
Catchers
Meibrys Viloria – '13 Intl FA Colombia, lefty-swinging catcher who used to play shortstop as a youngster.
Nick Dini – '15 14th Rd Pick, small stature at just 5'8 but should be able to help Viloria call pitching game.
Infield
Chris DeVito 1b – '16 8th Rd Pick, Girth Quake is the kid's nickname and power is his game.
Gabe Cancel 2b – '15 7th Rd Pick, getting some buzz as a solid bat second baseman.
Ricky Aracena SS – '14 Intl Signee DR, speedy shortstop that needs to refine his skills.
Manny Olloque 3b – '14 16th Rd pick, shown a solid bat even if he doesn't fit 3b power profile.
Emmanuel Rivera 3b – '15 19th rd pick, solid glove that needs to hit more.
Angelo Castellano IF – '11 Intl. signee from Venezuela, has played four games prior in Lexington.
Outfield
Marten Gasparini* – Italian signee that struggled to hit sub .200 last year. Will a move to OF free up his large toolset?
Amalani Fukofuka – '13 5th Rd Pick, struggled to make contact at the Low-A level w/ 136 K.
Kort Peterson – '16 23rd Rd pick, after struggling at UCLA he hit extremely well at rookie ball.
Khalil Lee – Can Lee live up to the prospect hype he has garnered since joining the org?
* Players who are repeating a level.