A 1-2 night on Monday with a big win by Lexington over a 1st round pick.
HR Roll Call: Manny Olloque (2)
BPKC Hitter of the Day: Kort Peterson 4-4, 3R, 2 RBI, BB, SB 
BPKC Pitcher of the Day: Andre Davis 6 IP, 6 H, 4 ER, 1 BB, 8 K, 2 HR, 2-5 GO-FO, 90p/60k
Players Spotlights
Relievers Jake Newberry and Richard Lovelady stood out on this night.
Newberry – At Double-A, the righty who joined the organization in 2012, shows a mid-90s fastball that he was spotting deep in the low part of the zone on Monday night. While that fastball is nice, the real gem was a tight slider he was working in the mid-80s. It reminded me of what I saw from Greg Holland at the same level several years ago, but with less effort. Of course, Holland's velocity ticked up some more to push him from a 7th inning to fringe 8th inning guy into Saveman. The stuff Newberry is showing currently is worthy of a 40-man roster spot this offseason and another tick of velocity could earn him a call-up this year.
Lovelady – CJ Wittman of Perfect Game liked what he saw of Lovelady on Monday night.


Corpus Christi Hook 3 NW Arkansas Naturals 2
The Naturals couldn't get a whole lot of offense going in their game with Corpus Christi, connecting on just seven hits and two runs to drop to 1-4 on the season. New Double-A starter Corey Ray didn't help himself much, giving up a solo home run to the second hitter he faced before walking four more and allowing two other runs to take the loss. Coming into the game the Naturals had scored a league-worst 12 runs and their 0 for 4 with runners in scoring position prevented them from tying this one.
Mauricio Ramos 1-3, 2b, BB
Humberto Arteaga 2-4, R
Corey Ray 5 IP, 3 H, 3 R, 2 ER, 4 BB, 2 K, 77p/43k, 3-4 go-fo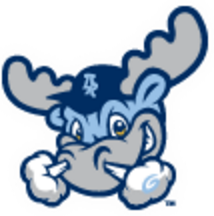 Carolina Mudcats 2 Wilmington Blue Rocks 1
The final mark in his first High-A start for A.J. Puckett results in a check in the loss column, but that doesn't tell the entire story. The righty held velocity throughout the start even as he struggled with the zone, walking four against six strikeouts. Fortunately for him, he yielded just one hit, leaving the damage at just two unearned runs in his five innings of work. The Rocks offense couldn't muster much on their end, going hitless for the first seven frames before three consecutive singles put them on the board in the eighth. That offense could do no more in taking a third consecutive loss.

A.J. Puckett 5 IP, 1 H, 2 R, 0 ER, 4 BB, 6 K, 8-2 go-fo, 87p/46k
Richard Lovelady 1 IP, 0 H, 0 R, 0 BB, 1 K, 2 GO, 16p/8k
Brandon Downes 1-3, 3b, BB

Lexington Legends 12 Greenville 4
The Legends enjoyed the mini-replica of Fenway park in Greenville on Monday night, pounding out 12 runs and 14 hits in an easy win. The biggest victim of Lexington's offensive onslaught was 2016 1st round pick Jay Groome who gave up nine runs on seven hits and three walks in just 1.1 innings. Eight of the nine Legends hitters had a hit in the game with Kort Peterson going 4 for 4 with a walk, two runs batted in and three runs scored to help pace the squad. Big lefty Andre Davis was the beneficiary of the offense, earning the win with six innings of four-run ball, while striking out eight on the night. The two teams will face off on Tuesday with Nolan Watson taking the mound for Lexington.
Gabe Cancel 2-5, 2R, 2b
Manny Olloque 1-4, Grand Slam
Emmanuel Rivera 3-5, R, 4 RBI