A 2-2 day with wins at Double-A and High-A for the affiliates on Saturday.
HR Roll Call None
BPKC Hitter of the Day: Chase Vallot 2-3 R, 2b, RBI, 2BB
BPKC Pitcher of the Day: Sam Selman 1.2 IP 0 H 0 R 0 BB 5 K 0-1 GO-FO 27p/19k 
New Orleans Baby Cakes 4 Omaha Storm Chasers 2
One day after the New Orleans Baby Cakes tossed a no-hitter, they held the Omaha Storm Chasers to just two hits in a Saturday win. Those two hits helped the Chasers cash in two runs as Dean Anna connected on an RBI single in the second inning and a double by Garin Cecchini pushed Anna to third in the fifth prior to a Billy Burns RBI groundout in that frame. It wasn't enough however as the Baby Cakes used a big day offensively by Matt den Dekker to score four runs. The former Mets prospect had a pair of doubles and a home run to drive in two of the four runs for the visitors. The two teams will square off on Sunday with Omaha sending out Jon Dziedzic.
Luke Farrell 5.1 IP 5 H 3 ER 1 BB 1 K 6-6 GO-FO 98p/64k
Eric Stout 1 IP 3 H 1 ER 0 BB 2 K 0-1 GO-FO 22p/15k
Bubba Starling 0-2 R, HBP, SB, CS
NW Arkansas Naturals 2 San Antonio Missions 1
Excellent pitching keyed a Naturals win over San Antonio on Saturday night. The NW Arkansas starter Christian Binford worked six innings of three hit, one run ball with just two walks allowed before turning things over to the bullpen to shut things down. It was a 1-1 game into the top of the seventh when Terrance Gore doubled, stole third and came home on a bunt single by Jack Lopez to give the Naturals a 2-1 lead. From there, the combo of Sam Selman and Evan Beal closed things out with eight strikeouts (seven retired) and a diving catch by Gore to save the win.
Christian Binford 6 IP 3 H 1 R 2 BB 4 K 8-2 GO-FO 76/51p/k
Donnie Dewees 1-4 R
Frank Schwindel 2-4 RBI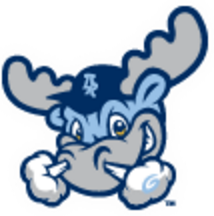 Wilmington Blue Rocks 6 Potomac Nationals 3
The Blue Rocks were gifted plenty of baserunners during their game with the P-Nats, walking nine times including seven from the Nats starting pitcher Joan Baez in three and two-third innings. Those seven walks paired with a couple of errors and two hits in that time to build a 6-0 lead. From there, starter A.J. Puckett cooled down after a three-run third inning to make it five to qualify for the win before handing things to the pen. Once in Yunior Marte's hands, the game seem in control as the Dominican righty spun three scoreless innings with five strikeouts and just one hit allowed. Fellow Dominican teammate Franco Terrero worked around his two walks to close out the ninth for his first save of the year and put Wilmington in position for a series win on Sunday.
A.J. Puckett 5 IP 7 H 3 R 2 ER 3 BB 4 K 5-4 GO-FO
Yunior Marte 3 IP 1 H 0 R 0 BB 5 K 2-1 GO-FO
Nicky Lopez 2-4 R, BB, 2 SB (3)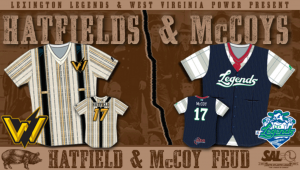 West Virginia Hatfields 3 Lexington McCoys 2
The McCoys couldn't get enough offense going during their latest feud with the Hatfields. Both team's starting pitchers baffled the opposing squad as Lexington's Andre Davis twirled six scoreless innings with five strikeouts before leaving a scoreless tie. His opposite gave up a run in the sixth inning but received better bullpen work with West Virginia scoring a run off Grant Gavin and a pair on Walker Sheller to take a 3-1 lead. The Legends (McCoys) threatened in the ninth when Gabe Cancel scored on Emmanuel Rivera's ninth inning single and an error pushed Rivera to second, but the Power avoided extra innings when Chris DeVito grounded out to end the game.
Khalil Lee 1-3 BB, CS
Gabe Cancel 1-4 R, 2b (6)
Chris DeVito 2-4