A rough weekend on the farm, but before we get to the recaps, a quick look at who has helped their status and those who have struggled over the last week.
Stock UP
Chris DeVito – The GirthQuake had a strong week at the plate with hits in five of seven games and five home runs. The first baseman doesn't have a whole lot of athleticism, but he excels at pull-side power against both lefties and righties so far this season. The .990 OPS coming into Sunday's game leads the Legends and a strong May could mean a move to High-A where he can compete against pitchers in his age range.
Frank Schwindel – Carried a 10-game hitting streak into Sunday's game with multiple hits in his last six games and home runs in the last three. With Peter O'Brien and Ryan O'Hearn ahead of him at Omaha, the DH/1b slot is a bit crowded and it is likely that Schwindel will have to play most, if not all, of 2017 at NW Arkansas. Still, if you're auditioning for a role in another organization, then hitting at a near .400 clip with power is a good way to go about things.
Foster Griffin – The former first round pick has been extremely strong in four of his five starts this season, giving up one or fewer earned runs in all four of those starts, while giving up three or fewer hits in all. The one hiccup in his five starts was against Salem in which he lasted just 1.1 IP while giving up seven runs. With a start against the Red Sox on Wednesday, Griffin will get an opportunity to prove that was a fluke and the pitcher he's shown to date is what we can expect much of the season.
Gabe Cancel – With three games of three hits in his last four played, Cancel is showing that he is currently the best second baseman the Royals have at the full season levels. The Puerto Rican draftee has a solid gap to gap approach that has generated nine doubles already this season, while also putting together a multi-home run game on Friday, the first of his career. In addition to his hitting ability, Cancel has shown he can make the spectacular play defensively and just needs to iron out the wrinkles on the routine to play the keystone spot at an average or better clip.
Others
Nicky Lopez 11-33 w/3 BB, 2-2b, 2-3b – If Mondesi can't right the ship is Lopez the SS of the future?
Logan Moon 6-14 w/ 2 HR
Scott Blewett 12 IP, 1 ER despite 10 H and 5 BB allowed.
Stock Down
Meibrys Viloria – The Pioneer League MVP went through a 0-23 stretch at one point this week and continues to struggle to make hard contact. There was some thought that his numbers were elevation-driven last year, and that could be the case if his April numbers are real. Behind the plate, he has held his own with 43% caught stealing percentage on 23 attempts by opponents, as well as showing solid receiving skills.
Lexington Bullpen – Outside of Grant Gavin the bullpen the Low-A Legends is running out there has been somewhat terrible. Following Sunday's drubbing at the hands of the Nationals affiliate, three different pitchers saw their ERA at eight or higher, while Vance Tatum wasn't far behind at 6.14. This group is made up of college pitchers from last year's draft class, or international signees that have been in the organization for a few years. Either way, the performance from either group has been poor, as most are hovering near a 2.0 WHIP.
Raul Mondesi – His arrival in Omaha didn't signal a change in results, as Mondesi struckout in six of his first eight AB in the Triple-A lineup. While Mondesi's strength lies in his left-handed swing, that is also the bane of his problems currently as the bat is in and out of the zone quickly which leads to a ton of swing and miss, besides his lack of pitch recognition and plate discipline. The Royals would be wise to see if they could get Raul Ibanez to come in and work with Mondesi, as he could use much less body rotation on that side of the plate.
Others
Khalil Lee – 4-26 w/ 12 K's – He hasn't had a multi-hit game since April 14th.
Donnie Dewees – 2-19 w/ 3BB – Much of what was said about Dewees prior has been true in April. The CF has lacked pop at the plate despite a decent approach, and while the speed is good it's not been impactful to date.
Andre Davis – After three strong starts, the lefty got touched up for 11 ER in just 6.2 IP in his last two.
Bubba Starling – Hitting .176/.233/.284 since the beginning of last season which covers 128 games and 500 PA.
Weekend Games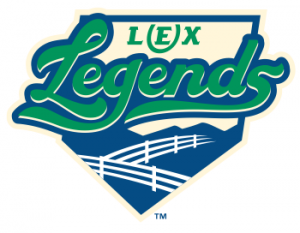 Hagerstown Suns 22 Lexington Legends 4
The Hagerstown Suns set a South Atlantic League record with 30 hits on Sunday including 6 home runs in the 22-4 drubbing. The Nationals #6 Prospect by Baseball Prospectus, Carter Kieboom, had a huge day going 5 for 7 with three home runs and a double while scoring four runs on the day. The Legends Chris DeVito did hit his eighth home run of the season, which leads the South Atlantic League.
Chris DeVito 1-5, HR 2 RBI
Gabe Cancel 3-5, 2b, R
Marten Gasparini 2-5, HR
Hagerstown Suns 5 Lexington Legends 4 F/11
The Legends scored in the bottom of the ninth only to drop the game in the 11th inning on Saturday night. Starter Ofreidy Gomez left with a 3-1 lead after five innings, but Travis Eckert wasn't able to hold onto it, with shortstop Ricky Aracena committing a couple of errors that helped Hagerstown take a lead late into the game. The Legends tied it in the ninth with a bases loaded, one out rally, but were able to push only the tying run across. In the eleventh frame Tres Barrera's home run would be enough for Hagerstown to hang onto a win.
Mark Sanchez 2-4 R, 2b
Khalil Lee 1-5 RBI
Ofreidy Gomez 5 IP 2 H 1 ER 2 BB 4 K
Wilmington Blue Rocks 5 Buies Creek 2
Wilmington received some late offense with a four-run ninth on Sunday to salvage the final game of the series with Buies Creek.
Anderson Miller 2-4, HR
Nicky Lopez 3-5, 2b, RBI
Travis Maezes 1-3, R, 2b, RBI, BB
Buies Creek 3, Wilmington Blue Rocks 0
Just two hits and 12 strikeouts as three different Astros pitchers dominated the Blue Rocks lineup. Starter Scott Blewett took the tough-luck loss despite just one run allowed in six innings.
Scott Blewett 6 IP, 4 H, 1 ER, 2 BB, 4 K, 5-6 GO-FO, 89p/53k
Nicky Lopez 1-4
Richard Lovelady 1 IP, 0 H, 0 R, 1 K, 2-0 GO-FO, 12p/8k
Tulsa Drillers 4, NW Arkansas Naturals 3
The Nationals trailed 3-0 through six before tying the game with a Logan Moon two-run homer in the seventh and a fielder's choice in the eighth. That tie would last just that half of an inning however, after Reid Redman gave up a solo home run in the bottom of the frame to eventually give Tulsa the win.
Samir Duenez 1-5
Logan Moon 1-3, HR, 2 RBI
Zane Evans 1-3 R, RBI, BB