Another split day for the affiliates on Friday.
HR Roll Call Frank Schwindel (4), Elier Hernandez (3), Chris DeVito 2 (6,7), Khalil Lee (4), Gabe Cancel 2 (1,2)
BPKC Hitter of the Day Chris DeVito 3-5 2 HR, 2b, 3R, 6 RBI

BPKC Pitcher of the Day Foster Griffin 6.2 IP 2 H 2 R 1 ER 2 BB 5 K 10-2 GO-FO 86p/56k

Lexington Legends 16 Hagerstown Suns 4
The Legends broke out their big bats on Friday night, clubbing five home runs in a 16 run bashing of Hagerstown. Things got rolling in the 1st inning on Chris DeVito's grand slam that quickly put the team up 4-0 after the first three hitters in the lineup had reached in front of him.
The fun continued after a scoreless 2nd frame with the team batting around the order in the 3rd on the way to a seven-run inning. Second baseman Gabe Cancel hit his first home run of the year to start things off before Khalil Lee finished the inning with the team's second grand slam of the game, his fourth home run of the year. Two innings later Cancel and DeVito would be back at it, each homering as part of a five-run frame that pushed the Legends 16th run across the plate.
Two innings later in the 5th, it was Cancel and DeVito back at it, each homering as part of a five-run frame that pushed the Legends 16th run across the plate.
Starter Gerson Garabito was slightly less on top of his game as he had been in previous starts but did enough to finish off a quality start and earn his third win of the season.

Khalil Lee 1-4 HR, 2R, 5 RBI, BB
Gabe Cancel 3-4 2HR, 3R, 3 RBI, BB
Gerson Garabito 6 IP 4 H 3 R 2 ER 1 Bb 5 K 6-4 GO-FO 89p/55k
NW Arkansas Naturals 4 Tulsa Drillers 0
The Naturals jumped on the backs of their pitching staff and Frank Schwindel on the way to their first win in Tulsa Friday night. Three different NW Arkansas pitchers, including starter Corey Ray, combined to scatter four Drillers singles while shutting the Dodgers affiliate out. The Naturals took a 1-0 lead in the 3rd inning with a single by Alfred Escalera to drive in Terrance Gore. First baseman Frank Schwindel pushed his average over .400 with a home run in the sixth and a double to drive in Samir Duenez in the eighth inning.
It should come to no one's surprise that Schwindel is off to such a strong start to his season as his highest average month has been in April in each of the last two seasons.

Samir Duenez 1-3 R
Terrance Gore 2-4 R, 2 SB (5)
Frank Schwindel 3-4 HR, 2b, 2 RBI
Buies Creek Astros 2 Wilmington Blue Rocks 1
The Royals 2014 draftee Foster Griffin worked another solid game for the Blue Rocks only to be let down by his offense and his defense late. The lefty worked six scoreless innings and was given a 1-0 lead in the sixth on Elier Hernandez's third home run of the season. A walk with one down in the seventh snapped Griffin's string of 11 straight retired and the single that followed quickly put him into his first jam of the night. When Griffin secured the second out of the inning manager Jamie Quirk rather than let his starter attempt to finish things out turned to his bullpen to try to get out of the jam. That move didn't work out for the Rocks as Yunior Marte would give up a single plus an error by the third baseman, Travis Maezes, would allow a pair of runs to score, allowing Buies Creek to take their first lead.
That lead would be enough with the Wilmington offense going down in order in both the eighth and ninth innings.
Yunior Marte 1.1 IP 2 H 0 R 0 BB 3 K 1-0 GO-fO 23p/13k
Anderson Miller 0-3 BB hitting .178
Elier Hernandez 1-4 HR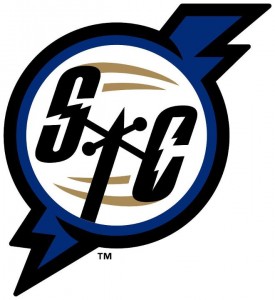 Oklahoma City Dodgers 6 Omaha Storm Chasers 1
The Storm Chasers continued their difficult offensive challenges with the Dodgers Triple-A affiliate being limited to just one run on six hits in their game Friday night. Starter Eric Skoglund took the tough-luck loss despite giving up just two runs over six innings.
Ramon Torres 2-4 R, 2b
Bubba Starling 0-4 hitting just .129
Eric Skoglund 6 IP 2 H 2 ER 3 BB 2 K 8-5 GO-FO 99p/61k