The affiliates won 3 out of 4 games with a pair of late-inning wins in Omaha.
HR Roll Call Peter O'Brien (3), Donnie Dewees (2), Alfredo Escalera (1), Ruben Sosa (1)
BPKC Hitter of the Day: Donnie Dewees 2-4 2R, 3b, HR, BB, 2 RBI, SB (2)
BPKC Pitcher of the Day: Josh Staumont 6.2 IP 4 H 1 R 1 ER 3 BB 12 K HR WP 4-2 GO-FO 107p/72k
Game 1
Omaha Storm Chasers 2 Oklahoma City Dodgers 1
The Royals Josh Staumont felt in control of all three pitches during his Monday start versus the Dodgers Triple-A affiliate. With his fastball featuring more movement than usual, he was able to limit the opponent to just four hits while striking out 12 in an efficient 6.2 innings. The 72 strikes in 107 pitches were both career highs for Staumont who earned 17 swinging strikes with his one hiccup coming on a Willie Calhoun home run in the third inning.
Oklahoma City's Justin Masterson had a no-hitter through four innings before Dean Anna broke it up in the fifth inning with a leadoff single. Following a double play in that inning, Omaha started to get to the veteran major leaguer, connecting on three consecutive hits in the inning to score in that frame before Jorge Soler got nailed at the plate to end the inning.
The game went to the bottom of the seventh when a pop-up off the bat of Billy Burns dropped on the mound prior to Raul Mondesi's bunt single and the eventual walk-off bases loaded hit by Paulo Orlando.
Raul Mondesi 2-4 R, E (1)
Paulo Orlando 2-4 2 RBI
Al Alburquerque 0.1 IP 1 H 0 R
Game 2
Omaha Storm Chasers 2 Oklahoma City Dodgers 1 F/11
Game two lacked offense as well with the Chasers scoring a run in the first inning on a Paulo Orlando sacrifice fly and a home run by the Dodgers Ike Davis in the fifth inning. The two teams got through 9 innings in a much different way with Oklahoma City striking out just once in that times while the Storm Chasers lineup was flailing about with 16 strikeouts in that same amount of time.
The game remained tied until the bottom of the 11th inning when Peter O'Brien sent all 3,096 fans home with a walkoff bomb to centerfield.
Raul Mondesi 1-3 BB, Sac bunt, 2K, 3SB (3)
Peter O'Brien 1-5 HR, 4K
Ryan O'Hearn 0-5 4K
NW Arkansas Naturals 7 Tulsa Drillers 6
The Naturals hung on for a series-deciding win Monday in Tulsa. Things got off to a good start for NW Arkansas when Donnie Dewees hit one that barely cleared the left-field wall for a home run. It was so close a call that Tulsa manager Ryan Garko disagreed before being given the opportunity to check the placement out himself on his way back to the clubhouse via the umpire. The Naturals would push their lead to 2-0 on the very next batter following the argument when Alfredo Escalera hit a no-doubt homer to left, his first of the season.
The lead would be pushed to 3-0 in the 4th and was looking quite comfortable with starter Miguel Almonte dominating through four innings until running into trouble in the 5th. In that frame, the righty would give up a one-out double and a walk prior to allowing his second home run of the season off the bat of Jacob Scavuzzo. Two more doubles in the sixth and seventh would help dent the scoreboard a couple more times off Almonte before ending his day at a season high 6.2 innings.
A three-run seventh frame by the Naturals helped stake Almonte to a lead and an insurance run in the eighth gave them a needed insurance run.  That run came in handy as reliever Tim Hill quickly gave up a triple and a single to see their lead sliced in half to just one run at 7-6. Manager Vance Wilson called on Jake Newberry and the righty did the job getting a flyout and a fielder's choice play at the plate prior to a lineout to Ruben Sosa to end the game.
The Naturals three home runs in the game were by three players that had combined to just one coming into the game.
Ruben Sosa 2-4 HR
Alfredo Escalera 2-5 HR, 2 RBI
Miguel Almonte 6.2 IP 6 H 5 R 4 ER 3 BB 9 K 2 WP 5-4 GO-FO 117p/71k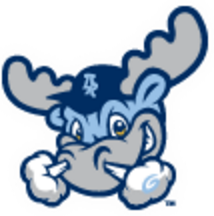 Salem Red Sox 4 Wilmington Blue Rocks 3 F/10
The Wilmington team has faced Salem in four games so far this year after the first game of their series on Monday with the bullpen failing to secure leads in the last three.
In this one, A.J. Puckett worked five scoreless innings until the sixth. With a one-run lead, Puckett ran into problems, allowing a run and facing a bases loaded jam. Fortunately for the righty, though he was able to buckle down and earn a pair of strikeouts prior to a force out get out of the inning without any further damage.
The Blue Rocks took leads in the 4th, 6th and 7th only to watch pitchers give up tying runs. In each of the last two instances, it was bullpen members who surrendered leads. In the ninth inning, Richard Lovelady retired the first two hitters of the inning only to give up a single, a hit by pitch and a game-tying single before finishing the inning.
In the tenth inning, Andres Machado gave up a pair of doubles to allow Salem to take the lead. The home squad would get a runner on with Anderson Miller extending his on-base streak to 16 games, but fail to score in dropping the game.
A.J. Puckett 6 IP 6 H 1 R 1 ER 4 BB 6 K 7-1 GO-FO 102p/59k
Chase Vallot 2-5 2b, RBI
Nicky Lopez 2-5 RBI