Stock UP – Jake Junis – The right-handed starting pitcher has shown lately that he can dominate a Triple-A lineup, lowering his Triple-A ERA to just 2.48 in six starts. The former 29th round 2011 draft pick has a 11.9 SO/9 this season against usual paltry walk total (8 in 36.1 innings). If an injury would take place in the major league rotation that allowed for multiple starts, then Junis should be the one that gets that job.
Raul Mondesi – The Royals top shortstop in the minor leagues has put together his most impressive stretch of hitting in his career since being sent down. With his two hits on Sunday, Mondesi pushed his hitting streak to 17 games which includes multiple hits in each of his last four games and a .406 average during the streak. The positives to note in the streak for Mondesi is the lack of bunt attempts by the speedster as he has virtually cut out that part of his game while also working the ball to the middle of the field and opposite way more than he had from the left side.
Brian Poldberg on Mondesi "I know up there they wanted him to bunt a lot, so when he first got here he was looking to bunt and hit second. We wanted him to change his thought process and look to hit first and bunt second. He's come around. He's got his confidence and has a different stride about him, knowing he belongs." 
Raul Mondesi on his play – "I keep working on the little things and I'm feeling pretty good at the plate right now. I've been working the ball the other way and adjusting to the pitch. They sent me here to work on my hitting and I'm just trying to help the team win and keep working."
Saturday Omaha Storm Chasers 10, Round Rock Express 0 Boxscore Link
Sunday Omaha Storm Chasers 7, Round Rock Express 5 Boxscore Link HR Ryan O'Hearn (7)
The Chasers carried over their big bats and stellar starting pitching from Friday to Saturday's series opener with Round Rock. Starter Luke Farrell went a season-high seven innings while allowing just three hits and no runs in that time. The offense backed him up with plenty of run support, scoring ten runs in six innings while connecting for 13 hits in the process to lead to the easy win.
The Chasers built a big lead early Sunday night, then hung on to a win. The suddenly hot bats scored seven runs from the second through fifth, getting a solo home run from Ryan O'Hearn and a two-run triple by Raul Mondesi as part of the run explosion. Spot starter Onelki Garcia helped his club while he was on the mound with five innings of one-run ball before turning things over to a bullpen that made it interesting late. It was Garcia's first affiliated start in three years, earning the win in the process.
Saturday NW Arkansas Naturals 3, Midland RockHounds 2 Boxscore Link
Sunday NW Arkansas Naturals 10, Midland RockHounds 6 Boxscore Link HR Samir Duenez (7)
Shortstop Humberto Arteaga had a big day at the plate, coming up with three hits to drive in a pair of runs while also scoring the Naturals third – and winning – run. Starter Emilio Ogando made those three runs stand up with a pair of relief pitchers helping out. The lefty worked seven innings of one-run ball with just a pair of walks and four hits allowed to improve to 3-2 with a 2.28 ERA at Double-A.
The Naturals reached base 18 times with eight walks accumulated alongside their ten hits in their Sunday win. A five-run third frame and four-run seventh did most of the damage for the Double-A club, with Samir Duenez clubbing a three-run home run as part of the third inning rally. Starter Corey Ray missed out on the win after allowing four runs in his five innings when reliever Jake Kalish gave up a pair of runs to knot the action up at six apiece in the seventh frame. Reliever Pedro Fernandez's 2.1 IP of shutout ball put things on ice for the win.
Saturday Wilmington Blue Rocks 7, Potomac Nationals 6 Boxscore Link HR Travis Maezes (2)
Sunday Wilmington Blue Rocks 4, Potomac Nationals 3 Boxscore Link
On Saturday, the Rocks staged another come from behind win over Potomac. Trailing 6-4 heading into the bottom of the eighth, Wilmington scored on a throwing error against a sac bunt by Wander Franco. From there, the bats of Nicky Lopez and D.J. Burt added two more runs. A Lopez triple plated Franco before Burt's double scored Lopez. Reliever Franco Terrero secured the save in the ninth for the Blue Rocks.
More come from behind fun on Sunday for Wilmington as the Rocks starter A.J. Puckett gave up three runs in his five innings on the mound. The righty surrendered four consecutive hits to start the game, allowing two runs before settling down and getting out of the inning. The 2016 draft pick allowed another run in the fourth frame when he gave up a pair of two-out hits, the second of which was a run scoring single by Victor Robles. Trailing 3-0, the Rocks first six hitters in the seventh inning reached base with RBI singles by Anderson Miller, Wander Franco and Chris DeVito to take a 4-3 lead and the eventual win after Richard Lovelady closed the door. Reliever Yunior Marte earned the win with his three innings of shutout pitching, striking out three against one hit allowed.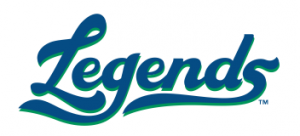 Game 1 Columbia Fireflies 3, Lexington Legends 0 F/7 Boxscore Link
Game 2 Lexington Legends 2, Columbia Fireflies 1 F/7 Boxscore Link
The Legends split a doubleheader on Sunday after their game was rained out on Saturday.
Neither game featured much offense, with just six combined runs in the two games. In game one, a mistake by Legend pitcher Travis Eckert led to a three-run home run by Mets Low-A prospect Dash Winningham to give the Fireflies a 3-0 win. Despite that mistake, Eckert put together a solid line in the loss going six innings with nine strikeouts.
In game two, lefty Andre Davis went toe to toe with Columbia starter Harol Gonzalez. The two pitchers allowed just one run each until Manny Olloque's one-out double in the bottom of the seventh walked things off for the Legends. For Davis, it was one his better starts of the year with the lefty spinning seven innings with a career best 11 strikeouts in the win.