Every year ahead of the draft, I like to highlight a few players who I like or have heard good things about that I believe would make excellent additions to the Royals organization. This year's version of the list is similar to most I've done in the past, with the exception of at the very top. With the 14th pick, I would choose a different strategy than what we are hearing for the Royals pick from experts. To me, one of the bigger strengths of the class is in the prep outfield group and one player stands out to me after Jordan Adell as a guy I would be comfortable with stretching for instead of going the prep pitching route.
14th Pick
We haven't seen his name anywhere near the top 15 to 20 picks, but a couple years from now we could see Tristen Lutz, a prep outfielder from Texas, as a high-end talent that teams ask themselves, "Why didn't I make that choice?" The physical strength of Lutz, combined with the bat speed and an exhibited ability to barrel good velocity, already has pushed him to the late first or supplemental first round range. The outfielder has shown off strength to right-center while also being able to pull the ball and make regular hard contact. Currently, he can play center, but most think he will have to move to a corner as he continues to fill out. Still, at 6'3″ 220 lbs, I think you will see a physical specimen that can mash 25+ home runs with solid hitting skill and plus defensive skills. A tweak in his stance, putting him more upright could unlock even more power than he already shows. Average or slightly better tools across the board with plenty of drive and work ethic to capture every possible tool in the box could make him a future All Star.
The Royals seem destined to go with a prep pitcher at their slot but I wouldn't pass on a chance to grab Lutz before he's off the board.
Trevor Rogers – I have warmed to Rogers as of late thanks to the loose arm and the feel for arm side run. The velocity comes easy and plays up with his height and extension. This is likely valuable to the Royals after watching a few of their recent prospects never see their velo pop up ahead of the draft and, in a couple cases, dip after. The secondary pitches aren't quite there yet, which is scary for a pitcher at his advanced age (turns 20 in November) but the fastball control is solid and the arm run leaves something to dream on. It's a solid pick at the right price and he'll easily slide into the Royals top two or three prospects in the system.
Sam Carlson – Like Shane Baz, Carlson has a feel for multiple secondary pitches in his change and slider while pumping 95-97 MPH this summer. The body size, arm speed, athleticism combined with a feel for the secondaries are intriguing. If a there's a run on prep players like Baz, Adell and Rogers before KC got their hands on them, then Carlson makes for an exciting pick at 14.
52/73/90
The Royals are in a much better place financially this year in the draft than they were last year, obviously. Knowing that, what high-end players could they get with their 2nd or 3rd pick? Getting a player like Brent Rooker would be a nice addition while also saving slot money, but I doubt that he is likely to be available to the Royals at 52, as plenty of other teams could be looking at adding Rooker with a shot at saving some slot money and getting a talented bat. The Royals have always coveted right-handed power and Rooker has plenty of that with 32 home runs during the last two college seasons. In addition to that power shown at Mississippi State, Rooker hit for some power in his summer work over the last two years, hitting 10 home runs in the summer season in '15 and three home runs at the Cape in 35 games last year. An average to below-average arm likely means Rooker moves to left field, but the body and movement should profile as average in the field.
Steven Jennings – The Royals have doubled up pitchers with early picks before and the addition of Jennings to the prospects they are tied to in the first round would give them a pair of high-end prospects at the top of their pitching rankings. A former two sports star at his high school, Jennings tore his ACL last year early in his football season but bounced back to have a dominant spring on the mound. At 6'2″ 175 lbs., Jennings projects as a future starter once he adds a tad more weight. The fastball already works in the low to mid 90s hitting up to 96 MPH while he's able to throw a pair of breaking balls in his slider and curveball that both profile as plus pitches in the future. The Royals haven't fared well in the past with developing spin but they shouldn't have much to do on this end with this righty and his feel for both along with the projection would make him a high-end prospect in the system. Add in a change up in the future and you could have the possibility of a front line starter after he fills out now that football in long in the rear view mirror.
Kevin Merrell – A true Royals type of player with 80-grade speed that plays a premium defensive spot at short. The South Florida Bull isn't a lock to play short in the pros due to an average arm and lacking defensive instincts, but he should be able to handle a move to center field quite well where the speed will help him play up defensively. With the bat, he's hit for average in all three seasons and both summer stints while controlling the strikezone. A top of the order bat that should be able to control the zone, play a primary defensive spot and steal plenty of bases sounds like an ideal player to add anytime they have a chance.

Going prep pitching could be the correct way to go, and as I've profiled before adding a pitcher with intelligence like Jacob Heatherly would be ideal. Having interviewed quite a few players while writing, I was blown away by Heatherly's answers and he has become a favorite of mine. A talented hitter on his high school squad, Heatherly might see his game take another tick up on the mound where he features a low- to mid-90s fastball and a pair of average breaking balls in his curve and slider. Deciding on the curveball could see it tick up while his feel for all pitches leaves one to believe his changeup will come forward in the future. The lefty's drive, intelligence and a willingness to learn would be a welcome addition to any organization.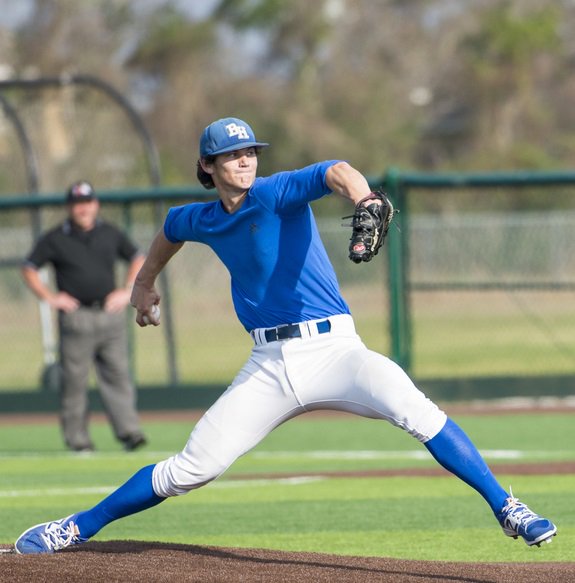 Bryce Bonnin was more of a positional prospect in his younger days. There is some concern about the projectability here with his size at 6′ 185 lbs and whether the velocity could back up once on a pro work schedule, but the arm has fewer miles on it as a former position player which could mean there is still more in the tank. Bonnin's stock has really flown up the charts on the mound, working in the mid 90's and as high as 96 mph. The pitch features sink and works up in grade thanks to a crossfire delivery despite some iffy control. Getting swing and misses in and out of the zone with the fastball isn't always the easiest find but Bonnin can do just that. His slider is already one of the better ones in the draft that can spin in the low to mid 80's and works extremely well with his arm slot and off the sinking fastball. As a position prospect, primarily one would hope that the slider could take another tick up in grade and profile as a future 60 or greater pitch, giving him two plus pitches with the hopes he can find the changeup after giving up the position play.
118 or later
Tarik Skubal – This pick is a bit out there as he hasn't pitched for the University of Seattle this season after undergoing Tommy John surgery late last season. Still, Skubal is a young prospect for a college lefty, not turning 21 until November of this year and was dominant in his college career before getting injured putting up a near 3-1 K-BB ratio with sub-3 ERA in his first season and a half. At 6'3″ 215 lbs, the lefty doesn't need any projection while he worked his fastball in the low to mid 90's while getting up to 96 mph prior to his injury with a pair of average secondaries in his curve and changeup. The fastball has sinking action on it. He's not likely to go in the top two rounds, so the Royals could add him in the 3rd or 4th round.
Jake Adams – I'm going to show off my Iowa bias here with this selection, but heck, why not? At 6'3″ 250 lbs, Adams features a Billy Butler-esque build, but with the power to get rid of balls to all fields. After hitting .360 with 25 home runs for Des Moines Area Community College in 2016, he transferred to the University of Iowa. All he did on arrival to the Big 10 is break the school record and conference record for home runs while winning player of the year award. The need for a first baseman in the organization isn't high but the power from the right side is real and as a first baseman he shouldn't break the bank in the Top 10 rounds.

Quick Note – Upper-level Royals officials have been seen sitting on Iowa Western's Jacob Tillo and Louisville pitcher Kade McClure in addition to other names that they have been linked to. Don't be surprised if one of those pitchers is selected in the early rounds by Kansas City.