Royals affiliates went 3-2 with a powerful inning in Omaha on Friday.
HR Roll Call Jorge Soler (7), Bubba Starling (4), Ruben Sosa (3), Khalil Lee (9)
BPKC Hitter of the Day Angelo Castellano 4-5 R, RBI
BPKC Pitcher of the Day Foster Griffin 7 IP 3 H 1 R 0 ER 2 BB 6 K 8-4 GO-FO 92p/59k
Omaha Storm Chasers 7 New Orleans Pelicans 1
The Chasers provided the offensive firepower while the pitching staff limited New Orleans to just one run.
After Jon Dziedzic gave up a solo home run in the second inning the Omaha offense scored a pair courtesy a Mike Aviles error, a run scoring single from Garin Cecchini and a sac fly from Terrance Gore.
The Chasers opened up the game in the third inning, scoring three runs courtesy of three home runs. Newcomer Ruben Sosa opened the inning with his first home run as a member of the Storm Chasers before Jorge Soler cleared the fence in left-center. After a walk to Ryan O'Hearn outfielder, Bubba Starling finished the scoring in the frame with his fourth home run of the season to push Omaha up 6-1.
Relievers Matt Peterson and Seth Maness combined with Dziedzic to keep the Marlins Triple-A affiliate off the board the rest of the night while Raul Mondesi capped the scoring for Omaha with a rbi single in the seventh.
Raul Mondesi 2-4 RBI, SB (14)
Jorge Soler 1-3 HR, 2K, BB
Bubba Starling 1-4 2R, HR, 2 RBI
NW Arkansas Naturals 5 Springfield Cardinals 1
The Naturals received another outstanding start to finish off the series with Springfield and get back into a first place tie with the St. Louis Double-A squad.
One night after a complete game shutout by Corey Ray lefty Foster Griffin tossed six straight shutout innings to start the night. Attacking with his fastball and curveball Griffin walked just one before a fifth inning leadoff double put a runner in scoring position for the first time on the night for Springfield. That jam was navigated with an inning eating double play to keep the Naturals ahead.
NW Arkansas had built a lead in the first inning with a rbi sac fly by Mauricio Ramos and a single by Humberto Arteaga that scored Samir Duenez. That hit by Arteaga was one of two on the night to continue a stellar season of hitting at home for the shortstop, improving his home average to .362 on the year in 29 games.
The Naturals tacked on runs in the second and third inning, in the third, it was Ramos again driving in a run this time with a single. Those runs would be more than enough for Griffin and the Naturals as the lefty would allow just an unearned run in the seventh frame before turning things over to the bullpen.
The bullpen closed things out with Pedro Fernandez working a clean inning before Sam Selman k'd two to finish off the game. The two strikeouts by Selman gives him 44 in 27.1 innings this season, possibly putting him in a position to earn an audition at the major league level later this season.
Sam Selman 1 IP 2 H 0 R 0 ER 0 BB 2 K 20p/13k
Humberto Arteaga 2-4 RBI
Samir Duenez 1-3 R, BB
Buies Creek Astros 7 Wilmington Blue Rocks 4
The Blue Rocks had their four game win streak snapped after another inconsistent start from A.J. Puckett.
The Pepperdine product was in trouble throughout this one, giving up at least two hits in every inning that he completed before leaving with one on and no out in the fifth. A solo home run scored gave the Astros a 1-0 lead in the first before Puckett navigated back to back singles in both the second and third innings. In the fourth frame though Puckett was unable to get out of the trouble he caused, walking the leadoff batter and hitting a pair of batters around two singles allowed. Two more singles allowed by A.J. lead to four Buies Creek runs in the inning to push their advantage to 5-0.
Wilmington would charge back with four runs from the fifth through seventh innings. That would be as close as the Rocks would get however as reliever Yunior Marte's control wavered leading to four walks and a couple runs allowed by the usually reliable relief pitcher.
A.J. Puckett 4 IP 11 H 5 R 5 ER 1 BB 5 K 4-3 GO-FO 96p/62k
Nicky Lopez 2-4 2b, 2RBI, BB
Anderson Miller 2-5 R, RBI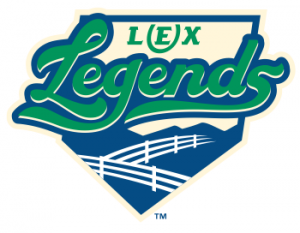 Lexington Legends 4 Hickory Crawdads 3
The Legends were three outs away from dropping their fourth game in a row Friday night on the road in Hickory.
Up to that point the only run, Lexington had scored was on a home run from leadoff hitter Khalil Lee, the 18-year-olds ninth of the season.  Prior to that home run, the Crawdads had taken a 2-0 lead with a rbi double from Yeyson Yrizarri and another single that brought him home one hitter later. Another rbi double by the Rangers Low-A squad in the fourth inning off Lexington starter Andre Davis pushed the score to 3-1.
That score held up until the ninth inning when the single train got started for the Legends. Leadoff man Rudy Martin started things off for Lexington with a line drive to right before Lee pushed him into scoring position with another single. Shortstop Angelo Castellano connected on his fourth hit of the night to score Martin, push Lee to third and pull the Legends within a run. A sacrifice fly by Gabe Cancel brought home the tying run before an attempted play at the plate missed out and allowed Castellano to get in and Lexington to take the lead.
After a blown save in his last outing, Grant Gavin worked a scoreless outing by sandwiching a pair strikeouts around a double to secure the win.
Khalil Lee 2-5 2R, HR
Angelo Castellano 4-5 R, RBI
Andre Davis 4.2 IP 7 H 3 R 2 ER 1 BB 2 K 4-3 GO-FO 63p/39k

DSL Rays1 6 DSL Royals 4
The Dominican Royals squad took the lead three different times on Friday but were unable to hold onto it.
The Rays1 evened up the score in the sixth innings before taking the lead and eventually tacking on an insurance run to earn a series split.
Felix Familia 2-4 R, RBI, BB
Rubendy Jacquez 2-5 R, RBI
Reynin Reynosa 2-4 2R, 3b