With the 2017 draft in the books, it's time to revisit the Royals prospect list. There's a new name at the top of the organization.
| | | | |
| --- | --- | --- | --- |
| Preseason List | | Post-Draft | |
| Matt Strahm | 1 | Nick Pratto | 2017 1st Rd pick w/ advanced approach at dish |
| Josh Staumont | 2 | Hunter Dozier | Season lost to injury |
| Hunter Dozier | 3 | Khalil Lee | Big Power, needs to cut K-rate |
| Khalil Lee | 4 | Nicky Lopez | A solid defensive shortstop w/ patient approach |
| Samir Duenez | 5 | Samir Duenez | Just turned 21 & power continues to tick up |
| Ryan O'Hearn | 6 | Scott Blewett | Just 21, starting to see big results at High A |
| Jorge Bonifacio | 7 | Josh Staumont | Let him air it out as a relief pitcher |
| Seuly Matias | 8 | Chase Vallot | Receiving is better; still needs to improve contact |
| Scott Blewett | 9 | Seuly Matias | 18 yr old with plenty of tools |
| Chase Vallot | 10 | Ryan O'Hearn | Struggling with AAA pitchers |
| Donnie Dewees | 11 | Eric Skoglund | Needs to continue to refine pitch mix |
| Meibrys Viloria | 12 | Miguel Almonte | Change in windup has helped control |
| Kyle Zimmer | 13 | MJ Melendez | 2017 2nd Rd pick advanced catcher w/ pop |
| A.J. Puckett | 14 | Cam Gallagher | Future Backup catcher |
| Corey Toups | 15 | Kyle Zimmer | Not quite what he was, but could contribute as RP |
| Cam Gallagher | 16 | Meibrys Viloria | Up and down month to month for Lexington |
| Jake Junis | 17 | Anderson Miller | Patient approach with multiple tools |
| Eric Skoglund | 18 | Richard Lovelady | 95-96 mph FB and makings of plus slider from difficult arm slot |
| Andrew Edwards | 19 | Sam Selman | 96 mph FB, wicked slider showing better control |
| Corey Ray | 20 | Bubba Starling | Multiple tools that are starting to play at AAA |
| Anderson Miller | 21 | Corey Toups | Strong wristed 2b/3b needed to hit better at AAA . |
| Pedro Fernandez | 22 | Foster Griffin | Back of the rotation profile |
| Sebastian Rivero | 23 | A.J. Puckett | Up and down start to start |
| Alfredo Escalera | 24 | Yunior Marte | Power fb up to 97 mph with a plus changeup & two seam fb |
| Miguel Almonte | 25 | Cristian Castillo | Control lefty with 3 average pitches |
| Cristian Castillo | 26 | Sebastian Rivero | A future premium defender needs the bat to come with it. |
| Esteury Ruiz | 27 | Corey Ray | A good fastball and changeup needs breaking ball or may be RP |
| Garrett Davila | 28 | Gerson Garabito | A good 3 pitch mix was off to excellent year until injury. |
| Kevin McCarthy | 29 | Elier Hernandez | Can play plus defense while |
| Nicky Lopez | 30 | Brandon Downes | Power and defense in CF needs to make more contact |
The Royals organization is in much better shape than we thought originally if this season is any indication of the talent within. There are a few players who have rebuilt their prospect status in the minor leagues, and a pair in Jorge Soler and Raul Mondesi that have shown in Omaha they are ready for another chance at the major league level. Fortunately for the Royals, the roster spots remain unavailable with the play of Whit Merrifield and Jorge Bonifacio.
A system once thought to be a barren now looks deeper, and with the influx of talent from the 2017 draft and international signing period, it could prove to once again be a strength for the organization.
The Graduates – Pitcher and #1 Preseason prospect Matt Strahm crossed over the 50 inning limit to move off of the prospect list. In addition, Jorge Bonifacio has leaped over the 130 at-bat mark to leave the list once and for all. While currently not at the 50 inning mark, I feel comfortable graduating Jake Junis from the list being 21 innings short of the 50 it takes to graduate. While I don't know if Ramon Torres will get to the 130 at-bat mark as a utility player I doubt we see him back in the minor leagues.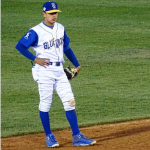 The Risers – No prospect has made as big of an impact on the 2017 season as shortstop Nicky Lopez, showing that the bat is not the limitation that many believed when he dropped to the fifth round of the '16 draft. An already strong defender, Lopez's plate approach, speed, intelligence and contact ability with a little gap to gap power, leaves him as a possible shortstop and leadoff hitter in KC.
A pair of Nicky's teammates at Wilmington make the list in Richard Lovelady and Yunior Marte. After seeing Marte at Lexington a couple of years back, I quickly became a fan with the athletic Dominican right-handed pitcher that reaches 97 mph on the gun while pairing it with an average changeup and good two-seam fastball that can earn groundballs. Working with Marte in the bullpen is Richard Lovelady, a lefty with a 95-96 mph fastball and a slider. Both pitches come from an extremely difficult arm slot to pick up, leading to quality deception. As relievers, you may ask how they can be ranked higher than other prospects, but their premium velocity gives them a good shot at becoming major league contributors.
The Resurgents – A few different Royals players have rebuilt their stock in 2017 after previous struggles. Led by lefty Foster Griffin, the Royals have seen good seasons from Elier Hernandez, Bubba Starling, and Sam Selman to rebuild their status. For Griffin, his stuff has ticked up, showing at times a 92 mph fastball that works mostly 88-90, but with good control and command. The pitch that has improved the most from what I've seen is the curveball. It features much better shape and control than I saw from him in Lexington a couple of seasons ago. The changeup was decent in the low levels but with nothing to go with it, the pitch wasn't enough.
At Double-A, Elier Hernandez was hitting with authority and playing quality defense until his injury. At just 22 years-old and with plenty of physical tools to play with, I was a little too quick on the trigger in pushing him off my Top 30 list. A teammate of his, Sam Selman, has shown the stuff that got him drafted in the second round a few years back. Working in the mid 90's with his fastball paired with his hard slider, the lefty is striking out 36.7% of the hitters he's faced compared to the 10.9% walk rate.
The things that Sam Mellinger penned in the Kansas City Star about Bubba Starling were all true, but the biggest change to his game is a realization that he needs to work the opposite field more. Teams have played him with a right-handed shift for a couple of years and Starling didn't adjust. If it was the change in hand placement or just a mental adjustment, whatever helped him go the other way this past month has improved his results and pushed him a step closer to the bigs.
Off the List – The players towards the back half of the preseason list are off the list not so much for what they have done, as to others jumping ahead. Relief pitcher Pedro Fernandez has pitched fine at Double-A with a 51% groundball rate and 24% K-rate, but the stuff isn't quite what Lovelady, Selman and Marte bring to the mound. Lefty Garrett Davila isn't far off the Top 30, but I would rank Jace Vines ahead of him at this point.
The one player that I was least impressed with and pulled off the list entirely was Donnie Dewees. The outfielder has above average speed but it's not as impactful as was advertised after the trade, and the hit tool is just average with below average power. The Royals have a better center field defender with power in Brandon Downes. After pushing Alfredo Escalera off the list, then Downes, who I'd put below him, also is removed as well.
Featured Photo Nick Pratto with Dayton Moore and Lonnie Goldberg courtesy Kansas City Royals