On Saturday night, I had a chance to check out Foster Griffin live for the second time since he's joined the organization. When I saw the lefty a couple of seasons ago in Lexington, to say I left unimpressed would be a slight understatement. At that time Griffin was 86-90 mph with a firm fastball, a curveball that more resembled a slurve he mostly wanted to sneak over the outside edge, and a firm change that showed some armside movement that he lacked confidence in. He struggled in that '15 season and again in '16 at Wilmington after a promotion to the High-A affiliate. All told, Griffin entered this season with a career 5.16 ERA in 265 1/3 innings, giving the appearance of just another Royals pitching draftee bust.
Less than a year later, the Royals have a much-improved starter with a different repertoire. The fastball has another tick on it as he worked it mostly 88-92 mph Saturday according to scout's guns and Trackman. In addition to the added velocity, it featured cut action and armside run at other times. While the lefty in Lexington worked away, away and more away, he was a much more aggressive pitcher on this night, working the ball in with that cut action and down in the zone.
Griffin presented the slurvy breaking ball at times on the first pitch to earn a strike to start an at bat, but if he wanted to register a swinging strike to end an at bat he tossed a harder, bigger breaker that he was able to get depth and bite with a hard diving action. That pitch was more in the 78-79 mph range and the slurvy offering was another tick slower. The changeup is improved and features some armside movement at 80-82 mph, with similar mirroring arm speed from what it did in Lexington when I saw him. For him to reach the next step, that is the pitch he still needs to improve as one would like to see either more fade or tumbling action.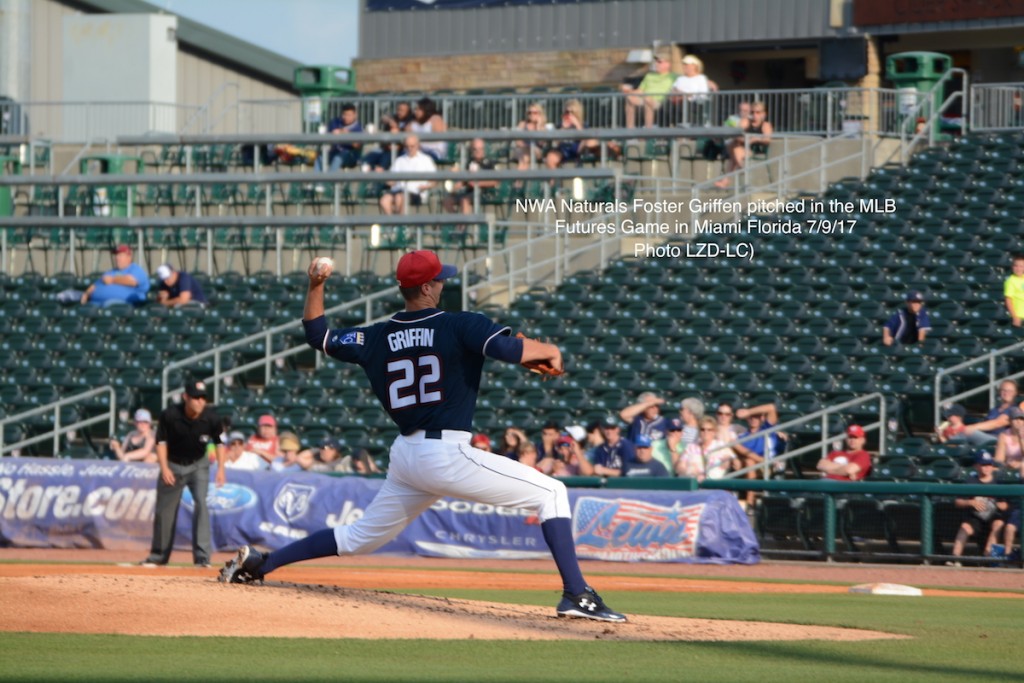 Multiple times, Griffin has talked about how he was giving hitters too much credit, which is true at the lower levels, but to say that his results would've changed with a more aggressive approach doesn't tell the whole story. The stuff wasn't that good with the fastball, and had he attacked more, the results may not have improved much if at all.
The body has thinned through the legs from where he was, and physically he presents a leaner and stronger frame. Based on size with a shorter trunk and longer lower half, Griffin's body gives the appearance of a 200+ innings workhorse over multiple years. With that appearance, the question that I have currently is what type of extension Griffin gets as his arms appear to be shorter than one would expect from someone that is 6'3 tall.
The command of the stuff is average at present and will need to take another step for him to reach his backend profile. With the body, arm speed and ability to cut and move the fastball and an average curveball, should his changeup take another step forward perhaps he can reach the level of a #3 starter. As a 22-year-old lefty, one has to like where he stands with the backend profile in comparison to where he stood just a year ago.
Fastball 45/50 (88-92 mph) Ability to cut or fade the pitch while keeping it low in the zone or elevate.
Curveball 50/55 (78-80 mph) A hard breaker with 11/5 action that features hard diving movement.
Change 45/55 (82-84 mph) He controls the pitch well with armside fade and good mirroring arm action.
Pitchability 50/55
Command 45/55
Pitchability is above average, getting by with an average arsenal with his ability to locate due to above average control. The command is average at best currently and could improve. The next step he needs to take is to improve his sequencing against better hitters and setting them up off previous at bats. For him to survive at the Triple-A/MLB levels, this will need to become a key part of his game as more advanced hitters will draw him into longer at bats with his current arsenal.
These are the grades I'll give at the moment with the possibility of changing them should I get another look prior to the end of the season. To be honest, I might be a tick higher on him than I should be based on the comparison of the pitcher he used to be, compared to what he is now.
Follow me on Twitter @ClintScoles