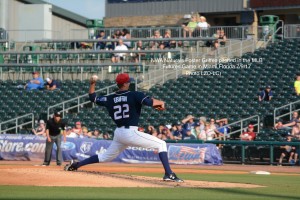 NW Arkansas Naturals 3, Tulsa Drillers 1
NW Arkansas leads series 1-0
Manager Vance Wilson wanted his team to build playoff momentum with the first game of the Texas League playoffs and they may have done just that behind excellent pitching.
Starting Foster Griffin was outstanding, keeping even with the Dodgers #5 prospect, Mitchell White. The Royals lefty kept hitters baffled much of the game, allowing just two singles and two walks while facing his only real threat in the fourth inning.
In that inning, the first two hitters reached base with a walk and a single off Griffin, but a failed sacrifice bunt turned into a quick double play for the Naturals. Griffin struck out the next hitter on three pitches to quickly extinguish the rally.
With the game scoreless into the seventh, the Naturals put a firm grip on the game getting a RBI single by Nick Dini to score Alfredo Escalera, followed by an error that pushed Dini to third to setup a sac fly by Donnie Dewees. The game didn't stay at 2-0 long. Jack Lopez doubled home Humberto Arteaga, who had reached on the error, giving the Naturals and their bullpen a three run lead that would prove too large to overcome when Richard Lovelady pitched a scoreless ninth to clinch a first game win.
Donnie Dewees 0-2, RBI, BB, SB
Jack Lopez 2-4, 2b, RBI
Alfredo Escalera 2-4, R
Nick Dini 1-3, R, RBI
Humberto Arteaga 1-3, R
Richard Lovelady 1 IP, 1 H, 0 R, 0 ER, 0 BB, 2 K, 1-0 GO-FO, 13p/10k
Foster Griffin 6.1 IP, 2 H, 0 R, 0 ER, 2 BB, 8 K, 5-3 GO-FO, 99p/60k
Orem Owlz 10, Idaho Falls Chukars 4
The Chukars season is winding down with just three games to play after their 10-4 loss to the Owlz. The Angels rookie league squad got after starter Julio Pinto from the first batter, getting a leadoff home run from first round pick Jo Adell to start the game. The Chukars defense pitched in as the Owlz put up 10 runs (4 ER) on 12 hits off Pinto in just 4.2 innings.
The Idaho Falls offense walked seven times, six by the top three hitters in the lineup, but fell short with four runs scored.
Matt Morales 1-3, R, 2 BB, SB
Travis Jones 2-3, R, 2b, 3 RBI, 2 BB