Money comes in and money goes out. Baseball is a business and everyone involved is trying to figure out how to make a profit. This won't come as a surprise to anyone who's been paying attention, but the Royals payroll has decreased. It's the first time since 2011 that number has seen a dip.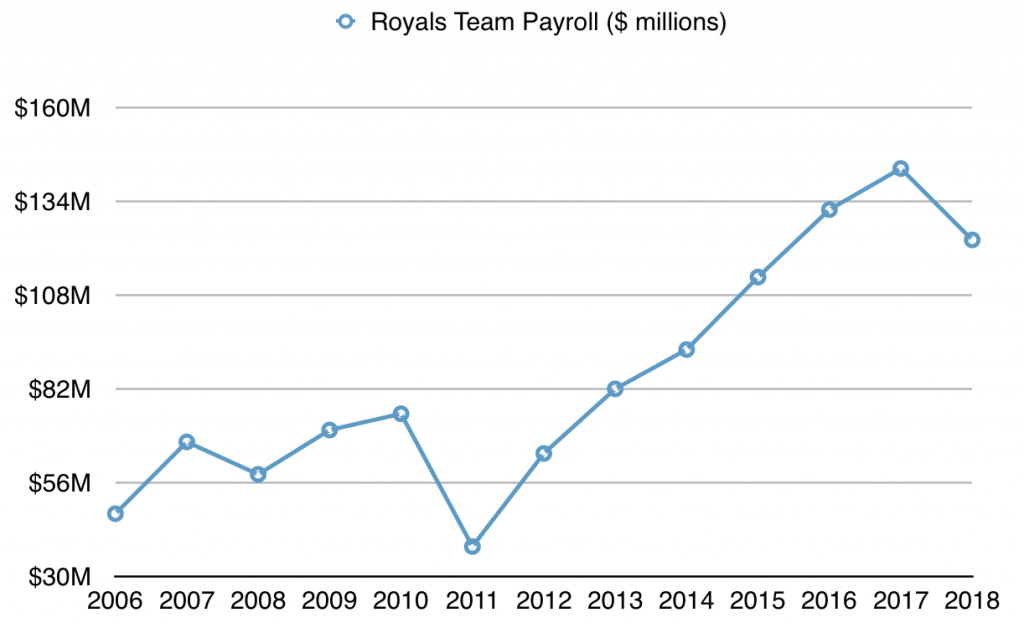 That's what happens when you have a bulk of your talent leave via free agency and you replace them with some relative bargains in the same marketplace. (It's weird to include Mike Moustakas in both of those categories, but this off season was bananas.)
How about the decline for 2011? It should be noted that that was the year The Process kicked off in earnest, as we saw the Royals debuts of Moustakas, Eric Hosmer, Salvador Perez, Lorenzo Cain, Danny Duffy, Kelvin Herrera and Alcides Escobar. Seven years later, The Process 2.0 is getting ready to start. Unfortunately, it's difficult to see a similar influx of talent arriving this year like we saw back in '11.
As opposed to year's past where the Royals set forth a payroll number they were comfortable with and then pushed past, the 2018 total of $123.3 million feels close enough to the previously stated target. And it would be about $5.5 million lower had Moustakas found a new home.
Alex Gordon and Ian Kennedy remain the highest paid Royals at $20 million and $16 million respectively. But hey, Gordon hit the ball hard a couple of times and Kennedy recovered nicely from a shaky first frame so there's your small sample silver lining. The club also has 10 players on the active roster making close to the league minimum. They also have roughly $12.3 million on the disabled list. Obviously, the bulk of that money is tied up in Salvador Perez's knee, but it also includes Jesse Hahn on the 60-day DL, Bubba Starling, Adalberto Mondesi and the suspended Jorge Bonifacio. And of course there is the dead money. The Royals are paying a collective $10.75 million to Brandon Moss, Joakim Soria and Travis Wood not to play for them.
When the final numbers arrive for all 30 teams, look for the Royals 2018 payroll to be below league average, placing them around 20th overall. As far as the AL Central goes, they rank fourth.
| | |
| --- | --- |
| Team | Payroll |
| Cleveland | $134,851,565 |
| Minnesota | $128,713,226 |
| Detroit | $125,286,000 |
| Kansas City | $123,233,117 |
| Chicago | $71,217,000 |
You can look at teams like the Yankees and Red Sox and bemoan payroll disparity between the market sizes, but things look relatively competitive (payroll-wise) in our flyover division. Four of the five teams are within roughly $10 million of each other.
Payroll is the money that goes out of the club's coffers, attendance makes the cash registers sing. One thing that can be fun to track are attendance trends. As you can imagine, for the Royals in 2018 the early returns aren't encouraging. Opening Day saw an announced paid attendance of 36,517, which is nearly 4,000 below capacity. That's a stunning figure.
For some perspective, the club had topped 40,000 for their first home game of the season every year since 2010. In fact, going all the way back to 1997, the only time the Royals failed to break the 40,000 attendance barrier was in 2008 and 2009 when there were fewer seats available as the stadium was undergoing renovations.
A popular refrain will be the weather kept some of the faithful away, but don't buy that. Opening Day is an event where tickets are snatched up as fast as they go on sale. People don't wait around for tickets and they certainly don't do walk-up sales for the home opener. Sure, there may have been a few fence-setters who were waiting to make a decision, but that would be a small fraction of those who actually attended.
Instead, it looks like the hangover of being a couple years removed from a World Series title, combined with the loss of several fan-favorite players, along with escalating ticket prices conspired to keep people away.
Obviously, there are lean times ahead. And with several stalwarts moving on to new teams, that makes it less palatable to casual fans who fell for players like Eric Hosmer and Lorenzo Cain. That's natural and in this situation, unavoidable.
Then, there are the ticket prices. The cheapest ticket on Thursday, with fees, was around $90. That's simply an insane amount of freight for a team on the fringe of tanking, home opener or not. Again, perspective matters, but if you purchased tickets to the 2014 Wild Card Game, it's possible you got into the stadium for less than Opening Day 2018. Naturally some of that can be chalked up to inflation. Ticket prices always increase. A personal note here: For the Wild Card game, a friend bought me a ticket down the first base line in the 300 level in what used to be known as Club Level Seating. That ticket cost me $60, direct from the Royals website. That same ticket for Opening Day would have cost almost three times that amount. It's not difficult to see why anyone would skip the lid-lifter for something a little more friendly on the wallet.