The kid pitcher with exactly 101 major league innings on his resume. The slugging veteran who is a career .317/.395/.553 hitter with 463 home runs on his way to Cooperstown. A mismatch perhaps? Not when the kid comes armed with a wipeout slider.
Jakob Junis found himself in a spot of trouble in the third inning on Tuesday. Nursing a one run lead, he walked the ninth place hitter, Dixon Machado, with one out. Two batters later, Jeimer Candelario singled him to third. On a cold and wet day in Detroit, where it seemed runs would be difficult to manufacture, this felt like a pivotal moment in the game.
Up to the plate strode Miguel Cabrera.
It wasn't the plate appearance that tipped the scales in the Royals favor. In a 1-0 game those key moments come later, when the outs are precious. So while this wasn't a key event in terms of Win Probability, it did loom large as the Royals desperately wanted to extinguish the threat and get out of the inning with their lead intact.
Junis would lean on his best pitch against the Tigers' best hitter. It was the defining moment of the game.
First Pitch
In their first confrontation in the opening frame, Junis showed slider twice. The first came in at 81 mph on an 0-1 pitch that was low and away. Cabrera didn't bite. It vibed more of a show pitch than anything Junis wanted him to fish for in that situation. The second slider, also at 81 mph, arrived on a 3-2 count and ended the at bat as Cabrera grounded it to shortstop.
The stakes were a bit higher this time around. With runners on the corners and holding a one run lead, Junis returned to his money pitch. Hello, slider.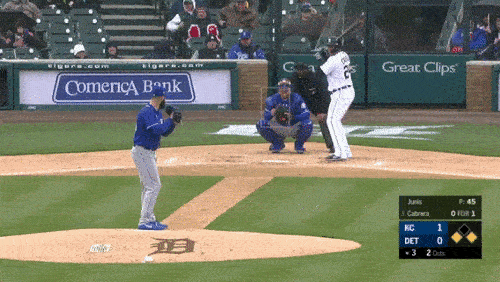 The pitch to start the plate appearance came in at 80 mph, a tick slower than the two previous sliders Cabrera saw. Here, he looks like he's gearing up for a fastball, only to recognize slider in time to hold his swing. No matter. Strike one. It really shouldn't be surprising Junis flashed his slider in the first pitch. In his brief major league career, he's thrown 40 percent sliders to right-handed batters. He'll offer it on the first pitch to them 35 percent of the time.
(GIFs are from the Fangraphs write-up on Junis.)
Second Pitch
This is where a little strategy comes into play. Junis is ahead in the count thanks to Cabrera's inability to pull the trigger on a first pitch slider. How do you attack with the second pitch?
"We (Junis and catcher Cam Gallagher) said, 'Why not throw another one? We went a little bit further outside and he swung through it," Junis told Rustin Dodd of The Athletic.
Indeed.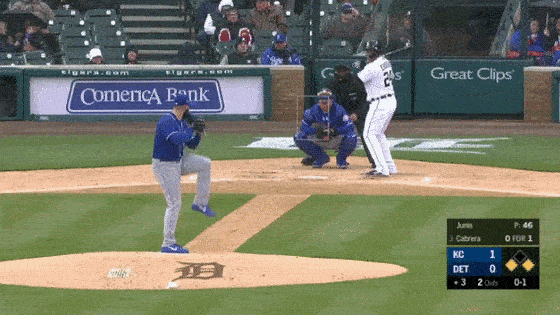 The Junis slider is a sweeping pitch. It can fool hitters, but he doesn't generate a ton of swings a misses on it relative to other pitchers who throw the slider. His whiff rate on it is around 15 percent. According to data from Baseball Savant, Junis extended his arm just a little more on this pitch than his other sliders. Just a little. On the chart below, you'll see a cluster of orange dots. The second pitch is the one furthest from the plate and closest to the six foot line.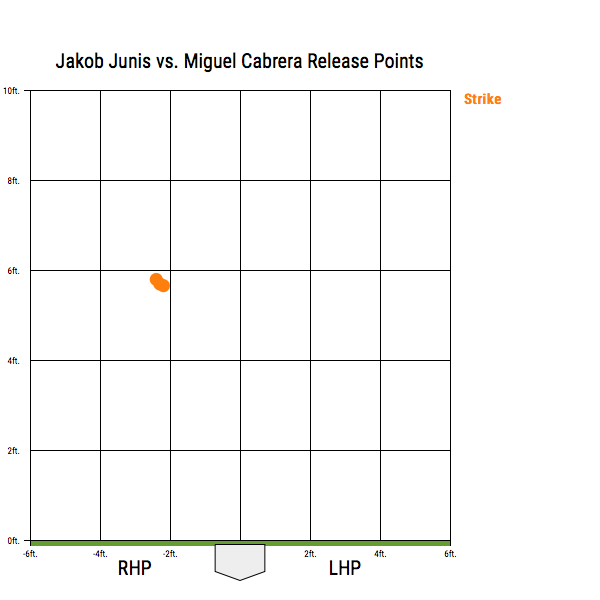 Sometimes, a little is enough. This pitch possessed just a little more downward dive to perfectly paint it in the low and away quadrant of the strike zone. Last year may turn out to be an aberration in Cabrera's Hall of Fame career, but the location of the Junis' slider was exactly where you want to spin the Tiger first baseman, at least based off data from 2017. It was the perfect spot if you were looking for Cabrera to swing and miss at the slider.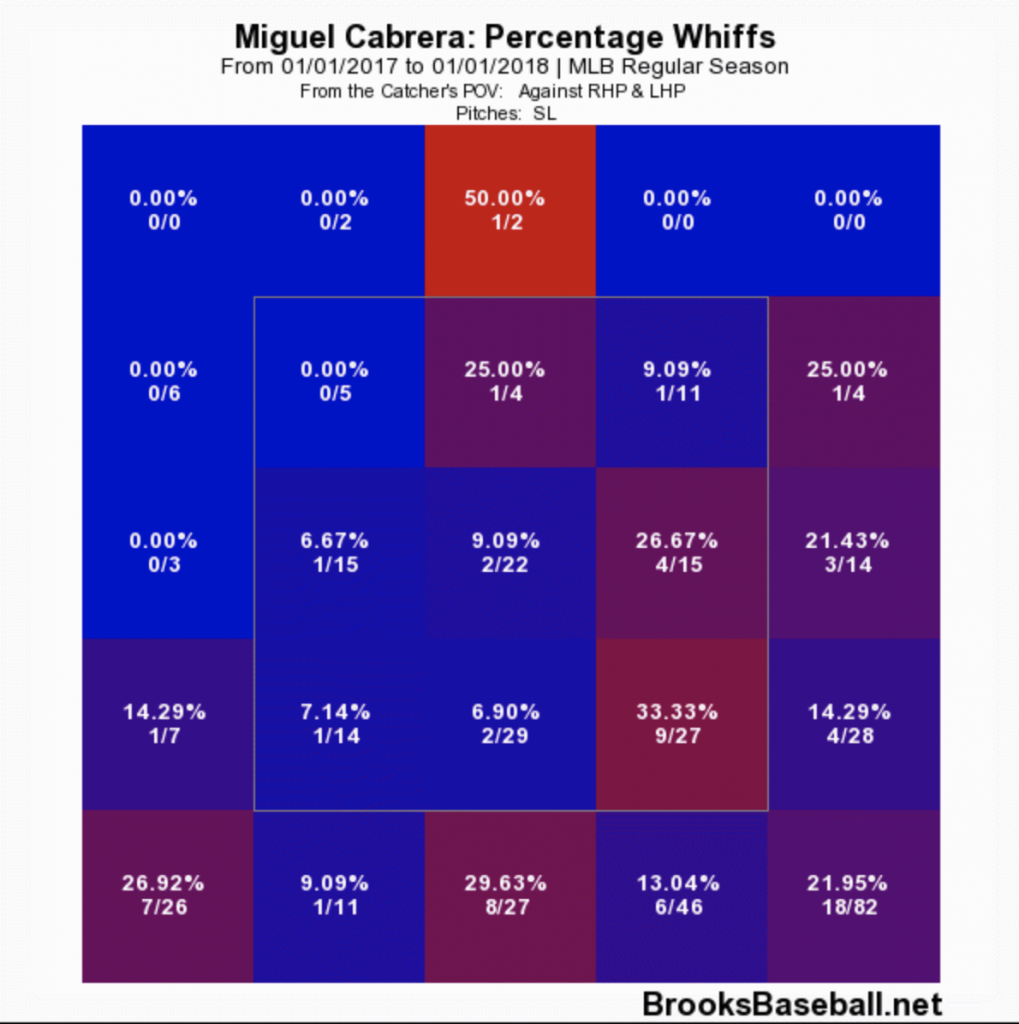 It turns out that pitch, in that location, was essentially a win-win situation for Junis.
Third Pitch
Junis will bring the slider 60 percent of the time he has two strikes on right-handed batters. Dare he throw it a third consecutive time?
Damn right he does.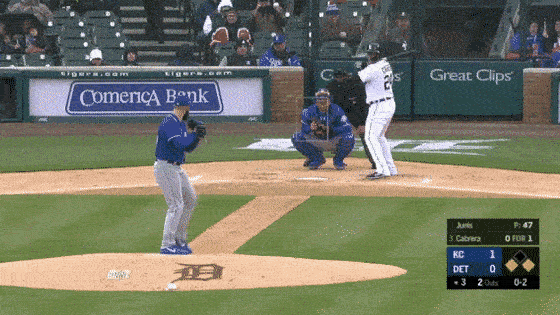 At 83 mph, it was his fastest thrown slider of the plate appearance.
"I was just trying to throw the last one as hard as I could. And I got lucky it was going right at him. It kind of froze him and broke over the plate," Junis told Dodd at The Athletic.
When going for that little extra oomph behind a breaking pitch, the tendency can be to overthrow where you may not get the command you're hoping for, or the tightness of the break can go awry. In this instance, Junis was able to keep it under control. As he said, it started inside, more so than his previous two sliders. Either by luck or by design, it doesn't matter because it's all about the result. In this case, Cabrera is bailing out of the box as it sneaks back over the inside corner.
Three sliders. Three strikes. A rally thwarted, a Royals win and the legend of the Junis slider begins to grow.