So what we had on this night was an answer to my previous query of, "When should Brandon Maurer pitch?"
A: Any game the Royals are up or down by nine or more runs.
Maurer got that opportunity thanks to Jake Junis, who carried a no-hitter into the seventh and generally looked the part of No. 1 Starter-In-Training as he, combined with an out-of-nowhere offensive explosion, took down the Mariners in a 10-0 drubbing of the visitors on frigid night at Kauffman Stadium.
A one-word summary of Junis' night would be "economical"; His pitches per inning:
First: 10
Second: 16
Third: 10
Fourth: 22
Fifth: 11
Sixth: 4
Seventh: 19
Final tally: barely 90 pitches required in a one-hit, seven-inning affair. He didn't have the strikeout stuff; he induced contact, getting two-thirds of his outs via either the slider or the sinker as batter after batter simply couldn't barrel up. Only David Freitas (fifth-inning liner right to Paulo Orlando) and Robinson Cano (sharp sixth-inning grounder to Mike Moustakas) showcased an exit velocity above 100 mph against Junis; no batted ball had better than a 61 percent chance of being a hit, and that wasn't even Dan Vogelbach's seventh-inning single that finally broke up the no-hitter, it was Freitas' liner.
The offense helped take the pressure off in the first inning. As has happened quite often through the first eight games, the bats jumped out with some runs in the first, tagging Marco Gonzales for two runs before he ever recorded an out thanks to Moustakas' line drive over the head of an inexplicably drawn-in Dee Gordon, scoring Jon Jay and Whit Merrifield after they led off the Royals night with back-to-back singles. Moose would score on a Jorge Soler single and Gordon error (not his finest moment) and chase Gonzales after 2.1 inefficient innings.
(Also helpful: A quickly-turned 6-4-3 double play in the third that cut down Dee Gordon on a close play at the bag. Gordon, one of the fastest players the game has ever seen, is a one-man rally on the basepaths; limiting his chances to take off on Junis, whose control was not impeccable by any means with two walks and three hit batters.)
Casey Lawrence was little better; entering with an out and runners on second and third, he surrendered an Alcides Escobar groundout to score Soler, then allowed a five-spot in the fourth that went Merrifield single, Moustakas flyout, Cheslor Cuthbert walk, Merrifield steal, Soler walk, Orlando grounder to score Merrifield, Cam Gallagher double to score Cuthbert, Escobar single to score Orlando, Drew Butera double to clear the bases. By the time he induced a Jon Jay flyout, Lawrence's ERA stood at 10.38 and the score was 9-0.
To review: Casey Lawrence allowed the first RBI of the season to Esky, Paulo and Cam Gallagher. Usually people who do that find another line of work sooner rather than later is what I'm saying.
It's here I feel compelled to talk about Jorge Soler, because he went 2-for-3 again Monday night; his average has gone from .000 to .278 in just over 24 hours. And unlike his performance in the finale against Cleveland, which consisted of dink-and-dunk hits and seeing-eye singles, Jorge's balls in play exited at 107 mph (first-inning single), 108.9 mph (third-inning single) and 111.2 mph (grounder to short). Perhaps rumors of Jorge Soler's demise were slightly exaggerated.
Nobody, not even Brandon Maurer, was gonna screw up a nine-run lead and to his and Brian Flynn's credit, they both tossed scoreless innings in mop-up time (lowering Maurer's ERA to 15.00 and Flynn's to 11.57), while Moustakas slammed his season's first homer in the ninth to help the Royals reach double-digits. Since I've got nothing else to really add there, I think it's fair to point out that Moustakas' first homer was not of the lucky, wall-scraping variety, and I'll do it with this handy chart because Lesky turned me onto Baseball Savant and I'm a huge dork.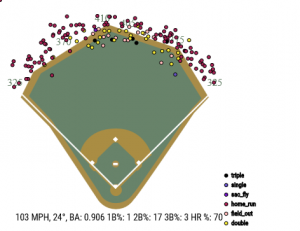 Bright Spots: Eight of the nine players in the lineup got a hit, and the only one who didn't—Cuthbert—walked three times. The staff combined for a two-hitter. Whit, Moose, Soler and Orlando collected multiple hits. The defense was solid. Other than that, pretty garbage night.
The Nadir: Having the, "Look, I don't care how bad he is, Maurer can't screw THIS up, right?" conversation. That's no fun. And something called Chasen Bradford threw three scoreless innings in relief for Seattle, although it was 9-0 at the time and everybody looked cold.
The Next Step: Can I interest you in King Felix (hey, thanks FSKC for giving me disinformation I could've corroborated for myself during Sunday's broadcast; I was hyped for Felix-Junis) vs. Eric Skoglund in a game that could give the Royals (gasp!) a series win? I could? Cool, kicks off at 7:15 p.m. (CT), Tuesday.