HR Roll Call Elier Hernandez (1), Seuly Matias (11), Sebastian Rivero (3)

BPKC Hitter of the Day Elier Hernandez 4-5 4R, HR, 2b, 4 RBI
BPKC Pitcher of the Day Carlos Hernandez 5 IP 1 H 0 R 0 ER 0 BB 9 K 4-1 GO-FO 62p/42k


Lexington Legends 6 Greenville Drive 0
The Legends received outstanding pitching from start to finish while the offense powered up in the first game of their series with Greenville. Starter Carlos Hernandez was efficient and dominant in his second start, overpowering hitters for nine strikeouts over five innings. The only hitter to reach versus Hernandez was Victor Acosta with his second-inning single before getting thrown out at second on an attempted steal. An error allowed Acosta to reach in the fifth but Hernandez had no problems throughout, going one over the minimum while he attacked the zone with 42 strikes on 62 pitches, something he struggled with mightily in his first start. The offense backed him with four runs in the first three innings including a rbi single by Sebastian Rivero in the first inning as part of a 2-4 day that included his third home run of the season. Power hitting Seuly Matias connected on his eleventh home run in the seventh to push the advantage to 6-0 before the bullpen shut things down.
Seuly Matias 1-3 2R, HR, 2BB
Sebastian Rivero 2-4 HR, 2 RBI, CS 1-1
Brewer Hicklen 2-4 BB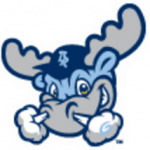 Carolina Mudcats 5 Wilmington Blue Rocks 1
Wilmington's offense was dormant for much of Saturday's game, getting just two Khalil Lee hits through the first eight innings. This left starter Arnaldo Hernandez behind after allowing a pair of second-inning hits that led to a run. Two more runs off Hernandez in the sixth and a couple of newly promoted Josh Mitchell in the seventh left Wilmington behind 5-0. The Rocks only run in the game came in the ninth with a pair of doubles by Emmanuel Rivera and Kort Peterson.
Emmanuel Rivera 1-4 R
Khalil Lee 2-4 2b, 2K
Kort Peterson 1-3 2b, RBI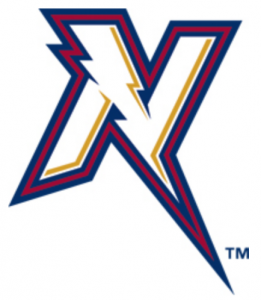 NW Arkansas Naturals 10 Tulsa Drillers 9
The Naturals trailed for much of the night Saturday but finally caught the Drillers in the ninth before getting some help to walk off the game. A huge night from the Naturals 3-4-5 hitters did most of the damage for them with Samir Duenez and Elier Hernandez driving in seven of the ten runs. Starter Scott Blewett couldn't take advantage of the Naturals runs, giving up five runs in four innings while allowing seven hits and three walks in that time. Trailing 8-3 heading into the bottom of the fifth the top four hitters in the lineup each reached base with three singles by Donnie Dewees, Nicky Lopez and Elier Hernandez sandwiched around a walk to Erick Mejia, Hernandez drove in Dewees before a sac fly by Samir Duenez, a wild pitch and a double by Brandon Downes scored the other three in the frame to pull within 8-7. The Drillers added a run in the sixth before the Naturals pulled within a run in the seventh and quickly put the tying run on third in the ninth with a Nicky Lopez triple, his fourth hit of the night. A single by Hernandez, also his fourth hit, scored Lopez before he advanced to second on wild pitch and moved to third on a Duenez groundout. With the winning run on third and two down the Drillers third baseman threw wide of first base on a groundball hit by Downes which allowed Hernandez to come home for the walk-off winner for NW Arkansas.
Nicky Lopez 4-5 3R, 3b currently hitting .320/.408/.375 this season
Samir Duenez 2-4 3 RBI
Yunior Marte 2 IP 0 H 0 R 0 ER 2 BB 3 K 1-1 GO-FO 33p/18k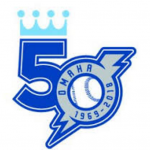 New Orleans Baby Cakes 5 Omaha Storm Chasers 0
The Chasers offense is in full struggle mode, last in the PCL in multiple categories and shutout for the fourth time this season. Starter Scott Barlow struggled with the zone, tossing just 57% strikes on 79 pitches while walking three hitters in just three and two-thirds innings. In addition to the three walks, he allowed four hits including a three-run home run to Chad Wallach in the fourth that did most of the damage to his line. New Orleans starter Trevor Richards went six innings before handing things over to Justin Turner for the final three frames in to finish the shutout.
Hunter Dozier 2-4
Scott Barlow 3.2 IP 4 H 4 R 4 ER 3 BB 4 K 2-4 GO-FO 79p/45k
Ryan O'Hearn 0-4 2K
Sunday Probables
Omaha – Glenn Sparkman 3-2 2.94 ERA 1.07 WHIP
NW Arkansas – Emilio Ogando (lhp) 2-2 5.56 ERA 1.94 WHIP
Wilmington – Cristian Castillo (lhp) 1-4 7.71 ERA 1.74 WHIP
Lexington – TBD