It's been a running joke for quite some time among baseball fans that Royals hitters are impatient and don't look to draw walks. While it was a joke among fans it has been a matter of fact at the major league level for as long as most can remember as the Royals rank last in team walk percentage for as long as a period as you want to go back to.
In fact, if you take look at the Royals from 1969 to now their franchise is the only one in the league walking below an 8% rate, ranking last in that category. At one point there was some value to being a heavy contact-oriented club; after all the AstroTurf field allowed for hard-hit groundballs to get through more often and balls would bounce their way deeper in the outfield off the ground, allowing for speedsters to take extra bases with more frequency.
Those days have long past though with the change to a beautifully maintained grass field at Kauffman Stadium in 1995. Despite the changes to the game, no Royals front office has been able to change the philosophy, never ranking in the top half of the league in walk percentage through the Baird or Moore regimes. This year's current squad ranks in a tie for last and things on the surface don't appear to be changing in the minor league ranks as a whole if you look at this chart.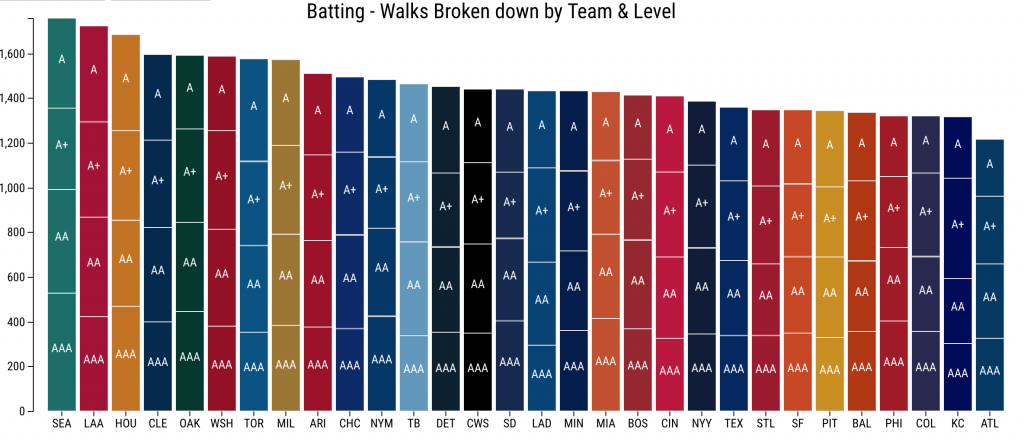 There is, however, some bright side if one looks closely at the Royals chart they can see a small anomaly in that A+ number. Currently, the Wilmington Blue Rocks have drawn the fifth-most walks as a team of any minor league team. Behind those numbers are some real prospects with a patient approach.
Blake Perkins 19.4% Walk Rate
Khalil Lee 15.9% *Now in NW Arkansas
Rudy Martin 14.7%
Nick Heath 14.9%
D.J. Burt 12.6%
Travis Jones 12.3%
Meibrys Viloria 10.8%
In addition to those players, a couple of others are showing good walk rates at other levels.
Nicky Lopez 10.6%
Ryan O'Hearn 11.1%
Even an increased walk rate for Nick Pratto appears to be in the works as the Royals 2017 1st round pick has seen his walk rate climb to 11% in the second half of the season after posting a first-half rate of just 6.5%.
Besides these numbers, we have seen a quote from the Royals asking a player to adjust his game to look to be more patient at the plate.
Juan Carlos Negret – "As important, he also drew a walk for the fifth time in six games after Royals coaches specifically addressed his lack of walks with him." Via Baseball America
As a whole, the organization still isn't walking at a great rate in the minor leagues as the graph above shows and there are still some well-known prospects that could see a tick up (Seuly Matias 6.9%) but there appears to be some progress being made as well as a change in the what the team is looking for in position players in the draft.
2016
Khalil Lee 13.3%
Nicky Lopez 10.1%
Cal Jones 6.2%
2017
Nick Pratto 8.7%
MJ Melendez 9.9%
Michael Gigliotti 14.6%
Brewer Hicklen 7.9%
2018
Kyle Isbel 11.5%
Eric Cole 12.5%
Most of the hitters listed above are top of the order type table setters or bottom of the order types with the athleticism to play good defense up the middle. This is slightly different from what the Royals saw up the middle during their winning season in'13 and two World Series teams.
2013-2015
Lorenzo Cain 6.4% – Minor League Walk Rate 8.6%
Jarrod Dyson 7.6% – Minors 8.6%
Salvador Perez 3.3% – Minors 5.1%
Omar Infante 3% – Minors 3.5%
Alcides Escobar 3.5% – Minors 5%
That group did two things extremely well, play defense at the best rate in the league while making contact at an extreme rate. The second came with a lack of walks and fewer times on base as a whole which likely sacrificed their run production despite frenzied hitting at times. The jury is still out whether this new group of players will become major league players, how well they play defense but one thing is for sure already, they take a different plate approach that is both more conducive to getting on base as individuals and scoring runs for the team.
Reason for the Change
The Royals organization and all teams have more data available to players than ever before with scouting reports of pitchers, player hot zones, video, and Trackman data available to all the players. In particular, J.J. Picollo states that the type of player they have selected in the draft has played a part in the increase. "I don't think we're consciously trying to walk but we're trying to be better with our pitch selection. The result of better pitch selection and better patience at the plate is going to lead to more walks." "It's still not where we want to be but it has seen improvement and that Wilmington club has led the way." "I think what you see with that team is it tends to become a team's identity and rolls over to each player on the team." It has worked for Wilmington thus far as they currently stand in first place while leading the league in walks.
The tools are there for the players to review. The hitting coaches and organization encourage it and review it with them; when I asked two of the more patient hitters in the organization, Khalil Lee and Nicky Lopez, about their current approach they both said it was just something they have always done. Lopez said he will review the data but tends to look at the video if he is struggling rather than examine it day-to-day. He knows that analytics is a big factor in today's game but without digging into it he thinks his game is something already that will fit well with a major league club.
Overall there needs to be an improvement with the Royals ranking very low as an organization but one can see that the steps to make that change have already been put in place to make those changes in the organization.
Featured Photo © Bruce Kluckhohn-USA TODAY Sports
Follow me on Twitter @ClintScoles