The Orioles… whew, they are bad.
To say that as one who has spent hundreds of hours watching the Royals this year, it's really no small feat to make me consider a team to be bad, but the O's are so much worse than any team I've seen, including the Royals, perhaps ever. Friday, they made Brad Keller—a fine pitcher having a good season by most any measure—look like modern-day Sandy Koufax. Saturday, they snatched defeat from the jaws of victory by surrendering the walk-off bomb by Whit Merrifield.
Sunday, they just plain old-fashioned sucked. Jorge Lopez is, I think, going to be good pitcher. But he may not enjoy a better start than his outing against a punchless Orioles lineup in the series finale.
Jonathan Villar, who has to be wondering what he did to deserve going from Milwaukee and a pennant chase to Baltimore and a surefire march to 110 losses, homered with two outs in the first inning. That and the five outs they were able to record before surrendering Kansas City's first run represented the halcyon part of Baltimore's day.
A one-out Jorge Bonifacio single and back-to-back two-out knocks by Brett Phillips and Alcides Escobar (don't blame me, I'm just the messenger) scored Rosell Herrera, who reached on a fielder's choice in the second inning. That tie the game—an inning later, the Royals hung up a crooked number and Baltimore never recovered.
Sunday's effort was aided by the fact that Baltimore continuously shot itself in the foot at the worst possible time. Take the third inning, for example—after back-to-back singles by Whit Merrifield and Alex Gordon, a pickoff attempt by David Hess went hilariously awry and ended with Merrifield scoring and Gordon standing on second.
After Jorge Bonifacio doubled to score Gordon, Hess tried (and failed) to pick him off at second. Hess' low throw trickled into the outfield under Breyvic Valera's glove, and Valera made a bad situation worse by trying (and failing) to throw Bonifacio out at third—his toss got away from Jace Peterson at third and Bonifacio trotted home for another run.
The Good Guys tacked on another in the fourth, and it was started by a heads-up Brett Phillips. The rookie checked his swing on a potential third strike in the dirt and didn't even wait for third-base umpire Greg Gibson to confirm whether he had held up or not—he streaked down the first base line and beat out Caleb Joseph's throw. He moved to second on an Escobar single and scored when Whit tagged a liner into left.
And through this, Lopez kept right on cruising. He had at least one strikeout through his first five innings of work, including sitting down the side in order in the second. And when he wasn't sitting down the Orioles on his own, he was getting help from some great defense behind him—in the seventh, Herrera made a tremendous dive-and-flip to Escobar to force Chris Davis out at second, then turned a 4-3 double-play by snaring a diving liner off the bat of Valera.
To add insult to injury for the Orioles, the Royals poured in four more runs in the bottom of the eighth. Rosie was hit by a pitch and Escobar walked; making his MLB debut, Meibrys Viloria rocketed a double off the fence in right to clear the bases, then came in to score two batters later on a Gordon double. Gordon then scored on Hunter Dozier's first pitch triple into the left field gap. 9-1 your final; the Royals outright drubbed the O's. Viloria got a Salvy Splash. Time to add the best photo in the history of the world.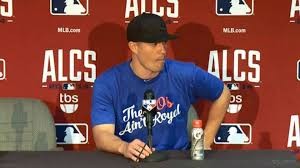 Unusually Happy Tweet of the Game
This is really, really fun baseball to watch. #Royals #RaisedRoyal #ForeverRoyal

— Emily B (@emilyreadsalot) September 2, 2018
The Bright Spot: Three hits for Gordon and Escobar. Two each for Merrifield, Dozier and Bonifacio. But Lopez (7.0 innings, five hits, eight strikeouts, one earned) has to take the nod here. I don't know what the kid will become in his career, but Sunday was a good omen.
The Nadir: Ryan O'Hearn was 0-for-5.
The Next Step: The Labor Day matinee in Cleveland will pit Jakob Junis, fresh off his first career complete game, against Adam Plutko, who I have no opinion about one way or another except, "Hey, at least he's not Corey Kluber, Mike Clevinger, Carlos Carrasco or Trevor Bauer." First pitch is scheduled for 3:10 p.m. (CT).