After the 2017 season, the Royals were poised to lose a good chunk of their core, but they also made the decision to change up the coaching staff a bit. As we know, they moved on from Don Wakamatsu as bench coach and Dave Eiland as pitching coach, both well respected, and hired Terry Bradshaw and Cal Eldred to fill the hitting coach and pitching coach roles respectively with Dale Sveum shifting to Wakamatsu's spot as Ned Yost's right-hand man. The Eiland move, in particular, was questionable as he'd developed a reputation as a very good pitching coach, but the Royals felt the time was right.
Early on, it looked like they made a terrible mistake. Maybe moving on from Eiland wasn't necessarily wrong, but Eldred didn't appear to be a positive influence on the staff as they appeared unprepared for opposing offenses at times and unwilling to adjust. I know that's an odd thing to say about a guy who never threw a pitch for the team, but I sort of felt like that was on him and I questioned his ability to do his job. Obviously the lack of talent in the bullpen was a problem, but even so, established pitchers were struggling as well, which is a bit concerning.
It was pretty much a struggle through July. The offense got more fun when Ryan O'Hearn came up and Adalberto Mondesi really got going, but it's pretty easy to see why the team got better after July 31st. The pitching improved a great deal. After starting 33-73 with a 5.30 ERA, they went 25-31 with a 4.26 ERA the rest of the way. August wasn't stellar, but the starters had an ERA of 4.90 while the bullpen's was down to 4.52, their second lowest mark of the season to that point. In September, the starters really kicked it up with a 3.49 ERA and the bullpen posted a 4.39 mark, their new second best. Take a look at the starter and reliever ERAs by month here: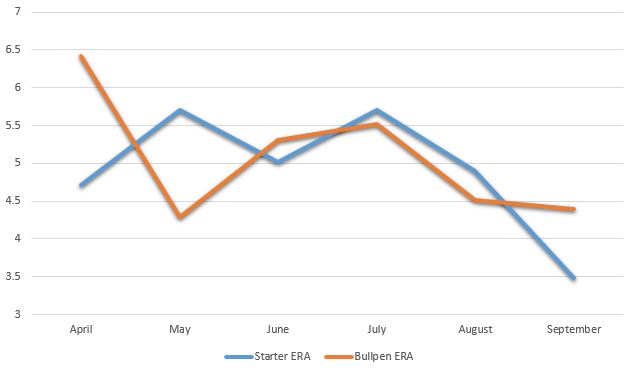 I guess the question is whether or not that was just noise or if there's something to it. I think simply not having Blaine Boyer and Justin Grimm helped and limiting the innings of Jason Hammel helped quite a bit too. And overall, the numbers weren't really that much better. There was a spike in strikeout percentage in August, but that dropped significantly in September as well as the swinging strike rate, so maybe the September numbers are a bit of a mirage. I'll get back to that in a second on an individual basis, but here are their numbers month-by-month.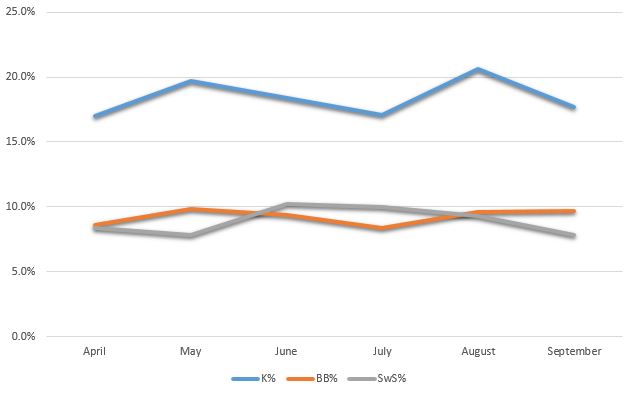 And finally, before I get into the individuals, I found it very interesting that the team ground ball percentage as a staff in the first half was 41.7 percent, which ranked fifth lowest in baseball. The fly ball percentage of 37 percent was fifth highest. In the second half, the ground ball percentage was 45.3 percent (third highest) and the fly ball percentage was 33.1 percent (fourth lowest). Here's a look at the ground ball and fly ball numbers by month followed by the home run per nine numbers: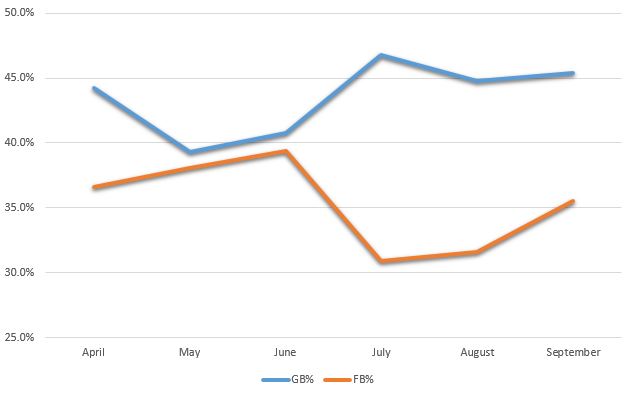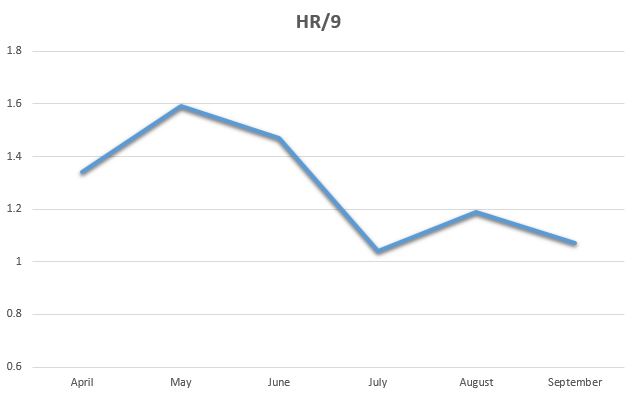 Now let's talk individuals because it's one thing to look at team numbers, but they include guys like Boyer, Grimm and Hammel and a bunch of pitchers who don't really matter to both the future of the team and even a cursory evaluation of Eldred in his new role. The young guys are who Eldred was brought in to work with, so I actually want to see how they did throughout the season. Let's start with the success stories and move into the…others.
Brad Keller
It's hard to fully evaluate Keller's season on a month-by-month basis because the first two months were mostly spent in the bullpen and then he had to evolve a bit as a pitcher, which he absolutely did. This is an Eldred success story if you pin that on a coach. He saw his strikeout percentage jump up in the last two months and his swinging strike percentage go way up in his final month with his walk rate taking a tumble. It all kind of came together for him in September as you can see his ground ball rate jumped back up to where it was early in the year as well. All in all, this is a fun one to look at.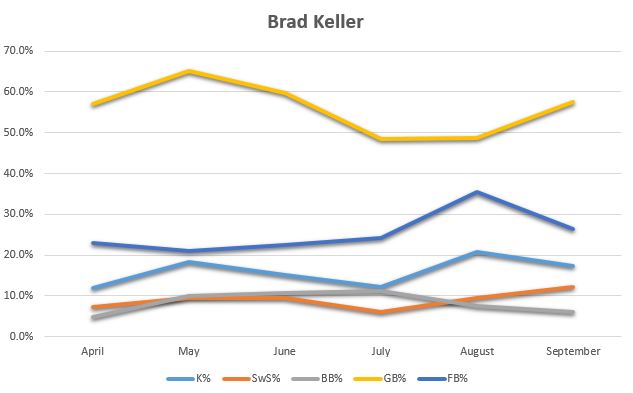 Heath Fillmyer
Fillmyer is a massive success story even if he never becomes a solid big league pitcher. Maybe it's just my perception because I believed he was a big nothing burger, but he just kept getting better as the season went on. When he first came up, he was a ground ball machine, as you can see below, but after settling into a starting role, he wasn't quiet that. Still, in September, like Keller, he put together is best effort with season highs in strikeout percentage, swinging strike percentage, walk percentage (well, low there, but that's good) and a solid enough ground ball rate. His slider is a legitimately quality big league pitch, limiting opponents to a .242 average and .318 SLG with a 35.3 percent whiff rate. The surprise is that his changeup and curve both were solid as well. He may need to pitch backward a bit, but I think there might actually be a future on a big league club for him.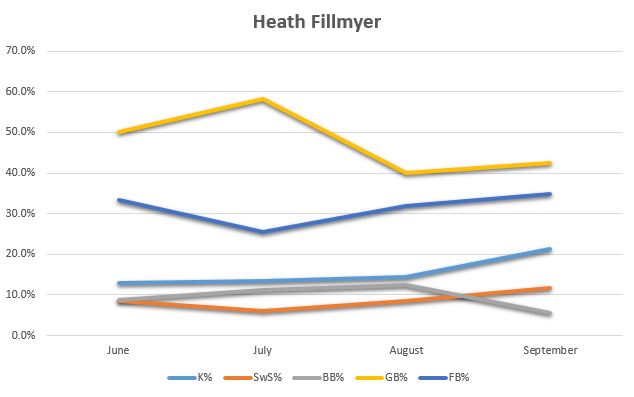 Jakob Junis
It was a truly odd year for Junis, who started off looking like he was going to way outperform projections, then his season took a dark turn and then he ended up about where everyone thought he would. The key for him is keeping the ball out of the air a little better. Through June, he'd allowed 22 homers in 96.1 innings, which is decidedly not good. And he had a fly ball rate of 43.8 percent. From July through the end of the year, he allowed 10 home runs in 80.2 innings. That's decidedly much better. And his fly ball rate then was down to 29.2 percent. His home run per fly ball wasn't drastically different. It was good to see him continuing to keep the ball in the park even while throwing a ton of strikes. Just look at those walk rates.

Kevin McCarthy
The reason I think McCarthy was a success for the coaching staff isn't so much the performance on the surface because he was relatively steady all year. What gets me excited about McCarthy is that he's an extreme ground ball pitcher (64.3 percent on the year), but he started getting swings and misses in August and September. Look at those rising swinging strikes rate (11.6 percent and 12.2 percent respectively after not topping 9.6 percent in any month). If he can do that while maintaining a fantastic walk rate and his ground ball rate, he might be more than a middle reliever moving forward. It's at least worth watching.

Danny Duffy
Duffy isn't young, but he is a part of the future, and his season cannot be classified as anything but disappointing. Injuries played a big role here, so I don't want to put this on Eldred, but it was a rough go. We know the baseball card numbers, but in August, his swinging strike percentage was down to just 7 percent, which is well below his average. I'm guessing this was injury, but look at this chart. He was just all over the place. I'm not sure it tells us anything, but he had a weird year. You can probably ignore September given that it's just two-thirds of an inning and seven batters worth of work.

Brandon Maurer
Please help me. There's something about Maurer that makes me wonder if he can be something next year. After some adjustments, his strikeout percentage jumped from 8.8 percent in July to 25 percent in August and 25.8 percent in September. He still walks too many and he's terrible, but this is exactly the reason why he'll get chances until he's 112. Anyway, I just wanted to throw him in because I'm mean.

Burch Smith
He's not good. He's not a big leaguer. He didn't get better. He's just not good. But hey, he walked fewer batters in July and August. So there's that.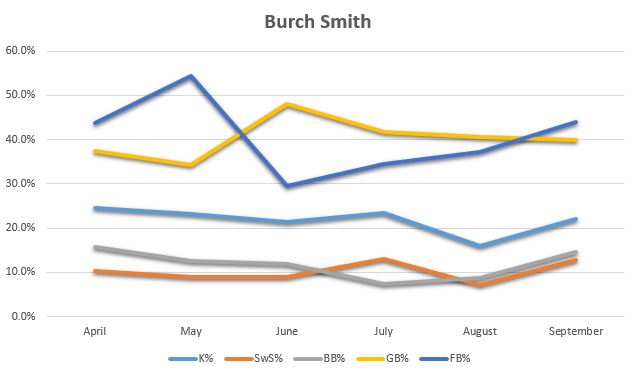 I thought about throwing in Tim Hill and Jorge Lopez, but they weren't especially interesting, though it is worth noting that Hill saw his walk rate cut in half from the first half to the second and his strikeout rate remain mostly the same. He doesn't get a ton of swings and misses, but his ground ball rate is so good that you're okay with that as a LOOGY. The big win for him was cutting that walk rate because he was putting way too many guys on early. Lopez is tough to gauge because the sample is tiny, but also because he was in a different role with the Royals than he had been in the big leagues before.
One other player who was of interest was Eric Skoglund. I was pretty adamant he wasn't a big leaguer, and I might have been wrong about that. He came back in September and the back of the card numbers were very good with a 1.33 ERA and just 11 hits allowed in 20.1 innings, but the underlying numbers were not great. The sample was obviously very small, but he's worth watching to see if that was a mirage or the improvement was for real.
In all, I really liked the trend of a fair amount of young pitchers. I'm not sure this is the best way to evaluate Eldred as a coach, but is there really a great way to evaluate coaches? It's kind of on the players. I'd say the improvements throughout the year at least reflect well on him and seeing guys like Junis, McCarthy, Keller, Fillmyer and some others improve in various ways as the season progressed makes me hopeful for him to be able to continue to make an impact as the pitching staff theoretically skews younger over the next few seasons. I'm not sold on him, but I do feel much better about him than I did early in the season