The 2015 season was pretty much an annus horribilis for right-hander Dillon Gee. A starter for all but three appearances for the Mets in his career, he was squeezed out of their rotation in spring training. Gee earned a reprieve when Zack Wheeler went down with injury and had Tommy John surgery. His time in the rotation was short-lived though, as Gee himself was bitten by the injury bug and landed on the DL last May with a groin strain.
After missing a month of action, Gee returned to a newly formed six-man rotation in Queens and was promptly lit up in his first start. He made two more appearances (one out of the bullpen and one start) before the Mets placed him on waivers. The move was hardly a surprise as Mets had tried to trade him almost since the end of the 2014 season. Freely available, they discovered the other 29 teams weren't impressed by his production commensurate to the remainder of his $5.3 million salary. Once again finding no takers on the trade market and out of options, the Mets sent Gee outright to Triple-A. It was thought he would return to the big league club in September, but the Mets decided they were well stocked in the arm department. Gee missed New York's entire October run.
Because he was sent outright to the minors, Gee was allowed to declare for free agency. Rumor has it there were several major league suitors for Gee, but he decided that Kansas City was the place for him to rejuvenate his career.
Gee features a starter's repertoire with five pitches in his arsenal. He features a fastball that clocks in around 90 mph along with a two-seamer with good sink. His change has good arm action with about seven mph of separation from his fastball. He will also throw a slider and a curve. None of his pitches grades out as above-average. His change-up is regarded as his best offering.
He throws his sinker more than any other pitch. It makes sense Gee profiles as a ground ball pitcher. His career ground ball rate is 48 percent. In his best season (2012), his ground ball rate was around 52 percent. Momentarily ignoring the small sample of his 40 innings from 2015, his previous two seasons featured fewer worm-burners. His ground ball rate for 2013 and 2014 dipped to 45 percent and his air out to ground out ratio was even, the first time in his career he didn't get more outs on the infield.
Without a plus pitch, Gee doesn't miss many bats. That fact alone makes him a candidate for Dave Eiland and the Royals pitching staff. However, his strikeout rate has been in a bit of a freefall since is breakout 2012.
2012 – 8.0 SO/9
2013 – 6.4 SO/9
2014 – 6.2 SO/9
2015 – 5.4 SO/9
Don't forget the caveat that for the 2015 season we are looking at just 40 innings of work. Still, that's quite a decline over the last three seasons. In fact, just about everything about his 2015 season was a struggle.
Year
Age
Tm
ERA
G
GS
IP
ERA+
FIP
WHIP
H9
HR9
BB9
SO9
SO/W
2010
24
NYM

2.18

5
5
33.0
181

4.20

1.212
6.8
0.5
4.1
4.6
1.13
2011
25
NYM

4.43

30
27
160.2
83

4.65

1.376
8.4
1.0
4.0
6.4
1.61
2012
26
NYM

4.10

17
17
109.2
93

3.71

1.249
8.9
1.0
2.4
8.0
3.34
2013
27
NYM

3.62

32
32
199.0
98

4.00

1.281
9.4
1.1
2.1
6.4
3.02
2014
28
NYM

4.00

22
22
137.1
86

4.52

1.245
8.4
1.2
2.8
6.2
2.19
2015
29
NYM

5.90

8
7
39.2
63

4.42

1.664
12.5
1.1
2.5
5.7
2.27
6 Yrs
4.03
114
110
679.1
90
4.25
1.310
8.9
1.0
2.9
6.5
2.26
162 Game Avg.
4.03
35
33
206
90
4.25
1.310
8.9
1.0
2.9
6.5
2.26
Over the course of his career, Gee's mechanics, particularly his release point, have been difficult to pin down. Normally, he throws from a three-quarter arm slot which gives his sinker and slider some nice bite.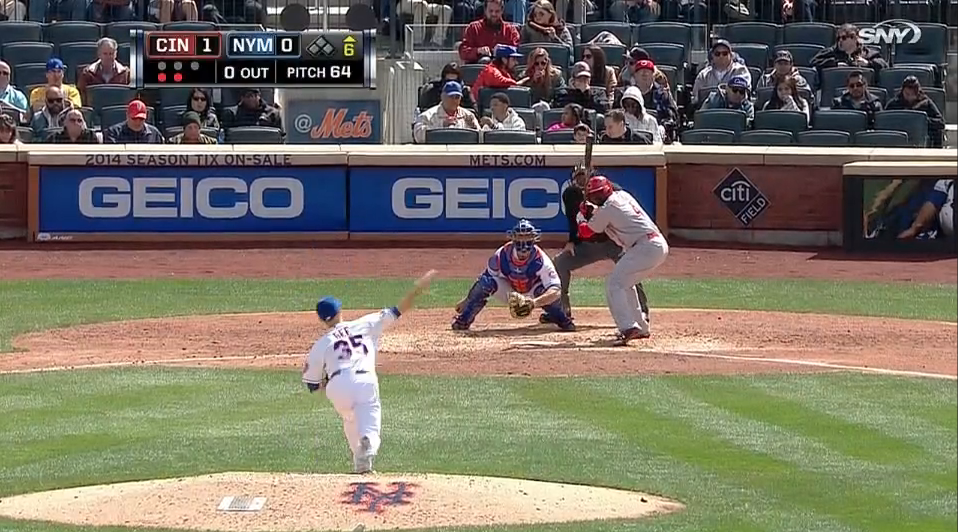 When he returned from the disabled list in 2014, he shifted his release point more over the top, which  caused his pitches to flatten out.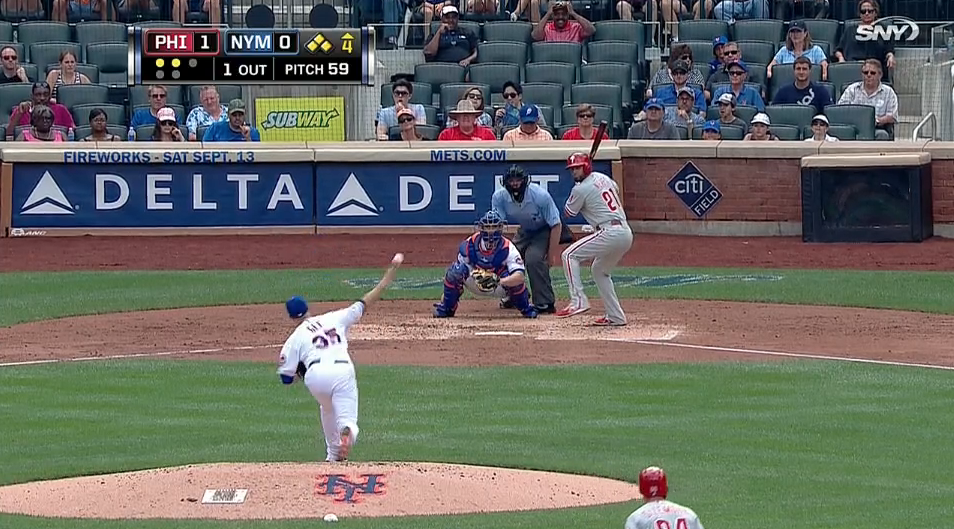 Reflecting upon his 2014 results, he made a concerted effort to keep his release point lower. Instead of finding his usual arm slot, he dropped lower.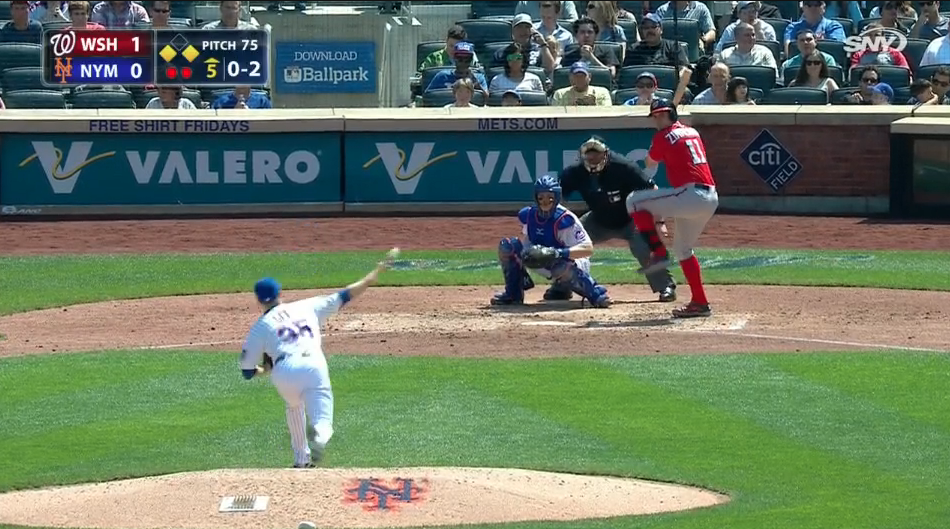 There's a subtle, yet noticeable difference in arm angle from the images above. You can also see his torso is tilted more to the first base side of the bag in 2015.
You can see a visual representation of his vertical release point throughout his career at Brooks Baseball. It looks a bit like my own EKG just before Alex Gordon crushed that pitch in Game One.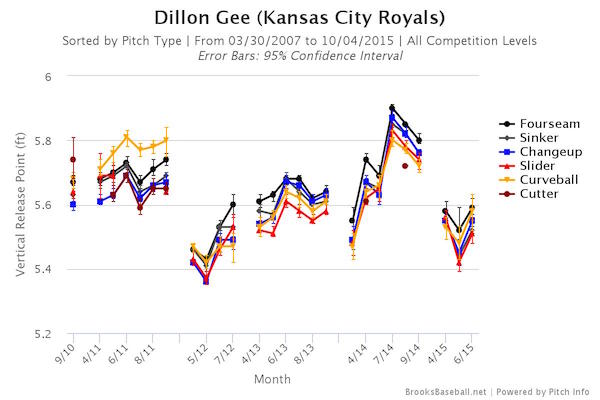 His pitches may have had a little more life with the lower arm angle, but they also caught more of the plate. Gee threw 57 percent of his pitches in the zone, compared to the league average of 48 percent. And frequently, those pitches found the hitter's happy zone.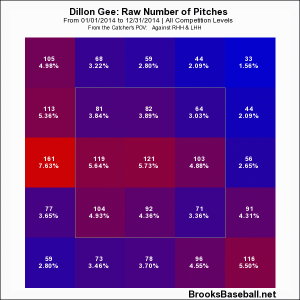 A graph like that doesn't tell us much without context of a good year for comparison. Gee's 2012 season was a year where he had a 1.2 WARP in 17 starts. He still caught the middle third of the zone, but it was with much less frequency.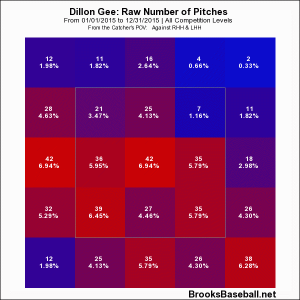 Catching so much of the plate, it's no surprise his hard contact rate was a career-worst 34 percent and his BABIP was a bloated .360, nearly 55 points over his previous career-high.
So the Royals are taking a flyer on Gee. He will earn a base salary of $2 million with innings and games started incentives that can push his total to around $5.3 million. So far, the early returns are promising. Yes, we take spring training results with a healthy dose of skepticism, but Gee has been a solid contributor, allowing three runs in 10 innings of work. The strikeout numbers are still down (he has three), but against just two walks and the Royals defense, that will be fine. In fact, he figures to benefit from the Royals infield defense behind him as opposed to what he's had on the infield with the Mets.
If the Royals of the last couple of summers have proven anything, it's that they know how to handle pitchers who could be exposed by frequent use. Gee figures to be something of a swingman, likely opening the season out of the bullpen before taking a few turns in the rotation. If he can couple adjusted mechanics with an  improved infield defense and a deep bullpen backing him up, there's no reason he can't be a valuable member of the staff as the Royals look to defend their World Series championship.