Ned Yost really likes set roles. He likes to pitch certain pitchers in certain innings. He likes to use defensive replacements in the same situations in every game. And he likes to set his lineup and forget it. Because of that, it's important to get the batting order right to give the Royals the best chance to score the most runs. The one lineup spot (or technically two) up for grabs is one of the most important positions in the order: the number two hitter.
Yes, this is an article about lineup construction. I know many believe lineup construction isn't all that important. While I generally agree with that, getting every edge possible is important in a division that is expected to be more competitive than it was last season. Of course it was supposed to be more competitive last season too, but that's another story.
The two battling for the role of the Royals number two hitter are Alex Gordon and Mike Moustakas. Both hit from the left side of the plate. Both have power. Both have even played third base for the Royals. Both have been considered busts before remaking their career in one way or another. So there are more than a couple similarities between the two. And if both hit the way they did in 2015, there's not necessarily a wrong choice. In my mind, though, there's a better choice.
It's Alex Gordon. He should hit second for the Royals in 2016.
I'll give you the obvious reason first. He gets on base at a higher rate. Over the last three seasons, he has a .348 OBP compared to Moustakas' .305 OBP. Last year, there was a similar gap as Gordon had a .377 OBP while Moustakas set a career high with a .348 mark. I don't mean to break any news here, but the more people on base, the more likely it is that runs score. So having a higher OBP at the top of the order sure seems insanely important.
That's reason enough for me, but there's more to it to back up the point, and a lot of that comes from the way the team is constructed and the way Yost constructs his lineup.
As you know, Alcides Escobar is going to hit leadoff for the Royals until the end of time because they win with him leading off for some reason. He's not your traditional leadoff hitter in that he's not really good at, you know, hitting. Dropping to the bottom of the lineup, the Royals are likely to use some combination of Omar Infante and Jarrod Dyson more often than not.
I assume Infante will hit eighth and Dyson ninth. If Dyson's oblique injury persists longer than expected, his replacements aren't likely to be better at reaching base than he is based on what the Royals have in house.
So let's see how many times the leadoff man, eighth hitter and ninth hitter have come to the plate for the Royals over the last three seasons.
| | | | |
| --- | --- | --- | --- |
| | 1st | 8th | 9th |
| 2013 | 745 | 626 | 602 |
| 2014 | 744 | 614 | 593 |
| 2015 | 746 | 623 | 596 |
| Average | 745 | 621 | 597 |
So no, the eighth and ninth spots are clearly not nearly as important as you can see by the number of plate appearances they've been given over the last three seasons. But those are the spots that would come up in front of the number two hitter when the lineup turns over, so they play a key role in this discussion.
Based on their respective on base percentages for the last three seasons and based on the plate appearances received for their lineup spots over the last three years, the hitters who will hit in front of the second spot aren't all that likely to reach base much. In fact, here's what that would look like:
Infante – 181 times
Dyson – 192 times
Escobar – 216 times
That means whoever hits second is going to come up with the bases empty an awful lot. That person will need to be a table setter for the meat of the Royals order.  That portion of the lineup has a chance to be legitimately good. With such an OBP liability at the top of the lineup in Escobar, having Gordon and his ability to get on base in front of Lorenzo Cain, Eric Hosmer, Kendrys Morales and (in this scenario) Moustakas is much better than flipping Moustakas and Gordon.
Just look at the numbers. Because we could be dealing with a new Moustakas, I'll be kind to his OBP and we'll only look at last season. Per 600 plate appearances, Gordon would reach base 226 times while Moustakas would reach base 209 times. That's 17 more times Cain and Hosmer come up with runners on with Gordon hitting second.
But there's more to it.
As convinced as I am that Gordon is better for the second spot in the lineup than Moustakas, I'm equally convinced that Moustakas is better for the sixth spot.
It comes down to power, and I think Moustakas has more game power than Gordon. Looking at last season's numbers again, Moustakas would average 282 total bases per 600 at bats compared to 259 for Gordon. Like the times on base, that's quite a difference. This is not a knock on Gordon, but I think Moustakas finds his power stroke in an even bigger way than last year in 2016.
No, PECOTA doesn't agree with that, but the Moustakas projection is drastically weighed down by his whole career before last season (FWIW, there are a couple PECOTA comps that stand out. Like 2010 Edwin Encarnacion and 2001 Mike Lowell). I believe in the changes Moustakas made and was actually more encouraged by what he did at the end of the year than his torrid start. At that point, he continued to use an all fields approach to some extent, but reincorporated power into his game.
After dealing with his personal issues throughout the season, Moustakas seemed to finally settle on a hitting style that best utilized what he brings to the table. He did a much better job of picking out what pitches he could drive and what pitches he couldn't. That led to him ending the season on a very high note over the last seven or eight weeks.
Hitting behind Gordon and Cain and Hosmer and Morales should provide whoever hits sixth with plenty of opportunities to bat with runners on base. We already talked about Gordon's OBP. Cain, Hosmer and Morales had OBPs of .361, .363 and .362 respectively last season. If they can be anywhere near those, having Moustakas followed by Salvador Perez as guys who can create big time offense with one swing of the bat should help the Royals to produce more runs.
It's as simple as looking at the run expectancy matrix.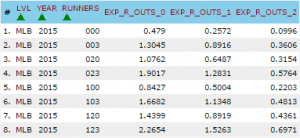 With nobody on, the odds of scoring a run aren't especially great, no matter how many outs there are. With runners on, it gets easier. Getting the guys on for the guys who can drive them in seems like a good idea to me. It's not rocket science.
The Royals talk about wanting Gordon in the sixth spot because he's a "run producer," but I'd argue that they'd get more bang for their buck from each spot in the lineup if they label Gordon a "table setter" (who can also produce runs, by the way) and Moustakas a "run producer."
Let's be clear. If both players produce at their 2015 levels, you can't go wrong with Moustakas hitting second and Gordon hitting sixth. They're just better the other way around. Over 162 games, I could see it netting the Royals an extra 10-12 runs, maybe more. That's an extra win, which could be the difference between getting to watch the Wild Card game from the comfort of home or having to play in that game. As much fun as that 2014 game was, I think all parties involved would much prefer the former to the latter.