Things haven't gone well for the Royals rotation recently. After a string of poor starts, the rain really poured with the announcements that Chris Young and Kris Medlen were headed to the disabled list. Dillon Gee is taking Young's place in the rotation, while Danny Duffy will be stretched out to take Medlen's spot for the time being. Duffy has found his groove in the bullpen recently, with 13 strikeouts and one run allowed in his last 10.2 innings. He's also only issued two walks in that span. For much of the season, Duffy's been effective, and one of the biggest reasons for that is his reliance on his explosive fastball.
In Duffy's 16 appearances this season, he's thrown a fastball nearly 80 percent of the time. That includes Duffy's sinkers. His fastball is averaging 97 mph, with nearly a foot of rise, and his sinker has more than nine inches of run. It's no wonder he's leaned on his hard stuff in the bullpen: it's all filthy. Opponents are hitting just .220 with a .293 slugging percentage against the four-seamer, and while he's given up a pair of doubles off of his sinker, he's only allowed a .273 average.
The other 20 percent of Duffy's pitches have been split pretty evenly between his slider and his changeup. Opposing batters are 5-16 facing those pitches, with one home run. They haven't really crushed those pitches, but with the way Duffy's throwing his fastball, he hasn't had to worry about giving them chances to crush the off speed stuff.
Now that he's back in the rotation, at least temporarily, it seems safe to assume that Duffy will need to mix his pitches a bit more. As good as his fastball has looked, major-league hitters eventually can time a fastball if they see a pitcher often enough, and now he'll likely be seeing hitters multiple times in the same game. So Duffy won't throw fastballs quite as often, but he doesn't have to totally abandon what's been working for him this year.
After glancing at some of the more fastball-dependent starters, it seems like Duffy will need to cut back to around 70 percent fastballs at most, which is right around where he was in his successful 2014 campaign. There are starting pitchers out there who throw fastballs 60 percent of the time and are able to be extremely successful: Gerrit Cole, Taijuan Walker, Marco Estrada, Jordan Zimmermann, and Max Scherzer, just to name a few. However, there are also fastball-dependent guys like Drew Hutchison, Robbie Ray, and Chris Tillman – pitchers who've struggled with consistency. The thing that sets the first group of guys apart is the quality of their secondary pitches.
In other words, the good fastball-heavy pitchers are good because they have more than just a good fastball. Feel free to collect yourself after reading the breakthrough analysis in that sentence.
Duffy has flashed very good secondary stuff at times, but he's never shown a consistently above-average slider or changeup, which is why he found himself in the bullpen early this season. Even in 2014, he really only had the breaking ball as a semi-dependable offering. A few weeks ago, I wrote about Duffy's changeup, and specifically, and how it hadn't developed as planned, which led to some platoon issues in 2015. I mentioned that in his relief role, he might be able to tinker with the changeup without having to use it frequently, to see if he could find a better feel for it. Obviously the sample is small, but there is an encouraging sign. Here's a look at the horizontal movement on his changeup throughout his career: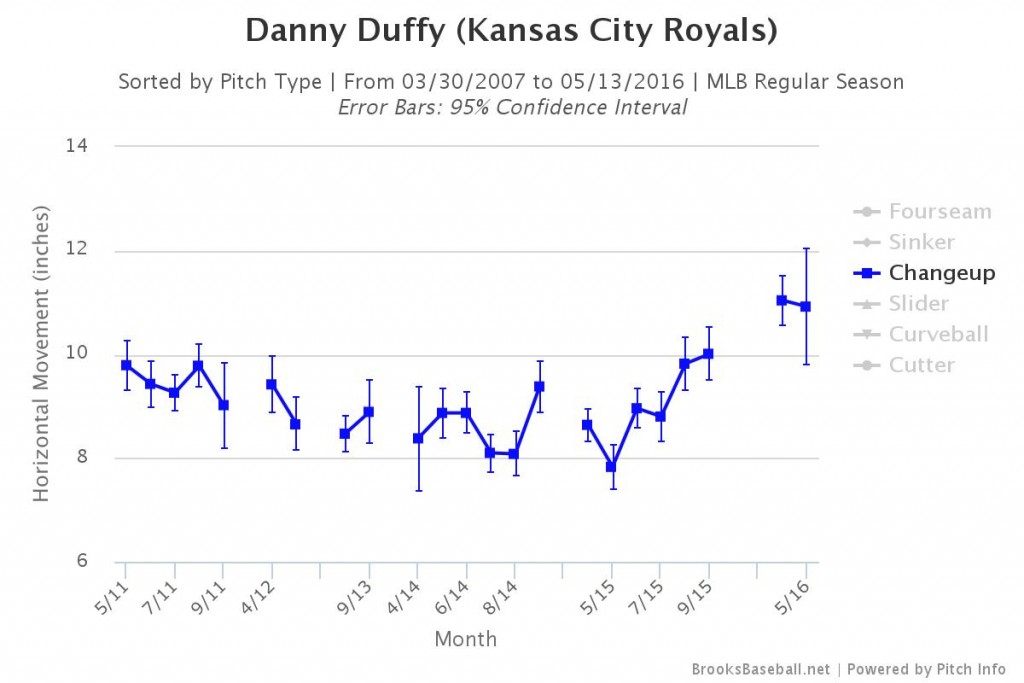 Duffy is getting more fade on his change than he ever has before. He's obviously throwing it harder in relief, but that doesn't always come with more movement, as evidenced by his other pitches being roughly in line with the rest of his career. The additional horizontal movement isn't resulting in more whiffs, and the sample is too small to make any sweeping conclusions, but it does seem to be a positive sign.
Also, Duffy is commanding his changeup much better thus far, keeping it out of the middle of the strike zone.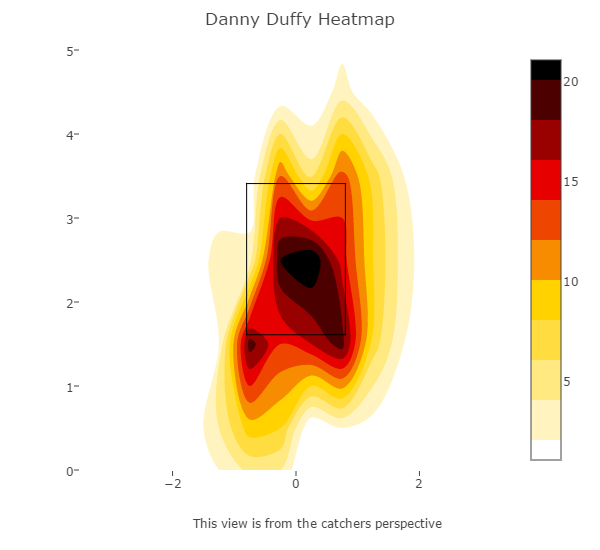 This could change as he uses the pitch more frequently, so it will be something to focus on as Duffy takes the mound Sunday afternoon. But, the Braves employ a few left-handed batters, so Duffy may opt more for his slider, which has been a very good swing-and-miss offering this season. Of the 28 sliders he's thrown, opponents have swung at 12, and they've whiffed seven times. As I mentioned earlier, he did give up a dinger on a slider, but overall it's been effective. Because the Braves are prone to chase pitches out of the zone, Duffy should be able to get some whiffs and weak contact on sliders down and away, especially because he has such a dynamite fastball for which they'll need to be prepared.
Because Duffy is only throwing 40-50 pitches on Sunday, it may not be as necessary for him to alter his approach, and he may even be able to maintain a velocity between 95-96, rather than falling down to the 94 mph he averaged last season. However, if this is just the first of several starts for Duffy, he will need to change the way he's attacking batters, mixing in at least a few more of his secondary pitches. That will be the case especially if a decrease in velocity is accompanied by a decrease in whiffs, since he'll need something to put away batters when he gets into two-strike counts. Luckily, the early returns on those secondary pitches suggest such a transition could be less of a problem.
If the improvements on his changeup are for real, we might see him deploy that a bit more often when he gets ahead of hitters. His slider probably won't maintain a 25 percent whiff rate, but if he's commanding his fastball and being aggressive early, he'll be more likely to continue getting chase swings on pitches out of the zone. It's impossible to say what the ideal fastball rate is for Duffy as he returns to the rotation, but if he's throwing strikes with his heater, he's going be extremely difficult to hit, regardless of his pitch mix. That's something we haven't been able to say about Royals starters for much of this season.