Last night was beautiful; the Royals did all the things we expect them to, all the things they did in 2014 and 2015. But Royals fans everywhere had to wonder if it was a one-time exception, or perhaps a sign the team was finally getting back to Royals baseball. As they say, momentum is tomorrow's starting pitcher. If the Royals were back, they would need to prove it again against a very good Boston squad.
Ace In The Hole
Ian Kennedy is not really an ace; I doubt anyone outside his immediate family would argue that. Of course, he's been pretty good so far as a Royal. But his last start (a 6 1/3-inning, 7-run nightmare) was not encouraging. Up against perhaps the best lineup in the American League, Kennedy was terrific. He set down nine of the first 10 Red Sox hitters. After a double and two singles gave Boston a run to start the fourth, Kennedy recovered to strike out the next two batters, then ended the inning with a groundout. Chris Young (Boston version) led off the fifth with a home run to tie the game, but Kennedy got out of the inning (with a hat tip to Alcides Escobar, who made a diving stop to save a run for the final out). All told, Kennedy pitched 5 2/3 innings, struck out nine, and allowed the two runs on six hits and a walk. He threw a lot of pitches, but it's hard to ask for more than what he did.
I've Come To Expect It From You
Eric Hosmer has been the Royals' offensive rock all season long. Everyone around him has struggled, but Hosmer has been putting up an MVP-type line. The good times continued in the very first inning, as Escobar led off with a single and stole second base. Boston starter Steven Wright threw one of his knuckleballs to Hosmer about knee-high, and 74 mph. Hosmer destroyed it, launching it 439 feet to center field for a 2-0 lead. Behold: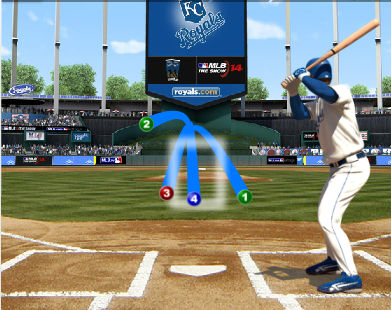 That was the WPA play of the game. Unfortunately, that was all the offense the Royals could muster until late in the game.
It Ain't Cool To Be Crazy About You
Jarrod Dyson has been something of a whipping boy for Royals fans this year. When he returned from his oblique injury, he started off hot but had cooled off considerably. His competition for playing time in right field, Paulo Orlando, had a tremendous game last night and manager Ned Yost indicated he would play Orlando more going forward. Yet Yost gave Dyson the start in this game, and is glad he did. Dyson had just one hit, but he made it count. He led off the sixth with a triple, his first of the year. One out later, Lorenzo Cain hit a fly ball deep enough to bring Dyson in with the go-ahead run. Then, in the top of the eighth, Dyson gave the Royals a lift on defense. With one out and Xander Boegarts on first, David Ortiz singled. Boegarts tried for third, but Dyson charged the ball and made a strong one-hop throw to third to cut down the speedy shortstop. That turned the inning around; Kelvin Herrera allowed two singles in the eighth but only threw seven pitches despite three hard-hit balls.
The Fireman
A tip of the Stetson to Brian Flynn, who relieved Kennedy in the sixth with a man on and ended the inning by striking out Royal-killer Jackie Bradley, Jr. And a tip of the Stetson to Luke Hochevar for striking out the side in the seventh. And a tip of the Stetson to Herrera (yes, and Dyson). And a tip of the Stetson to Wade Davis, who recovered from a shaky outing last time out to slam the door on Boston in the ninth, picking up his ninth save of the year.
Living For Tonight
We don't have to wait long for the Royals' next game. Game two of today's doubleheader starts at 7:15 pm. Boston will go with David Price on the mound, while Kansas City counters with Edinson Volquez. KC will look to move two games above .500 for the first time since May 3.
Photo credit: Peter Aiken, USA Today Sports