It feels like a long time since we've seen this Royals team. With an eight-game losing streak and the prospect of falling back below .500, a thought that seemed unfathomable just 10 days ago, the boys in blue rediscovered The Formula. You know The Formula: good starting pitching, just enough offense, and a shutdown bullpen relay to finish it off. Add it up and it's a victory.
Danny Duffy…Ace?
The hero of this game was Danny Duffy. It appears he is currently the Royals' top starter, with Ian Kennedy and Edinson Volquez struggling lately, Yordano Ventura melting down, and the fifth spot being an unsettled hash of mediocrity. Yep, a guy who was in the bullpen until necessity forced the Royals' hand, a guy who has made six starts this year, is now the guy you want on the mound. Hopefully he has shaken that stupid "headcase" label for good. Because on this day he was simply amazing. Six innings, three hits, three walks, and 10 strikeouts. Yes, 10. A career high. In his first five starts this year, Duffy seemed to start out on fire, then weaken once he reached his pitch count limit. Today, he reversed that, allowing a walk and a single to start the first. The White Sox made the curious decision to have their number three hitter, Melky Cabrera, put down a bunt. Duffy proceeded to strike out Todd Frazier and get Brett Lawrie on a line drive to left. He allowed two runners in the second, but a nifty pickoff helped him out. And after working around a walk and a single in the third, Duffy proceeded to shove. He retired the last 10 batters he faced, including carving up the heart of the White Sox order in the sixth; he closed out his day by striking out the side in that inning.
Unlikely Hero
The Royals didn't really do much on offense, picking up six hits in the first eight innings against Chicago starter Jose Quintana. But three of those hits were home runs. Solo home runs, of course, since that's the way this offense works lately. But three runs are three runs. Two of the homers came courtesy of Cheslor Cuthbert, who had the finest day of his young major league career. In the third inning, Cuthbert took advantage of a Quintana mistake and drove a fastball over the right-field fence. Look where catcher Dioner Navarro set up: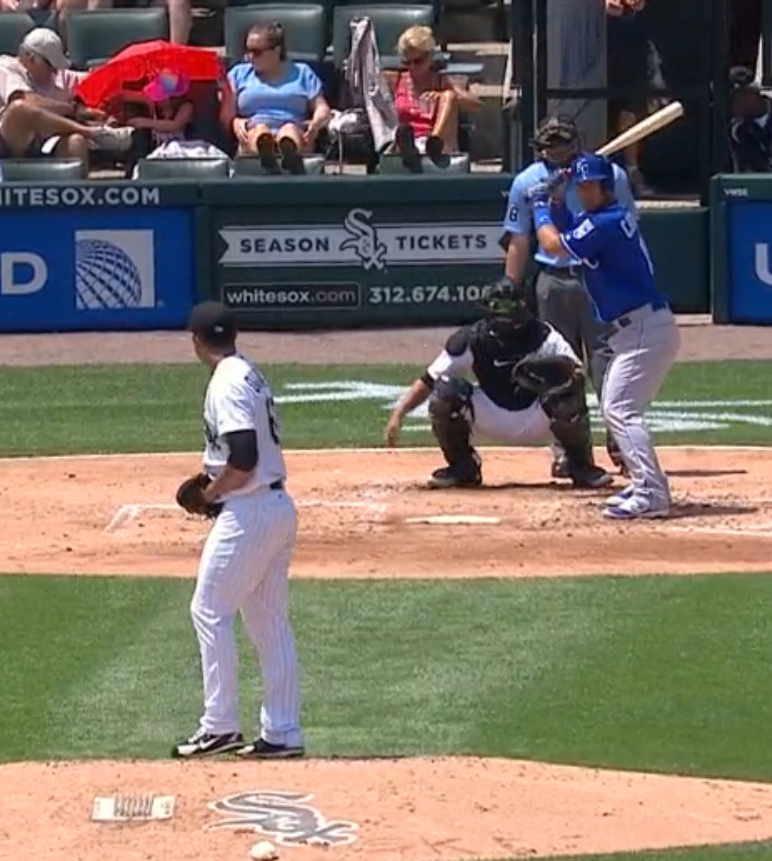 And look where the pitch was: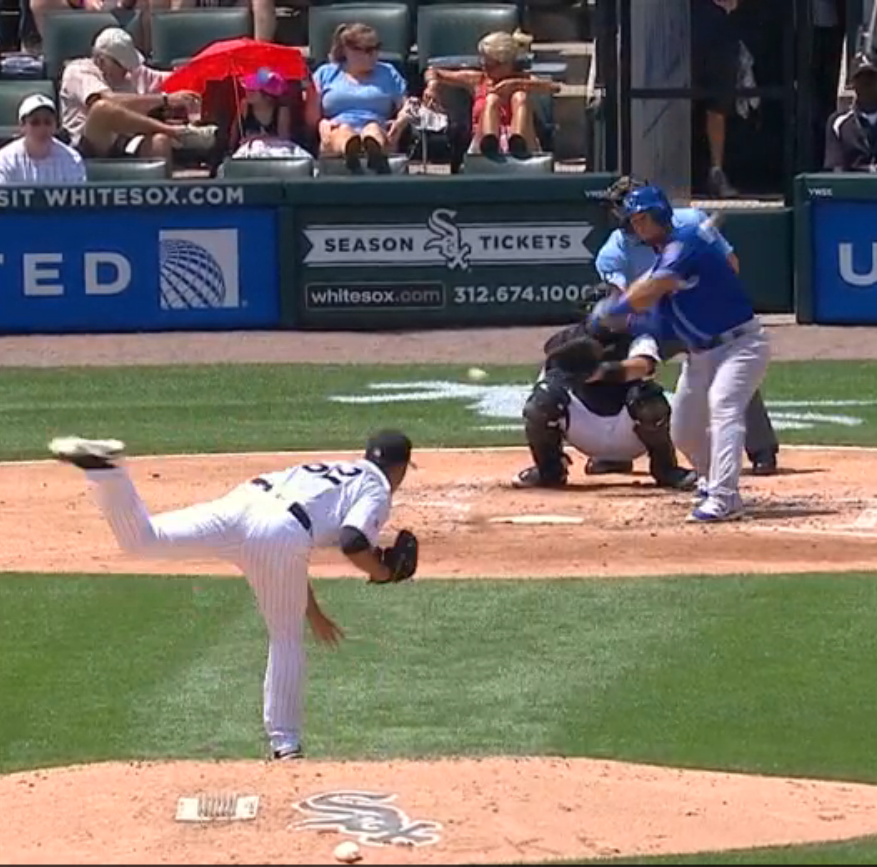 Oops. Credit to Cuthbert, who did a nice job getting his arms extended and going the opposite way.
Cuthbert added a second home run in the eighth, doubling his season total. Kendrys Morales also homered to right field in the fifth. The Royals then put together a classic keep-the-line-moving run in the ninth, with Morales walking with two outs, followed by singles from Salvador Perez, Paulo Orlando, and Cuthbert. That added a run and made the score 4-0. Didn't matter, because you know Ned Yost was turning to closer Wade Davis to stop the losing streak even if the score was 20-0.
Bullpen Relay
Duffy did his job. The offense did theirs. All that was left was for the bullpen to put a cherry on top. Joakim Soria pitched a perfect seventh inning, with two strikeouts. Kelvin Herrera pitched a perfect eighth, with one strikeout. And Davis…well, OK, maybe he's not a cyborg after all. He allowed a run. Or maybe he was programmed to do that sometimes so we wouldn't suspect the truth. Really, it was two singles sandwiched around a fielder's choice, so he was hardly rocked.
As an aside, it may be time to stop worrying when Soria enters the game. He has pitched 29 innings this year, with 27 strikeouts, 12 walks, and 27 hits. He's allowed 12 runs. Three of those were in the Opening Night game against the Mets. Two of those were when the Royals' defense made a mess of things in the ninth inning in Cleveland last week. He's not at the Herrera/Davis level; very few are. But he's still a very good relief pitcher.
Does Two In A Row Equal A Streak?
Now the Royals will try to start a new streak. The winning kind. They face the White Sox tomorrow afternoon at 1:10 pm, with Yordano Ventura scheduled to start against Carlos Rodon. In the meantime, enjoy your Saturday night.