The Royals completed their draft Sunday, and while it lacked star power, I believe they performed solidly given the restrictions they were dealt. Their restrictions are their own and David Glass and GMDM are just being cheap, you say? Au contraire, the Royals for those of you who didn't know, were under some pretty strict rules, and unless they wanted to part with draft picks next year, they weren't in the position to play with the draft big boys in Philadelphia, Cincinnati, San Diego and Atlanta. Why is this you ask?
First off, the Royals gave up their first round pick due to signing Ian Kennedy after he was rewarded a qualifying offer from the San Diego Padres. Secondly, the Royals again failed to gain a pick in the collective balance lottery which are rewarded to teams that receive revenue sharing. And lastly, the penalties for going over a team's pool amount make it very restrictive to go over the pool amount. The Royals $3.225m pool with 10% cushion ($3.5m) was the second lowest in the MLB draft this year, ahead of only the Cubs.
Still don't follow? Checkout a quick refresher here.
Now onto the show! Today's review goes over the players in rounds 2 through 10. With this review, you will see reviews on the players from different baseball sites including Baseball Prospectus, Baseball America, Perfect Game and a few others that you should subscribe to. On top of that information, I have offered my own analysis of the picks after reviewing video, talking to the players and, in most cases, the coaches they have played for.
Look for a review of round 11 through 40 tomorrow.
2. A.J. Puckett RHP 6'4 200 lbs Pepperdine U. 5/27/95
Signed $1.2m Slot Value $963.700 (No Penalty incurred under $1,264,965
According to Pepperdine pitching coach Rolando Garza, the righthander is a high character kid with good athleticism that allows him to field his position while controlling the running game. One of the reasons for his success this year was his ability to close his front side which allowed him to keep height and depth on his pitches, particularly his fastball and change up. Being able to command the fastball to all quadrants of the zone while altering speeds allows him to employ his game plan start to start.
"AJ's character and athleticism are a great fit to the Royals organization and should allow him to maximize his capabilities in the future." – Rolando Garza, Pepperdine Pitching Coach
The change up comes out of the same window as the fastball with fade, allowing it to play up while the curveball and slider are pitches that should come together with more work in pro ball.
Analysis – Solid pick, not flashy but an ability to control four average pitches with a chance to tick up velocity despite being a college guy (and thus being older). Read more about Puckett here.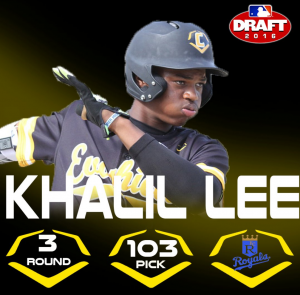 3. Khalil Lee OF 5'10 180 lbs L/L Centreville, VA 6/26/98
Slot Value $579,700
Some in the Royals blogosphere were stunned by this pick, but you have to love it when looking at the video. The tools and the character of the kid the Royals got here in the 3rd round make this pick look very good. The hit tool is there, the speed is there and the arm strength and intelligence combined with the on-field awareness is all present. Hailing from the same general area that produced Jackie Bradley Jr., this outfielder with a smooth swing and a big fastball was under-recruited and often ignored in a similar fashion to JBJ. Does he have the projection of a 6'3 215 lbs. kid? No, he doesn't, but sometimes you can just take a kid that gets it and is able to play and Lee has done that his entire career. He's performed on the summer circuit and high school, showing no signs of slowing, which makes it likely that he hasn't reached his ceiling yet.
Via Prep Baseball Report – Lee is an athletic outfielder with a strong lower half that hits from the left side of the plate. He has an open athletic stance and a smooth load back. He has a slightly longer swing path with good extension through the ball and incredible hand and bat speed that make up for any length in his swing. He has an explosive lower half and maintains balance throughout his swing. Lee has power to all fields and the potential to have big power to all fields. In the outfield, he gets good jumps on balls and takes good routes. He has a quick release and a plus arm in center from a high three-quarters arm slot with a long, loose arm action. While he is quick, he is probably more of a corner outfielder in the future and he plays the game faster than he runs.
Via Baseball America – Shown growth in his position player skill set, running 4.2 or under down the line, and his strong arm plays well in the outfield. Though his frame is compact, he has enough bat speed and pop that most teams considered him a hitting prospect early this spring. But with his blossoming velocity, Lee might be a more attractive pitching option. The confusion over his position could serve Liberty well, as Lee would have the opportunity to play both ways if he happens to make it to campus.
Via Perfect Game – Scouts know in their hearts that some of the best hitters in the game are short. But that doesn't keep them from wishing that every prospect is 6-foot-3, 195-pounds. And thus we come to Khalil Lee, one of four prospects in the PG Top 100 (the others being Carlos Cortes, Ben Rortvedt and Dominic Fletcher) listed at 5-foot-10 or less.  Lee has very good physical tools. He has a very fluid and well-timed lefthanded swing that shows power and present bat speed. His arm strength is a definitely plus, as he works in the low-90s off the mound and makes laser on-line throws from the outfield and will be a very good defender. His running speed is a tick below average but he has a high speed motor and shows his quickness on the field.One suspects that Lee's draft status has been downgraded somewhat by his size despite the tools and the performance and what is considered plus makeup. And after all, Pedroia and Bradley were not heavily pursued in the draft out of high school and Betts was a fifth-round pick.
Extras – Volunteered locally as a teacher's aide at a pair of elementary schools and as a baseball coach for children with disabilities.
Analysis – While some thought this might be a reach in the 3rd round, I think it is an absolute steal and is definitely the player with supreme upside. I would take the pitching away and let a gifted, high IQ player concentrate on hitting and fielding and you could have a top of the order hitter with plus defensive tools all around. As the PG quote above reads, many teams slept on JBJ, Pedroia and Betts due to their size. A few years from now, we could be adding Lee to that list.
4. Jace Vines RHP 6'3 215 lbs Texas A&M 9/4/94
Slot Value $433,900
The righthander got knocked around a little at the Division I level this season after dominating JUCO ball but despite that he showed he can continue to miss bats.
Via Baseball America – An eligible sophomore, Vines couldn't match results with his stuff in a very erratic sophomore season. Texas A&M's Saturday starter for much of the year, he lost that job after walking five and giving up five runs while recording only one out in a start against Arkansas. Vines sits 90-91 mph with a fastball that shows good sink and will touch 93-94. His breaking ball will flash fringe-average and his change up is a playable, below-average offering. Vines seemed to wear down as the season lengthened and he struggled to stay out of the top of the strike zone.
Analysis - A draft eligible sophomore here is an interesting decision considering the Royals are likely to overpay for Lee and may need slot bonus money. Perhaps a year in the A&M system disagreed with Vines and the Royals can get a talented arm around slot that they can be groomed to let loose in a reliever role. He seems similar to some of their older SEC picks of the past in Kevin Chapman and Louis Coleman.
5. Nicholas Lopez SS 5'11 175 lbs L/R Creighton U 3/13/95
Slot Value $324.800
Those of you who watch college baseball and the College World Series know how big TD Ameritrade, the home of the CWS, plays. No team and no coach staff knows that better than Creighton's which plays their entire home schedule in TD, meaning the team is built around two things, pitching and defense. To say the Bluejays shortstop has to be a glove dynamo is an understatement, and Lopez is just that, able to make every play a shortstop needs to.
While the defense is there to handle short, the bat lacks power and his knowledge of the strike zone, speed and athleticism will have to be the tools that carry him through the minor leagues. At 175 lbs and a 5'11, he lacks the physicality to be much of a power threat down the road but showed a little pop in the Coastal Plain League during the summer before his senior year, hitting seven home runs in 43 games which is five more than he hit in his college career.
Other Royals draft picks from Creighton: James Lemon 1973, Steve Hinton 1991
Analysis – Speed and defense are the keys to his game, so perhaps he works his way to a utility role in the future. Regardless of if he turns into enough of a player, it is smart money to put this type of defender behind young pitchers in the minor leagues.
6. Cal Jones OF 6'0 175 lbs R/R Dadeville HS 9/16/97
Signed $250k Slot Value $243,00
"Speed and excitement" is how Cal Jones describes his game from the phone call I had with him. The numbers add up to that as well showing off 6.3-6.4 60 times for the Royals in their private workouts in Kansas City. I asked Cal if he happened to put any in the fountain during his Kauffman workouts and he said he hit a couple out but hopes those will come someday. Currently the centerfielder tries to work the ball up the middle as his game is built on speed.
Cal was a wide receiver during his freshman and sophomore football campaigns before moving to quarterback his junior year. He had an opportunity to play wide receiver at some small college schools but passed on that knowing baseball is his first love and his ticket for the future. When asked if the coaching change at Alabama played into his decision to sign. "Not really, this is a once in a lifetime opportunity and I'm very excited to get my career started with the Royals."
Analysis – Speed and athleticism are a Royals trademark in the outfield, so this is a worthy pick at slot to see if you can develop the hitter from within the athleticism that already exists.
7. Travis Eckert RHP 6'2 195 lbs Oregon State 12/28/93
Slot Value $186,500
Despite being from Texas where many prep pitchers are overused, Eckert has a relatively fresh arm after being primarily an outfielder in high school and at Temple Community College. Only after concentrating on pitcher at Clark College did Eckert start to see his stock start to rise. Once under the long toss, weighted ball and strength/conditioning program that OSU promotes, Eckert saw his velocity start to rise and his stock start to round into from. Eckert started the season in the Sunday slot for Oregon State but was bumped after their Friday option was sidelined. He excelled there, performing better during the Pac-10 season than he did during the rest of the schedule, going 5-3 with a 3.11 ERA over 66.2 innings.
"Travis is still just learning his craft and better days are ahead for him."
The right-handed starter currently works in the 90-93 mph range with some 4's and 5's according to Oregon State pitching coach Nate Yeskie. Using an over the top to 3/4 delivery with his pitches, Eckert can alter speeds speeds with the fastball while taking advantage of good control with the pitch, meaning control over command according to Yeskie. It all comes from a delivery with good tempo which allows it to play up. Eckert pairs a slider in the upper 70s to low 80s with the fastball. All in all, Coach Yeskie compared Eckert's control favorably to current Detroit Tigers starter Matt Boyd who is also from the Oregon State program.
The best pitch in Eckert's arsenal currently is a change up that he's able to replicate arm speed with, having enough comfort with it that he's able to use it versus righties as well as a real weapon versus lefties. A cutter could be added later in pro ball, according to Coach Yeskie, if he wants another weapon to hold hitters off.
Analysis – Lottery tickets are fun but hardly ever cash, Eckert is a solid control guy and represents the possibility of becoming a 4th or 5th starter for a 7th round pick which is still great value. Senior sign likely under slot.
8. Chris DeVito 1b 6'2 220 lbs U. of New Mexico 12/1/94
Slot Value $174,100
"Crazy Juice" – These are the words Coach Ray Birmingham kept coming back to with regard to Chris DeVito. The former walk-on from Chatsworth High in California (same school as Mike Moustakas) followed a teammate to New Mexico to rework his swing and hopefully put him in the position that he fell into Saturday as an 8th round pick. A big kid with the fiery competitive attitude one would expect from a red head, he showed the discipline needed to grow as a player and eventually grow into a power hitting threat.
"He's special, he lets the ball travel deep and has a short compact swing that allows him to hit 96-98 mph velocity."
Coach Birmingham rated DeVito's power as 60-70 grade pop while comparing it favorably to that of Alex Gordon's who his son played with at the University of Nebraska. As the coach of New Mexico, he knows a thing or two about offense, helping D.J. Peterson become a 1st round pick for the Seattle Mariners in 2013 while the program often rates towards the top of the NCAA offensive charts.
Other KC Picks from New Mexico – Cole White, Eric Diaz and former FA Edwin Carl
Analysis – Likely signs for underslot which is value in itself. Add in some real power and maybe you luck into a future power hitting first baseman/DH.
9. Walker Sheller RHP 6'3 195 lbs Stetson U. 5/21/95
Slot Value $162,700
A reliever by trade, Sheller is able to move arm slots from over the top to sidearm while tossing his fastball and slider. Coach Pete Dunn needed Sheller to start some his sophomore year with a lack of quality arms in the program, but this past season a couple new starters brought in allowed him to find his place in the back of the bullpen. A good athlete who was also a position player in JUCO prior to arriving at Stetson he fields the position well while controlling the running game.
With his arm angle and loose arm Sheller can create run away from lefties with the fastball, backfoot his slider to those same lefties or tie up righties with either pitch. The fastball works 91-93 while topping at 94 using it as his swing and miss pitch with the movement he gets on it. The slider works in the low 80's with two plane break that he can sweep away from righties or put on the back foot of lefties. It's a weak contact pitch more than a swing and miss.
Via Perfect Game -Sheller varies his arm slots from a more mid three-quarters release to a lower, near sidearm slot, and he has been able to throw strikes and effectively manipulate his stuff from both angles. His heavy, sinking fastball sits in the 88-92 mph range but has a touched a tick higher at times, and he has good feel for a breaking ball which he can the shape and tilt on. He's been near unhittable this year and he should be a quality mid-relief option in pro ball. 
Analysis – The arm angles, pitches and reliever mentality scream Louis Coleman. That is what a 9th round pick should be in my opinion.
10. Richard Lovelady LHP 6'0 180 lbs Kennesaw State U. 7/7/95
Slot Value $156,600

Coach Kevin Erminio of Kennesaw State talked about Lovelady's "toughness and the great late movement" that he gets on his fastball. All coming from a 3/4 to low 3/4 delivery Lovelady is able to get good run down and away on the arm side to create weak contact or swing and miss. It all comes from a strong but lean 180 lbs frame that is locked into his craft when he gets on the hill.
Lovelady currently has just average athleticism, and improvement in fielding the position will be needed at the pro level. On top of that, some refinement of the slider to make it a tighter spinning version of the high 70s to low 8os offering to induce more swing and miss could also help improve his stock. Currently the fastball is the pitch that Lovelady will need to lean on in the minors, working from that angle in the 91-to 93 range while touching 94.
A workhorse for Kennesaw that saw him appear in 37 of 56 games, he limited Atlantic Sun opponents to a .136 BAA and overall opponents to just a .186 while striking out 10.25 per 9 innings.
Analysis – I see a LOOGY projection currently that you would hope can refine the slider to become a pitcher that can compete against both lefties and righties.