The good news in Royals land, of course, is that Alex Gordon will be back in the lineup soon. Although Gordon has not hit like everyone expected this year, you still have to believe he will be a key offensive contributor going forward. And the hope and thought is that he will continue playing the best left field defense in the American League. The Royals have gone 16-11 without him, but it will certainly be good to have him back.
Whenever he comes back, the Royals have yet another personnel decision to make. Thanks to all the injuries and various ineffective pitchers, this season seems like a long string of these decisions, doesn't it? Anyway, this decision seems to center around Brett Eibner.
When Gordon returns, the Royals will have five outfielders on the roster, counting Eibner. He and Gordon will join Lorenzo Cain, Paulo Orlando and Jarrod Dyson. Of course, Whit Merrifield can play the outfield if needed. That's a lot of outfielders for a team with a full-time designated hitter. However, a bench with Christian Colon, Drew Butera, and Dyson (Orlando seems to have claimed right field for now) could use a good bat. Eibner is likely the best hitter of the four; he certainly has the most pop.
But while Eibner's overall line (.310/.355/.552) is really good, albeit in just 32 plate appearances, there is a concern. A look at this chart from the excellent Brooks Baseball site shows that, while teams were content to challenge Eibner with fastballs in his first few games, that has morphed into a steady diet of breaking pitches.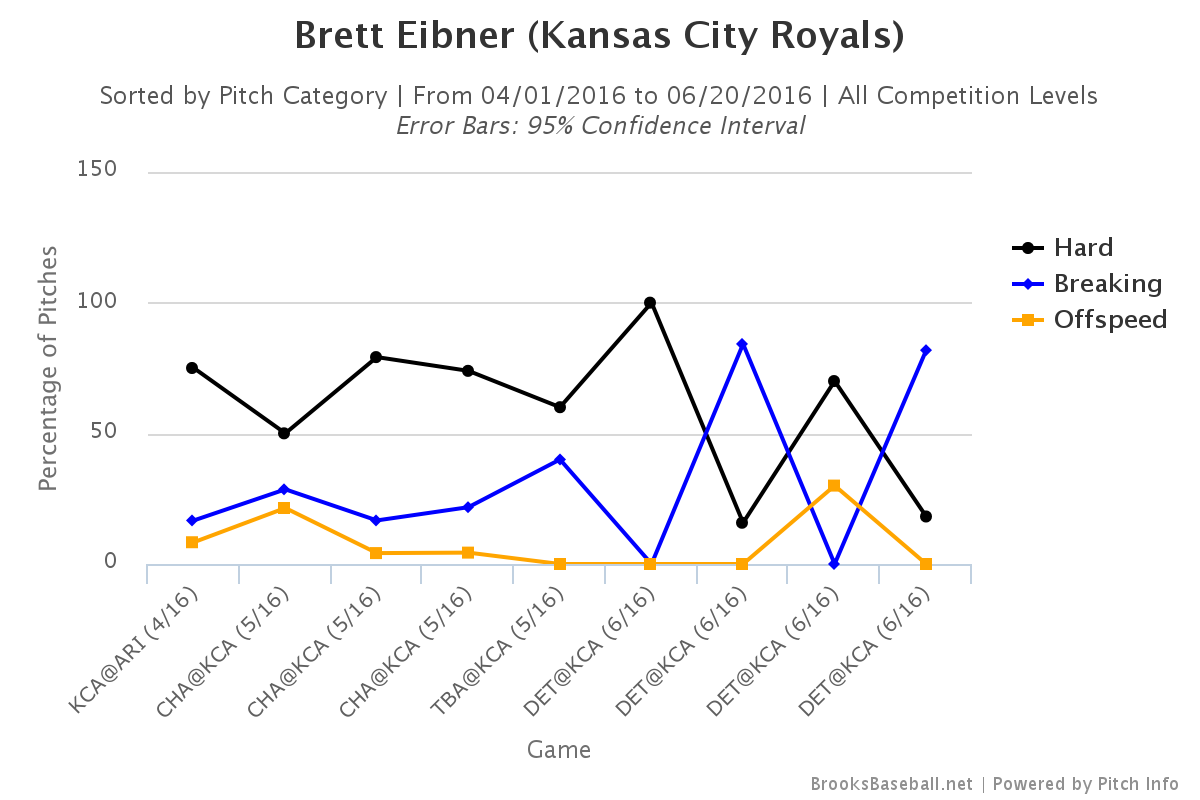 Perhaps not surprisingly, in this stint in the majors, Eibner is just 3-16, although he does have a double and a home run.
And this chart also shows how Eibner has smacked fastballs around, while struggling with breaking pitches (sliders in particular). Of course small sample size caveats apply, but this is the data we have to work with.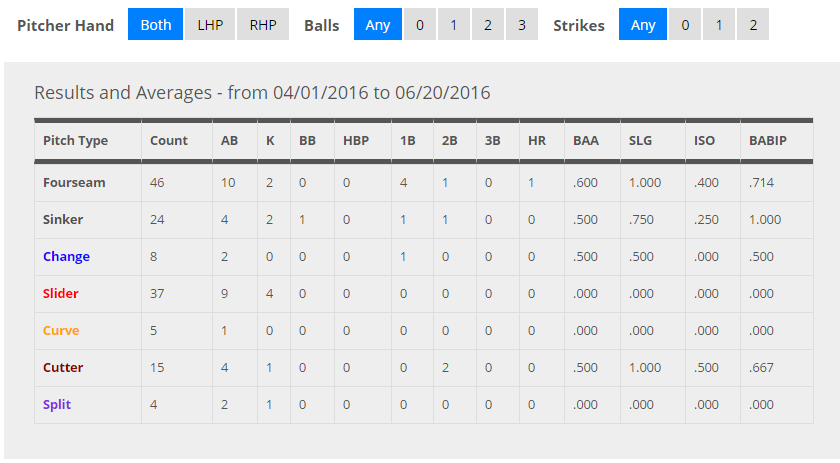 The Royals would be justified in deciding that Eibner needs regular at-bats and sending him to Omaha. I personally would like to see him stay in the majors, at least for a bit. There are a couple of reasons for that.
First, Eibner is unlikely to see the quality of breaking balls he's seen in the majors at Omaha. And really, he has hit .280/.353/.471 in 224 games for Omaha. I don't think he has anything left to prove there. At age 27, he's not really a prospect to improve, either. I think he's got to sink or swim at the major league level. It won't be easy without regular playing time, but Eibner seems like a good enough hitter to at least not be dominated by breaking pitches. I think he can figure it out.
Second, the Royals have five games coming up in National League parks, even after this two-game series in New York. While that means Kendrys Morales will be available to pinch-hit, rather than DH, it might be nice to have a second pinch-hitter with some power. The Royals are carrying 13 pitchers at the moment, and while those games in NL parks are part of a stretch of 17 games in 17 days, I think an extra bat might benefit them more than an extra arm. The starting rotation has been better about pitching deeper into games, and there doesn't seem to be enough work for the group of Brian Flynn, Dillon Gee, Peter Moylan, and Chien-Ming Wang. Flynn hasn't pitched since he was brought back up on the 15th. Gee has pitched twice in nine games since he was recalled on June 11. Moylan recently went over a week without appearing in a game. The same can be said for Wang.
Third, having two outfielders on the bench would give the Royals the advantage (and luxury) of being able to use Dyson as a pinch-runner more often. Manager Ned Yost can keep Dyson in a glass case labeled "Break Glass In Case Of One-Run Game" and use Dyson's speed to help the Royals manufacture a key run. That would be especially nice in those National League parks; if Morales pinch-hits and gets on base, Dyson can run for him. Then Eibner is still available to play outfield and the Royals don't have to worry about moving Merrifield around during the game.
For all these reasons, I'd prefer to see the Royals send one of their pitchers down when Gordon is ready. This doesn't necessarily mean the roster has to stay that way all year. If the starting pitching begins to slip again, an extra arm is a phone call away. But right now, keeping Eibner seems to be the best solution to me.
Photo by Denny Medley, USAToday Sports