The trade deadline is nearly upon Major League Baseball teams, and once again the Royals are in the middle of a playoff race. That discussion leads to refining a roster and attempting to improve on a squad that, despite injuries and up and down performance, finds itself just two games out of first place.
The past two seasons the Royals have taken a couple different approaches to the deadline which both paid off in different way. The 2014 squad added just Jason Frasor to add depth to the bullpen and later Josh Willingham to help the team end a playoff run before coming up 90 feet short of glory. Last year's moves hurt; four pitchers who have pitched in major league rotations led to two studs and the world championship that Dayton Moore had dreamed about when he took the job.
What will the move in 2016 be? For most in the Royals community, it doesn't appear on the surface that the Royals have much to trade but they do have one Top 25-30 prospect talent combined with a few positional players who have rebuilt their value and a few pitchers who could be nice additional pieces in a move.
Positional Pieces
The Royals strength here stands out. Last July trade deadline, very few position players traded jerseys as no key position players were flipped in any of the David Price, Johnnny Cueto or Yoenis Cespedes rental deals last year. The only major position players flipped came in the Cole Hamels deal, which was more than just a rental. If the Royals are willing to flip positional pieces, they could get a better rental than what experts currently think.
1. Raul Mondesi – The emergence of Whit Merrifield has opened the eyes of fans, broadcasters and I would guess a few members of the front office. The other thing that it has done is it's assured that the Royals will not be forced to move their #1 prospect up the chain to play second base prior to when he's ready to be in the majors. With Whit's emergence, it could be interesting to see how much, if any, second base Mondesi will play after the end of his suspension in July. Prior to the suspension, Mondesi had played about one-fourth of his games at second since June of last year, but I doubt we see that going forward.
Trade Value – Mondesi is the piece that could help the Royals compete with deeper farms systems in Chicago, Boston and Cleveland to acquire the #1 starter that they need.
2. Hunter Dozier – The big third baseman struggled for a pair of seasons at Double-A, but made some changes in his swing mechanics and stance that allowed him to get to his power. With Moustakas and Cheslor Cuthbert possibly ahead of him on the third base roster Dozier has played in left field to increase his versatility and options for teams and to the Royals in the future.
Trade Value – Not a cornerstone piece but a valuable addition to any deal.
3. Jorge Bonifacio – Much like Dozier, Bonifacio has begun to rebuild his value after a pair of down seasons, showing power to all fields and playing with more speed than he exhibited in the past year plus. Having just turned 23 this month, Bonifacio at Triple-A isn't behind the curve that some people, myself included, believed prior to the season.
Trade Value – Similar value to Dozier's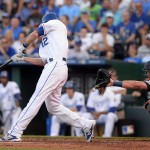 4. Brett Eibner – He's athletic and offers a team upside power and speed. A true corner outfielder with a big time arm. His age is a negative and the fact that the Royals and others with Rule 5 picks have passed multiple times.
Trade Value – Is a major league audition enough to turn heads in the game to think he can be a valuable second piece?
5. Reymond Fuentes – the bat looks competent, the speed is there to be solid on the bases and maybe even play an average center field defense in the majors or perhaps a plus corner if a team can iron out the wrinkles.
Trade Value – 2nd piece in a smaller deal or 3rd/4th piece in a bigger deal.
6. Ryan O'Hearn – the bat appears to be solid and enough to carry 1st base but the defense lacks there and even with athleticism he doesn't have the speed to play outfield.
Trade Value – a nice 2nd or 3rd piece.
Lower level additions
Chase Vallot – big time power would be intriguing to teams.
Alfredo Escalera – young with solid hit tool and athleticism
Anderson Miller – gliding smooth athlete who is starting to hit at Low-A
Pitchers
The Royals lack here after trading away so many starters last year but with the ability to trade draft picks the Royals could offer a few intriguing options.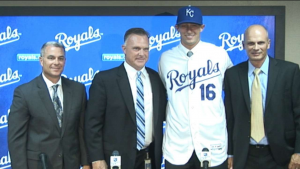 7. A.J. Puckett – As the 67th pick, he's not likely able to carry a trade but if a team is desperate for a pitching prospect to be included in a deal then the Royals could look to toss him into a deal. A team that had him rated highly on their board won't be able to see the negatives that other Royals pitchers bring to the table.
Trade Value – Package option
8. Alec Mills – He doesn't profile as a top of the rotation starter, but all he has done for the past year plus is succeed. Like Puckett, the negatives aren't there for teams to see and if he can continue to pitch well at Triple-A maybe Mills turns enough heads to be a second cog in a trade.
Trade Value – Package option
9. Matt Strahm – Like Mills, he has excelled and who wouldn't want a lefty arm that throws 95+? The changeup needs refinement, but a team could easily see a major league starter or elite bullpen piece.
Trade Value – Package option
10. Miguel Almonte – He has been hurt, but the pitches are there and another team could see things that need to be ironed out to make an effective starter. If he's not a starter, then the talent is definitely there to see a young controllable reliever that could stick as an 8th or even 9th inning option.
Trade Value – Package option
Lower level additions
Josh Staumont – big big arm a team may thing they can iron out
Ashe Russell – doesn't have the negatives of most due to lack of pitching
Kyle Zimmer – another team may want to take a lottery ticket on the backend of a deal.
Ultimately the Royals don't have the top end package to go out and nab a #1 starter for multiple years (Cole Hamels) but with the addition of Mondesi, they have more than enough to nab a rental. A package of Mondesi, Bonifacio/Dozier and a pitcher seems more than fair for a Julio Teheran or even Sonny Gray and his injuries this year. Should the Royals make that deal? After 30 years of no playoffs and a couple extremely fun Octobers with a window that could be closing soon, it might not be a bad thing to strike while they're hot.