The affiliates had a losing day with with wins at only Double-A and rookie ball in Idaho Falls.
HR Roll Call: Jorge Bonifacio (12), Frank Schwindel (12), Alfredo Escalera (2), Brandon Dulin (3), Gabriel Cancel (1)
BP KC Hitter of the Day – Ryan O'Hearn 3-5, 2R, 3-2b
BP KC Pitcher of the Day Yender Caramo 2.1 IP, 0 H, 0 R, 0 BB, 3 K, 1-2 GO-FO, 26p/15k 
Nashville Sounds 9 Omaha Storm Chasers 4 
A big sixth inning answer to the Chasers cutting a two-run deficit in half helped put a game out of reach for Nashville. Christian Binford and Joe Beimel gave up a combined nine runs with three of Binford's coming in that sixth inning with Beimel on the hill. Binford had loaded the bases with no outs in the inning when Brian Poldberg turned to the veteran lefty. Beimel would have little in terms of answers, allowing all three to come in and another that he put on. Things wouldn't get much better in the seventh for Beimel after a pair of doubles and a home run plated three runs and pushed the Nashville lead to 9-3 and the eventual win. Outfielder Jorge Bonifacio hit his first home run on the road, a two run shot that temporarily trimmed the deficit to three in the seventh.
Hunter Dozier 2-4, 2R, 2b
Jorge Bonifacio 1-4, HR, 2 RBI
Brett Eibner 0-4, 4 K
NW Arkansas Naturals 8 Tulsa Drillers 3
The day after getting shutout, the Naturals busted out the bats to split a series in Tulsa. Every NW Arkansas hitter had at least one hit on the day, while the entire lineup either scored or drove in a run in a complete effort. Ryan O'Hearn, playing left field, had three doubles and scored a pair of runs, while first baseman Frank Schwindel hit his third home run in as many games. All told, the Naturals punched out 17 hits plated a run in each of the final four innings to break open what was a 4-3 lead. Starter Pedro Fernandez didn't fair quite so well, completing just 3.1 innings before lefty Tim Hill and the rest of the Naturals bullpen bailed him out. The four relievers pitched the final 5.2 innings with just one hit allowed while striking out six Tulsa hitters.
Corey Toups 1-4, RBI, SB (11)
Logan Moon 2-5, RBI, 2b
Frank Schwindel 2-5, HR, 2b, 2 RBI
Winston-Salem Dash 5 Wilmington Blue Rocks 1
Hard-throwing Josh Staumont was his usual erratic self Sunday as he had plenty of trouble locating his fastball over a 98 pitch effort. Striking out seven during that time, Staumont seemed to locate his curveball with decent ability but missed glove-side with the fastball with regularity while uncorking two wild pitches, as he hit the zone 57 times while on the hill. It took the Dash five innings to get to Staumont, using an error by leftfielder Cody Jones and a three singles to plate two runs in the inning. The Rocks offense got a solo home run from Alfredo Escalera in his first at-bat following a few missed games from a hamstring strain but didn't get much going following that. The Dash offense scored three more off reliever Kyle Kubat to drop the Rocks to 1-3 in the second half.
Give @WAdam_McInturff a follow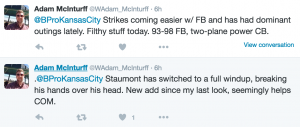 Raul Mondesi 1-4
Alfredo Escalera 1-4, HR
Josh Staumont 5 IP, 4 H, 2 R, 1 ER, 4 BB, 7 K, 3-6 GO-FO, 98p/57k
Hagerstown Suns 12 Lexington Legends 9
A Hagerstown come from behind win completed the sweep of the Legends at home. Lexington scored four in the first and had an answer for a couple of the Suns comeback efforts but a big ninth off reliever Nik Stephenson was too much to answer. First baseman Brandon Dulin clubbed a three-run home run in the first that helped build that 4-0 lead. Starter Gerson Garabito labored through 3.2 innings, running his pitch count up to 70 with long at bats while striking out seven and walking four in a game that featured 19 walks between the two teams. Hagerstown took a 6-5 lead in the seventh with three runs, but the Legends quickly answered with three when Mariano Rivera's control wandered and he was unable to record an out while allowing three walks and a hit. The lead stayed static at two runs until the ninth when reliever Nik Stephenson couldn't close things out, allowing five runs on top of the run he allowed in the eighth to dig the Legends into a three run hole they couldn't escape.
Gerson Garabito 3.2 IP, 4 H, 2 R, 1 ER, 4 BB, 7 K, 1-1 GO-FO, 70p/37k
Anderson Miller 2-4, 2R, BB
Brandon Dulin 1-3, HR, 4 RBI, 2 BB
Idaho Falls Chukars 18 Grand Junction Rockies 7
An Idaho Falls offensive explosion in Grand Junction lead to an easy win in the third game of the series. All nine hitters had at least one hit with all but one getting at least two as the team punched out 23 hits in 51 including 10 doubles. The 23 hits helped them towards 18 runs that gave Alex Luna a victory after his 5.2 innings of two-run ball with nine strikeouts.
Luke Willis 4-6, 2R, 3 RBI, 2 SB
Meibrys Viloria 3-6, 3R, 2-2b, 2 RBI
Ricky Aracena 2-6, R, 2-2b, RBI
Bluefield Blue Jays 4 Burlington Royals 3
A lineup with plenty of college hitters isn't producing much at the rookie ball level as the Royals dropped their third game in four tries. Nine strikeouts against eight hits and no walks littered the lineup that was given ample opportunities to score with four Jays errors on the day. 19 year old Gabriel Cancel drove in a pair with a single in the third and added a solo home run in the eighth to draw Burlington to within a run in the game. They couldn't even the score in the ninth, popping out with a runner in scoring position and two down. Starter Ofreidy Gomez worked 5.2 innings with six hits and a pair of runs allowed before handing things to Alex Massey who gave up a pair of solo home runs to take the loss.
Chris DeVito 1-4, 2b
Gabriel Cancel 2-4, HR, 2 RBI
Nick Lopez 1-4
AZL Angels 6 AZL Royals 1
Kansas City native Cole Duensing worked a perfect first inning in his minor league debut, striking out two in the process. Royals starter Jorge Rodriguez couldn't match that effort giving up three runs in two innings while Sam Selman gave up a pair in his second rehab appearance. Following Duensing the Angels used Double-A pitcher Blayne Weller who proved too much for the young Royals lineup, striking out 10 over seven innings to help the Angels cruise to a victory.
Gustavo Tejeda 2 IP 0 H 0 R 0 BB 3 K – former position player
Cal Jones 1-4 R
Seuly Matias 1-4 2b, RBI, OF assist, E (2)