There are many things Danny Duffy is doing well this season. For instance: pitching. Duffy has been the Royals' best starter since joining the rotation, and he's been putting up some numbers alongside ace-caliber pitchers. He's struck out 30.2 percent of the batters he's faced as a starter this year. The only pitchers with at least 40 innings as a starter and a higher strikeout rate pitch in the National League.
Duffy's ERA on the season, including his time as a reliever, is 3.24, but his Deserved Run Average, or DRA*, is 2.91, which puts him just below Madison Bumgarner, and just above Jake Arrieta. Entering Tuesday, only 11 pitchers in baseball had a lower DRA (minimum of 50 innings total).
*You can learn more about DRA by reading this article, but to sum it all up, it's a stat that uses context to describe what role the pitcher had in every plate appearance, and then ascribe a runs allowed average, scaled to nine innings. The math can get pretty complicated, but it's a very thorough and sound approach to valuing pitchers.
But pitching isn't the only thing at which Duffy's excelled this season. He's also been terrific at controlling the running game, as was evident in Monday's game against the Cardinals.
Late in that game, Aledmys Diaz took off for third base when Duffy lifted his lead leg, but instead of going home, Duffy made an inside move and was able to throw the ball to Cheslor Cuthbert in time, forcing the rookie to walk to his dugout in shame. It wasn't recorded as a pickoff by Baseball Reference, only a caught stealing, but for all intents and purposes, it was a pickoff. It was also important, because Matt Holliday hit a double right after that, which would have easily scored Diaz.
According to STATS, LLC., that was Duffy's third pickoff of the season, a number trailing only Nick Tropeano and Hector Santiago of the Angels, both of whom have four. Now, tracking pickoffs isn't always easy, because plays like the one described above can complicate things. I don't know if Baseball Reference will go in and edit the play description to reflect the pickoff, but for now, it's only saying Duffy has two pickoffs this year, which matches his total from 2015. Not counting Monday's play, Duffy has 10 pickoffs since the start of 2014, and while there are pitchers with more, it's impressive he's been able to collect that many while pitching fewer innings.
Those 10 pickoffs have come in 504 plate appearances with a man on first or second and the next base open. That's not quite to the level of a guy like Santiago (14 pickoffs in 566 stolen base opportunities) but it's still excellent. Obviously being left-handed helps immensely in this department, but it's not a guarantee of pickoff success. Just ask Jon Lester.
So how has Duffy done so well with his pickoffs?
When a runner is on first, Duffy features two moves. The first comes from raising his lead leg straight up, and then stepping toward first base. He used it a few weeks ago against the Yankees, as you can see from this video:
This move is effective on a couple of levels. Of course, if the runner takes off for second, it becomes what should be an easy out. But even more than that, it can keep the runner from taking a large secondary lead, which can keep him from taking an extra base on a hit, or from breaking up a double play on a grounder.
While Duffy is able to execute this move well, it's not the one that's worked best for him. His best move is a lightning-quick step-off, like the one he used to get Avisail Garcia not long ago.
That move is something Duffy started working on a bit more in the 2014 season, as outlined by BP's own R.J. Anderson. In that season, it worked against Jose Altuve:
It worked against a chatty Ian Kinsler:
This is Duffy, feeling no sympathy for the Royal-killing Kinsler: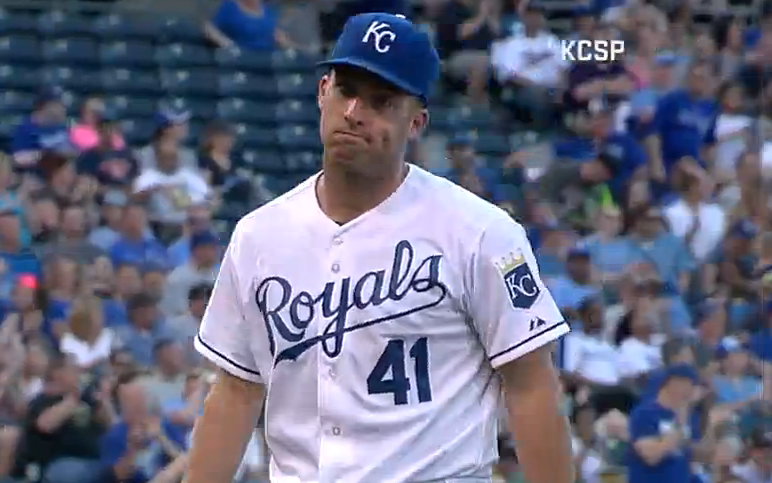 The step-off also worked against Sam Fuld:
And apparently Fuld's teammates weren't paying attention, because Danny Santana got caught napping just a few weeks after that:
Having such quick feet and a strong arm allows Duffy to rack up pickoffs, but that's not the only statistic that shows how he controls the running game. According to Baseball Reference, only two runners have attempted to steal a base against Duffy this season, and both have been caught, both with pickoff moves. If Duffy had enough innings to qualify, he'd be just one of 11 pitchers in the American League to allow two or fewer stolen base attempts. Only four qualified pitchers in the league have yet to allow a stolen base: David Price, R.A. Dickey, Chris Tillman, and Wade Miley. Granted, having Salvador Perez and his rocket arm behind the plate helps some, but Duffy's presence definitely deters aggressive baserunning.
Since the start of 2014, Duffy has allowed 10 stolen bases in 17 attempts, which is a success rate of roughly 59 percent. The league tends to steal bases at a 72-percent clip. Among the 109 major-league pitchers with at least 300 innings thrown in that time frame, Duffy ranks 17th in fewest steals allowed.
The 17 attempts against him is also quite low. Santiago allowed 17 attempts in 2014 alone, to offer some perspective. Duffy is closer to Price, who's allowed 18 attempts in the last three years, albeit in far more opportunities. He may not be the best in baseball, but clearly runners have hesitated to take off when Duffy is on the mound.
One of the keys to Duffy's stolen base prevention is his array of pickoff moves, as previously mentioned. Baserunners won't be able to take a big lead before stealing a base, because Duffy can throw behind them at any time. Beyond that, though, Duffy is able to disrupt a runner's timing by varying his delivery. There are times when Duffy will use a slide-step with a runner on base.
Sometimes he'll lift his leg straight up.
Sometimes he'll use a normal delivery and bring his leg back slightly as he gears up to pitch.
Duffy's regular delivery time going home isn't anything special, but because his leg lift can be deceiving, runners can't simply take off right away. And if he uses the slide-step, he can get the ball home in right at one second, which gives the runner the slimmest of margins if he chooses to head for second base, particularly with Perez catching.
In addition to the different deliveries, Duffy will alter his hold times before pitching, keeping the runners from figuring out when exactly he'll start his motion. Add it all together, and you have a pitcher against whom it's extremely difficult to steal.
Opponents have had a hard enough time simply trying to reach base against Duffy this year, and when they do reach base, they're not scoring terribly frequently. Some of that has to do with the Royals defense, but Duffy's more than carried his weight. He's picked off runners, while holding other runners in check, and as a result, he's anchoring a rotation that has desperately needed an anchor.