The Royals have been yearning for some kind of consistency from the starting rotation as of late. Taking the mound on Saturday afternoon was Edinson Volquez who the Royals hoped would steady the ship.
A Steady Eddie Appears
Volquez fulfilled the Royals hopes and dreams, cruising through the first 11 Seattle Mariners batters before running into some trouble. Volquez had his success early by pounding the strike zone and getting weak contact and quick innings, but in the fourth inning he ran into a bit of trouble.
After two quick outs, Robinson Cano singled past Cheslor Cuthbert at third for the first Seattle baserunner of the day. Nelson Cruz singled to follow up, but Volquez nearly got away unscathed. Unfortunately, he made one big mistake all day, an 0-2 middle-middle fastball that Kyle Seager hit deep to center to tie the game.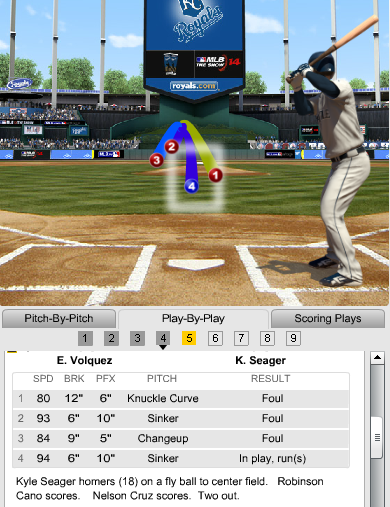 While Volquez wasn't sharp all day, he did just enough to hold off the Mariners, working six innings and allowing only the three runs from the Seager homer. He worked a perfect first inning for the first time since June 8th against Baltimore, breaking a stretch of five straight starts in which he'd allowed the leadoff batter to reach.
The Rookies Are Most Effective
Volquez was handed an early lead, built largely on the efforts of the Royals' rookie fill-ins. In the second inning, Salvador Perez worked an eight-pitch walk but went to third on a double by Brett Eibner and scored on an Alcides Escobar groundout. Then Cuthbert doubled to right to score Eibner and scored himself when Whit Merrifield doubled to deep right.
Cuthbert also drove in the go-ahead run in the bottom of the sixth inning, singling to left and driving in Eibner once again.
Sal Perez, who isn't a rookie but plays like a kid anyway, homered off the foul pole in the seventh to add an insurance run.
The Formula
The Royals are at their best when they get by with enough starting pitching and can hand it over to the bullpen. Today was no different.
Last time out, Volquez had thrown 85 pitches through six innings and had allowed just one run in Toronto. Ned Yost sent him out for the seventh and he ran into trouble, eventually putting three guys on base and seeing them all score when he was pulled. On Saturday, Yost sent Luke Hochevar out in the seventh inning after 91 Volquez pitches and while he had to walk the tightrope a little, he kept Seattle off the board.
The Formula works because the Royals have great bullpen depth. So with Wade Davis on the disabled list, there wasn't much on who would close out games in his absence. On Saturday, Joakim Soria came in for the eighth inning to face Seattle's 3-4-5 hitters, Robinson Cano, Nelson Cruz, and Kyle Seager. He allowed a one-out walk and single to deal with a first and third situation, but a Perez pickoff of Seager at first helped him escape without allowing a run. Kelvin Herrera worked an easy ninth inning for a no-drama save.
Up Next
Dillon Gee will start in place of Chris Young on Sunday afternoon to close out the Royals' first half. He and the Royals will face old friend Mike Montgomery.
Photo credit: Denny Medley-USA Today Sports