All losses are not created equal.
Some are quick and merciless. A five-run first inning when your team is going up against an ace pitcher comes to mind. Others are slow and painful. Like watching your team boot the ball around the infield as your opponent scratches out random runs across multiple innings. Yet others are an amalgamation of the two previous types: quick and painful.
That's what Sunday's loss to the Detroit Tigers was. Quick. And seriously painful.
With the Royals in a fight for their postseason lives (yes, it is only July. Yes, this is the position they currently reside.) Kansas City's bats couldn't muster more than a pair of runs and stood by helplessly as the umpires gifted the first Detroit run and Yordano Ventura and Salvador Perez conspired to award the second. That pushed the game to a battle of the bullpens. That's a scenario you will take all day, every day. Especially against Detroit.
Sometimes, it doesn't work the way it should.
Quick and painful.
The Balk
You don't hear the adjective "horseshit" in normal conversation very often. It's a word that feels exclusive to baseball. That's why I like it so much. Makes me feel like I'm on the dirt. So it's only natural to use a baseball term to describe the balk awarded to the Tigers with the bases full in the bottom of the third. Horseshit.
The claim was Ventura didn't come set. You can examine the replay like the Zapruder film. It seems fairly clear Ventura paused before his delivery. I know there was speculation it was a make-up call for ringing up Miguel Cabrera on a questionable strike one batter earlier, but the initial balk call came from, I believe, second base. The home plate umpire only made his call second. It reminds me of Ron Luciano.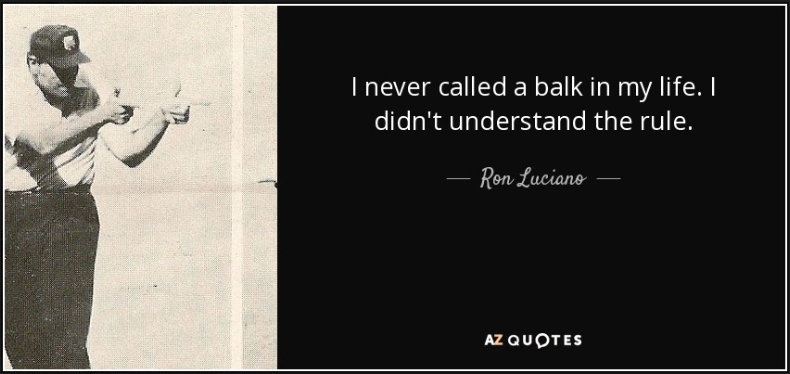 Luciano said he would wait for his fellow umps to call it, then would throw his hands up in the air so he looked like he knew what he was doing. Luciano was funny. Sunday's home plate umpire was not.
Ventura Strong
Unfortunately, the balk and the wild pitch will obscure the day Ventura had on the mound. He went seven strong innings, allowing eight hits, striking out six while walking just one. Since it was a Ventura start, as a viewer, it was never comfortable. Yet he danced around trouble all afternoon. He actually got more swinging strikes (16) than called strikes (13). That's some pitching.
His fastball averaged 95 mph and touched 98 mph. And his velocity got stronger as the game progressed.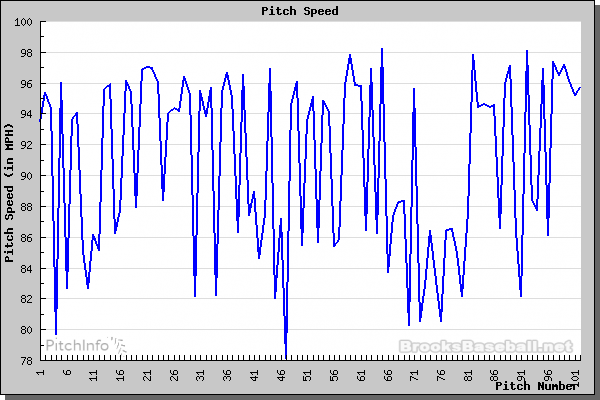 That's a sexy velocity chart. Coming out, finding some rhythm and confidence, then letting it rip.
The seventh was the true white-knuckle moment of the game when the Tigers loaded the bases with one out on a walk and back to back singles. It was surprising that Ned Yost gave Ventura that long a leash, especially with the Tigers order turning over for the fourth time in the afternoon. Yet disaster was momentarily averted as Ventura found his double play ground ball.
Soria Bombed
With the game square at two in the bottom of the ninth, remember the Manager's Bullpen Manual forbids the use of the closer. Since Luke Hochevar had warmed quickly in the seventh as the game teetered on the precipice, Yost didn't want to warm him for the second time. So he went with Joakim Soria.
Soria is a topic of great debate amongst fans. You know this. His first appearance on Opening Night was rocky and that perhaps remains ingrained in the consciousness. Since then (and before Sunday), he had thrown 39.1 innings with 36 strikeouts and a 2.52 ERA. I'll take that action.
At times, it feels as though he's been a bit unlucky. He's surrendered quite a few bleeders. Other times, it looks as though his command abandons him. His 3.8 BB/9 is his second highest walk rate of his career. What I'm trying to say is that while Soria isn't dominant like a Kelvin Herrera or Wade Davis, he's still a capable pitcher in the back of the bullpen. He's definitely one you could depend upon to hand over a lead to the eighth inning guy.
There wasn't anything unlucky about his confrontation with Jarrod Saltalamacchia. Soria gently placed a meatball on a plate. Saltalamacchia crushed it. Ballgame.
Soria wasn't too displeased with his pitch.
Soria was not overly displeased with his final pitch, was surprised Salty kept it fair: "It was not a bad pitch. It was a fastball inside."

— Rustin Dodd (@rustindodd) July 17, 2016
Which is great, but the wisdom of throwing an inside fastball to Saltalamacchia when batting left-handed could be debated.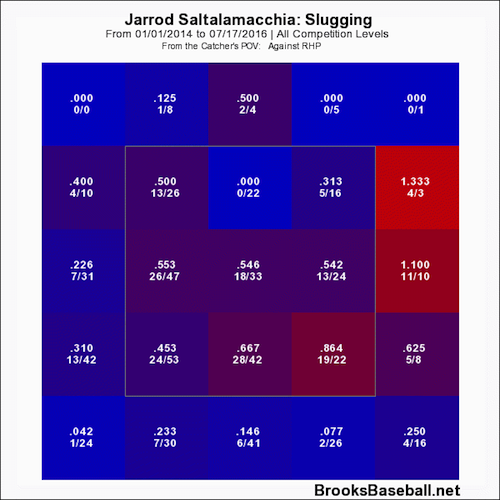 Disclaimer
None of the above would be valid if the Royals offense could have mustered more than two runs.
Up Next
The Royals return home for a nine game homestand wrapped around a visit to the White House. Edinson Volquez opens the second half of his campaign against Corey Kluber and the Indians at 7:15. At least if this one is tied in the ninth we will see Davis.