There are myriad reasons why we love baseball. One of my favorites, concerns the finite number of outs in the game. It doesn't matter how far you're down, as long as you have outs, you're in the hunt.
Monday's game against the Cleveland Indians, for seven and a half innings, was brutal. The storyline was set to be good starting pitching spoiled by a tepid offense. Again.
Then, magic happened.
Alcides Escobar
It started innocently enough.
Escobar, who came to the plate with a runner on third and one out in the third and struck out, started the eighth with a squibber that deflected off the glove of Bryan Shaw. Shaw was in the game because starter Corey Kluber, who dominated through seven, left the game with a cramp after coming out to warm up in the eighth.
Royals Win Expectancy: 23.7 percent
Eric Hosmer
Hosmer squared up a cut fastball on the inner half and lined it to center. Escobar moves to second.
Royals Win Expectancy: 35.9 percent
Christian Colon
Colon was hitting for Kendrys Morales, who fouled a pitch off his foot in the fifth. At the time, he looked to be in quite a bit of pain. He also was hit in the lower leg or the foot in the first. (I was at the game, so I haven't seen a replay. Plus, I'm rushing to get this RECAP posted.) It was not a good evening for the legs and feet of the Royals designated hitter. So Colon steps to the plate.
You're probably aware of this, but Colon has a knack of coming through in late-inning, high-pressure situations. This time, he squared to bunt. Twice taking for a ball.
You'll have to take my word on this (and what I'm about to write is totally believable if you've been a reader for any length of time), but I hated the bunt in that situation. Absolutely, show it. Bring the corners in. Plus, Lindor was shading to second to keep Escobar close to the bag. There was acres of space between third and short. I know there's always talk about how the Royals do the "little things" and "manufacture runs." Blah, blah, blah. Go back and read my lede. Outs are precious, especially when the offense has been scuffling. The idea of trading an out for 90 feet doesn't seem like a good one to me.
Anyway, the whole point is moot. With the count 2-0, the bunt sign was removed. Colon squared, pulled back, and blistered one to center, over the head of Tyler Naquin, who was playing too shallow.
Tie game.
It just can't be a Royals rally without something boneheaded happening. In this case, it was Colon, rounding second and going for third. The aggression on the bases is fine. It's in the Royal DNA. Except in this case with no outs, the smart play is to hold at second. Colon hit the bag, made the turn, and suddenly realized he was carrying a couple of 50 pound sandbags around his waist. Easy out.
Royals Win Expectancy: 56 percent
Salvador Perez
I'm certain the turn of events sufficiently jacked Perez so much, he had to swing at the first pitch he saw or he was going to explode. Can of corn to shortstop for out number two.
Royals Win Expectancy: 52.6 percent
Alex Gordon
I miss Gordon. He just hasn't been the same this year. That sucks. Fortunately, he can still work a walk. It's easy when Shaw spins four consecutive cutters and misses the plate by a wide margin on all four.
Fire up another rally.
Royals Win Expectancy: 55 percent
And then he swipes second.
Royals Win Expectancy: 58 percent
Cheslor Cuthbert
There will be plenty of kudos handed out for this inning, and Cuthbert's plate appearance will probably be overlooked. Except it was probably the best one of the inning. He fell behind 1-2, then took the next two out of the zone to push the count full. Cuthbert then fights off two cutters in the zone. He's tardy on those pitches, fouling them off to the right. Shaw then breaks off a slider. I couldn't tell you how Cuthbert laid off that pitch.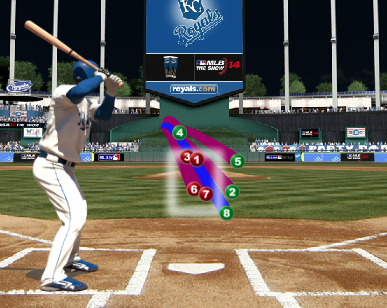 Royals Win Expectancy: 58.8 percent
Paulo Orlando
To this point, Orlando had had a miserable evening at the plate. He grounded into a double play in the second, struck out looking on three pitches in the fourth, and struck out swinging on a pitch way out of the zone in the seventh. Honestly, he's probably just happy Kluber is out of the game.
So is Shaw. Terry Francona summons Jeff Manship to attempt to close out the inning after the back to back walks.
Manship threw three sliders. The first one, was perfectly located, just off the edge of the plate. Orlando swung and missed. The second, spun low and away. And easy take. The third one, was just right for Orlando.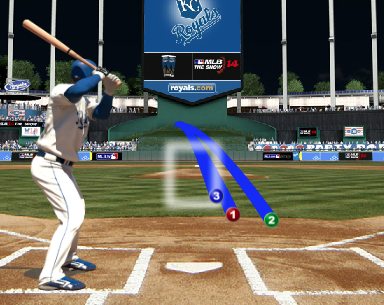 He got out in front and yanked it into left. Gordon sprint around third and executes a beautiful slide, avoiding the tag and the hammer drop of a knee Roberto Perez tried to use to block the plate to break the tie.
Sometimes, redemption is found in one swing.
Royals Win Expectancy: 87.4 percent
Whit Merrifield
On the throw home, Cuthbert moves up to third and Orlando advances to second. For whatever reason, Manship decides to pitch Merrifield very carefully with first base open. He falls behind 3-0 and ultimately walks him.
The bases are loaded.
Royals Win Expectancy: 87.9 percent
Jarrod Dyson
Earlier in the game, Dyson lashed a triple over the head of Lonnie Chisenhall in right field. Dyson doesn't drive the ball that hard that often, so it was the kind of hit that makes you take notice.
Against Manship, Dyson gets a low, middle-cut fastball. With the bases loaded and the Indians clinging to a one run deficit, he must be looking dead red. He got what he was looking for.
Prior to Monday, Dyson had hit six home runs in his major league career. Five of them had left the park. As you can probably imagine, he had never hit a grand slam.
In the span of 30 minutes, the Royals got off the floor and kicked the division leaders in the teeth. This season may be a grind, but they're not going down without a little bit of fight. The offense had flatlined for seven innings, scraping together a handful of hits, but never doing enough to push a single run across the plate. Suddenly, in the eighth, the floodgates opened, capped off by a moonshot of a grand slam by the unlikeliest of home run heroes.
That was exactly why we sit through seven innings of uninspiring baseball. That was why we still love these players and this team. That was why we will be back for more, screaming at the top of our lungs, hopeful that this run can last another couple of months, or even longer.
Three singles. Three walks. One double. And one grand slam.
Seven runs.
Wonderful. Delightful. Amazing. Ballgame.
Royals Win Expectancy: 99.4 percent
What else is there to say? Let's end this RECAP the proper way. Salvy Splash.