Coming into the 2016 season, Danny Duffy was a man without a changeup. That's not completely accurate, as Duffy did possess a changeup, but as I wrote several months ago, it's been terribly inconsistent at best, and downright terrible at worst.
In that article, I suggested the lefty's time in the bullpen could give him a chance to work on his changeup, perhaps by tinkering with different grips. As it turns out, that's exactly what happened. And if you're wondering, yes, it is extremely difficult to type this while patting myself on the back.
A few recent broadcasts have mentioned that Duffy started throwing his changeup using the same grip that Edinson Volquez uses. The new grip is basically just a slight alteration to his thumb placement, and although he isn't throwing it any harder, the tweak has added more horizontal movement. Duffy's now getting 10.4 inches of movement on the pitch. Only three pitchers in baseball have more fade on their changeups than Duffy this season.
That extra fade away from righties has been huge for him, as he's been able to hold them to a .699 OPS. He's definitely surrendered a few more dingers than you'd prefer, but that OPS is ten percent lower than the league average.
Add in his continued utter domination of left-handed hitters (his .244 slugging percentage allowed is lower than every starting pitcher in baseball, with the exception of Martin Perez and Clayton Kershaw) and you can see how the Royals' best starter has become the Royals' best starter.
Before getting into some more numbers, I wanted to give you a few visual comparisons. First, here is a video of Duffy throwing a changeup last September, and after Duffy throws the changeup, the changeup winds up sailing over the left field wall.
You'll probably notice the ball doesn't fade away from Alvarez, and it doesn't drop far enough to avoid his nitro zone.
Now look at this video of Duffy throwing a changeup this season.
The editing isn't great there, but you can see the ball going away from the right-handed batter.
Those videos give you an idea of the movement on the pitch, but simply having a lot of movement doesn't mean a ton if the pitcher doesn't know where the ball is going to end up. This is where Duffy's improved command comes in.
By simplifying his delivery, Duffy has been able to repeat his mechanics much more frequently this season, and that's reflected in his reduced walk rate. It's also reflected in the location of his changeups, as you can see from this very fancy moving picture. See if you can figure out which image is from which year.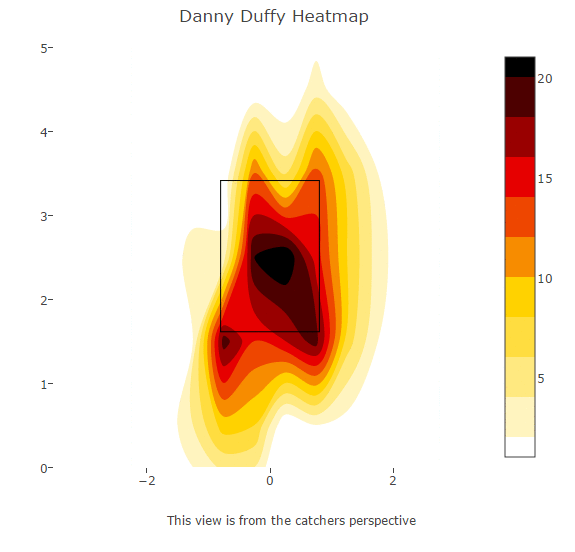 For the uninitiated, that concentration of changeups in the upper-middle parts of the zone is typically a bad thing.
This year, Duffy is getting better movement on his change, while also hitting his spots perfectly. Both of those things have made an enormous difference on Duffy's results, and have elevated him to an elite level of performance.
To see how stark the difference has been, I perused the Pitchf/x leaderboards. I found 52 pitchers who have thrown at least 200 changeups in each of the last two seasons. Just 19 of those pitchers have induced more whiffs per swing this year than they did in 2015, and only one of them has seen a larger increase than Duffy.
| | | | |
| --- | --- | --- | --- |
| | 2015 whiff/swing | 2016 whiff/swing | Diff |
| Jeremy Hellickson | 37.80% | 52.78% | 14.98 |
| Danny Duffy | 26.92% | 37.61% | 10.69 |
| Noah Syndergaard | 35.63% | 45.69% | 10.06 |
| Trevor Bauer | 27.50% | 35.24% | 7.74 |
| Marco Estrada | 34.85% | 41.98% | 7.13 |
In 2015, Duffy's rate was in the 28th percentile. In 2016, it's in the 75th percentile. That's far more whiffs per swing, and because batters are offering at more than half of his changeups, following a swing rate of 43.7 percent last season, Duffy's getting even more swinging strikes than it would appear at first glance.
But more whiffs isn't the only result of his improved changeup. Duffy is inducing more ground balls and fewer line drives this year, and while he's not getting as many popups, batters aren't doing enough with the other batted balls to do any damage.
Last season, opponents hit .309 with a .546 slugging percentage against his changeup. This season, they're batting .145 with a .241 slugging percentage. Opponents have a .148 True Average against the pitch this year, which is the fourth-lowest mark in baseball.
In other words, opposing batters aren't making nearly as much contact with Duffy's new changeup, and when they do make contact, it's generally bad contact.
Prior to 2016, Duffy didn't have much of a changeup. Now that he's made some adjustments, his changeup looks like one of the best in the game. But of course, batters can't solely focus on that pitch, because he can dial his fastball up to 98 mph, while also throwing a hard slider that even right-handers have been unable to square up. Hitting a baseball is hard. Hitting a baseball thrown by Duffy is even harder.
Yesterday, Darin suggested you pay attention to Danny Duffy over the next two months, and I'll echo that sentiment. Duffy has been nothing short of incredible this season, and watching his transformation has been an absolute joy. He's turned one of his biggest weaknesses into one of his biggest strengths, and that adjustment has turned him into the kind of starting pitcher the Royals so desperately need.