Eric Hosmer is a ground ball machine. This is fact.
That's right. There's no one in the American League with a higher ground ball to fly ball ratio than the Royals' first baseman. It should be noted the above chart from Baseball Reference includes line drives in the fly ball bucket when calculating this ratio. This is something which makes Hosmer's perch atop this leaderboard all the more astounding. I've chosen to sort by GB/FB ratio. Had I sorted by ground out to air out ratio, Hosmer would have ranked third, one of three qualified batters to hit at least two ground outs for every fly out.
It should also be noted that of the 14 players listed above, (the table includes only those qualified AL hitters with a GB/FB ratio greater than 1.0) Hosmer is the only one who has a line drive rate of less than 20 percent. In fact, his 18 percent line drive rate is tied with Leonys Martin for the lowest in the AL. Ground ball machine.
And finally, to drive the point home, take a peek at this batted ball heat map.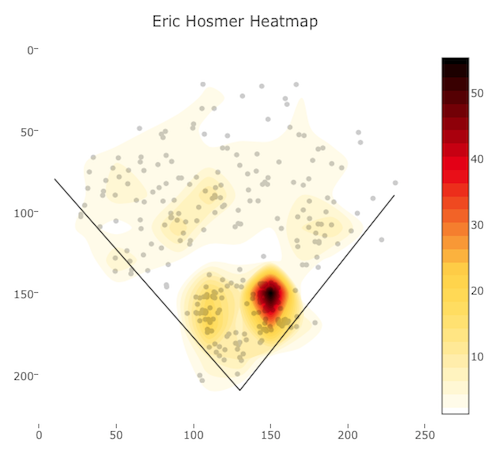 That's gross. Your alleged hard-hitting first baseman rolls over into more 4-3 ground outs than just about any other outcome on the field.
This isn't supposed to happen. This is a 26-year old sweet swinging first baseman. He doesn't -feature light-tower power like your classic slugging first basemen, but he should be able to club 25 home runs. Yet his career high remains stuck on 19, achieved in his rookie campaign of 2011. Rather than expending the power to crush the ball over the wall, Hosmer chops and chooses to kill worms.
The previous sentence implies that Hosmer's ground ball proclivities are of his choosing. Obviously, we know that's not true. Hosmer has plenty of power to the opposite field, but also when he tries to pull, he possesses a swing that can get long at times, resulting in myriad of 4-3 putouts. After a few too many of those pile up, he has a difficult time readjusting and getting his swing short and correct. Extended slumps have plagued Hosmer throughout his career. We are seeing perhaps his worst in 2016.
Last week, Hunter Samuels looked at Hosmer's swing and the toe tap versus the leg lift. The conclusion was his inconsistent approach (he uses both at different times) has led to a less than comfortable experience in the batter's box which has led to a suboptimal offensive performance.
While I'll buy that, it should also be noted the book is out on Hosmer. Pitchers (despite what hitters think) aren't so dumb. They are pitching him down in the zone. Way down, in fact, to get him to chase and roll over.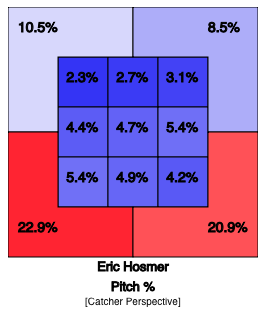 Let's go to the gif machine to see how pitchers and their approach to Hosmer has changed since he broke into the league. I don't have years on the images, but the one with the white space in the lower right (the down and in pitch to Hosmer) is his rookie season of 2011. That's where you should pay attention to the evolution.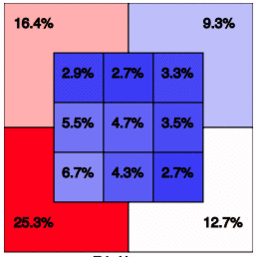 A left-handed hitter's happy zone is down and in. Pitchers will avoid that area or get punished. That's how the league started pitching Hosmer when he arrived. Since then though, the fear has mostly disappeared in favor of the hunger for the ground ball. Opposing pitchers know all they have to do is just keep the pitch down; it doesn't matter if they go down and in, Hosmer will roll it over to second. Hosmer has gone from seeing 12.7 percent of all pitches thrown down and in to a whopping 20.9 percent. Does Hosmer strike fear into pitchers? The location suggests they don't give a damn because the odds that he rolls it over are far greater than him barreling it up. This is a problem for the Royals, Hosmer, and Scott Boras, who seems to think his client can command in the neighborhood of $200 million.
Hosmer's results have gotten worse over the last two months. He reached a pinnacle on June 2. After a 1-2 night where he also drew a pair of walks, Hosmer was hitting .330/.380/.547. Since that game, he's hitting .227/.294/.338. In those first two months of the season, here were Hosmer's most common plate appearance resolutions:
Groundout – 23.8%
Single – 19.5%
Strikeout – 19.0%
Fly out – 8.1%
Walk – 7.7%
In the last two months, the results are largely in the same order, but the percentages have shifted.
Groundout – 29.9%
Strikeout – 20.3%
Single – 15.8%
Fly out – 9.5%
Walk – 7.7%
It's not just a particular pitch that is ground ball catnip. His ground ball percentages are up against all pitches. Way up. From Brooks Baseball, here are Hosmer's percentage of balls in play that are put on the ground against a particular pitch type. For perspective I've included his percentages from last year, along with his career rates.

This is the profile of a batter who is all kinds of screwed up. Slumps happen, but Hosmer is an experienced player who is in the prime of his career. That's to say this slump shouldn't be happening like this. Not to this depth. Certainly, it's not just the location of pitches that are causing Hosmer to drive the ball into the ground. He's even hitting ground balls on pitches that are elevated in the zone, which means he would need to adjust his swing plane if he were to elevate more frequently. However, pitchers are focused on delivering the ball to him down more than anything, so it's going to take a little bit of effort on his part to lay off those.
Thanks to his postseason RBI total and emergence as one of the faces of a now successful franchise, Hosmer has a reputation as a star. His agent is banking that reputation will bring him an inflated contract when he hits the free agent market following the 2017 season. The contract can certainly happen, but Hosmer comes with some warning signs no team should ignore.
Caveat emptor.