It's entirely subjective, of course, but I would guess only twice in team history have the Royals had a player who would be considered the "coolest" player in baseball. Even after two World Series appearances and one championship, I don't think the current squad has anyone really close. Sure, Salvador Perez is immensely popular, and Lorenzo Cain, Eric Hosmer, and Alex Gordon (among others) are well-known to baseball fans everywhere. But as far as mega-stars go, I'd argue it's just two: George Brett in 1980 and Bo Jackson in 1989.
I resisted writing about Bo Jackson for some time. I'm guessing most of you know the basic details. But with football season starting, Jackson always comes to mind. If he just could have stayed away from that sport…
Vincent Edward "Bo" Jackson was born on November 30, 1962, in Bessemer, Alabama. Unsurprisingly, he was a baseball and football star at nearby McAdory High School, as well as a track star. The Yankees actually drafted him out of high school in 1982, but Jackson decided to go to Auburn University. Although he was on a football scholarship, he kept playing baseball and still found enough time to qualify for the NCAA national championship in the 100-yard dash in his freshman and sophomore years. He also hit .401 with 17 homers in 42 games in 1985, his junior season on the Tigers baseball team. He followed that up in the fall with 1,786 rushing yards and a Heisman Trophy.
The woeful Tampa Bay Buccaneers had the first pick in the 1986 NFL Draft, and they happily chose Jackson with that pick even though Bo had said he didn't want to play for them. That was based less on their record than on what Jackson perceived as a ham-handed effort to force him to choose football: during Bo's senior baseball season, Tampa Bay sent owner Hugh Culverhouse's private plane to pick up Jackson and bring him in for a visit. Jackson believed the Buccaneers had cleared the trip with the NCAA. They hadn't, and Jackson wound up missing a good portion of his senior season due to the violation.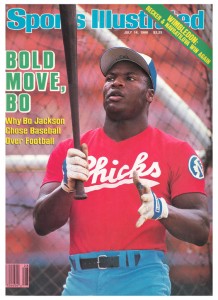 Just months after the Buccaneers drafted him, the Royals used their fourth-round pick in the MLB draft to select Jackson. With the NFL off the table, he was an easy signing. And he was in the majors quickly; after just 53 games at Class AA Memphis (and one Sports Illustrated cover), he made his debut on September 2.  It took him 25 at-bats to crack his first major-league home run, but when he did, it was a doozy. It traveled 475 feet, landing near the top of the grass berm just a bit to the left of the scoreboard. It would be in the vicinity of that bar at the top of the left-field seats now. It is still considered the longest home run in Kauffman Stadium history.
Bo's 1987 season was pretty good, considering how raw his talent still was. Although he batted just .235, he hit 22 home runs in 434 plate appearances, while adding 17 doubles and 10 stolen bases. He did strike out a lot—Jackson was a player ahead of his time in that regard. Teams are more willing to live with strikeouts today if they're accompanied by home runs. Also in 1987, the Buccaneers gave up their draft rights to Jackson, and the Los Angeles Raiders took a flyer on him with their seventh-round pick in the NFL draft. Unlike Tampa Bay, the Raiders apparently felt half a season of Jackson was better than nothing; they agreed to let him play baseball until the season was over, then switch to football (having Marcus Allen in the backfield already probably helped). Jackson agreed to this, famously calling football a "hobby." Four weeks after the end of baseball season, there was Bo, running over Brian Bosworth on Monday Night Football on his way to 221 yards rushing in one game.
Jackson was definitely improving as a baseball player, as Royals fans saw in 1988. He improved his average to .246, hit 25 home runs, and stole 27 bases while being caught just six times.
But in 1989, Jackson really took off. Also, he was almost everywhere: posters, video games (Nintendo's football game Tecmo Bowl, where Bo was pretty much unstoppable, was released in February 1989), and commercials.
Perhaps his most famous commercial, the Nike "Bo Knows" campaign, was set to debut at the All-Star Game. Jackson earned a starting spot in that game—in fact, he received the most votes of anyone in baseball—by hitting .282/.337/.647 in April, .245/.288/.429 in May, and .278/.301/.515 in June. He ended June with 18 home runs, 20 stolen bases, and a .268/.308/.525 line. He was also applying his tremendous gifts to defense; on June 5, he made possibly his most famous defensive play by running down a double in the left-field corner, turning, and firing a strike on the fly to home plate to cut down the speedy Harold Reynolds trying to score the winning run from first.
And when the bright lights of the All-Star Game turned on, Bo put on a show. Batting leadoff for the American League at Anaheim Stadium, he launched a massive home run in the bottom of the first inning. That came just minutes after his nice running catch ended the top of the inning. Later, he would beat out a potential double play ball, allowing a run to score, and steal a base. That blend of speed and power earned him the game's MVP award.
Although Jackson missed a couple of stretches in the second half of the season with a left quadriceps injury, he ended up with the best season of his career; in 135 games, he hit 32 home runs, stole 26 bases, hit .256/.310/.495, and added 15 doubles and six triples to the mix. His potential seemed limitless, even with all the strikeouts (he led the AL in strikeouts in 1989, with 172).
By counting stats, Jackson's 1990 season wasn't quite as good. But he was hitting .263/.338/.471 with 16 home runs when play began on July 17. He seemed on his way to having roughly as good a year as he'd had in 1989. That night, in Yankee Stadium, he belted three home runs in three at-bats. Then he separated his shoulder trying to make a diving catch. When he returned in late August, he tied a major league record by homering in his first at-bat, off Randy Johnson. Four at-bats, four straight home runs. He ended the year with 28, along with a .272/.342/.523 line. Had he not missed a month, he might have set a franchise record for home runs.
That winter, though, Bo suffered a much worse injury. On a seemingly normal running play and tackle during a Raiders playoff game against Cincinnati, he dislocated a hip. Even worse, the injury damaged blood vessels in his hip; within a month, he was diagnosed with avascular necrosis, which is the death of bone tissue due to lack of blood. Also, the cartilage supporting his hip was gone.
Jackson's condition continued to deteriorate through the spring, and it seemed like there was no guarantee he would play again (in fact, his football career was done). The Royals and Bo went to arbitration, and Jackson was awarded a $2.375 million contract for 1991. Because players could not receive more than a 20% pay cut, the Royals would owe Jackson at least $1.9 million in 1992. And then he would be a free agent. Faced with the possibility that they might pay him over $4 million to rehab and then watch him sign elsewhere, the Royals had but one choice. On March 18, he was released.
The White Sox thought Jackson would play again, and sooner than anyone else thought. So they signed him in early April. And they were right. Jackson was able to play again that September, after a lengthy rehab. But the hip was still a problem, mostly due to the lack of cartilage. Jackson underwent a hip replacement in April 1992. Incredibly, he came back to play in 1993, appearing in 85 games for the White Sox. He played one more year, getting in 75 games for California in 1994, before retiring.
Jackson has stayed busy since his playing days, appearing in TV shows and movies, running a couple of businesses, doing charity work, and just being Bo Jackson. He will always be one of the biggest "what-if" stories in Royals history. If he had stayed away from football…if he could have mastered the finer points of baseball…if he could have stayed healthy on a baseball field, what might he have done? I'll tell you this, I'm glad we got to see him play, even if we never saw the finished product.
Bo Jackson's best games of 1989:
7/4 @ OAK: Homered twice and drove in three runs in 10-1 win.
7/18 vs. MIL: Homered and drove in five runs in 9-4 win.
8/19 @ SEA: Homered, drove in four in 13-5 win.
4/15 @ TOR: Homered, doubled, and singled, driving in three in 10-5 win.
9/9 vs. MIN: Doubled twice, had three RBIs in 3-1 win.
About the card:
I don't exactly remember my reaction when I pulled this card out of a pack, but I bet it was a happy one. It's still amazing to me that someone that big could run as fast as Bo could.