It's no secret the 2016 Royals were undone in large part due to their struggling starting pitching. With Edinson Volquez now gone to the Miami Marlins, the Royals definitely have a hole to fill and few internal prospects to fill it. The top four starters (Danny Duffy, Ian Kennedy, Yordano Ventura, and Jason Vargas) seem to be a fairly solid group, although one with various questions.
Beyond that, the Royals' in-house options, assuming they want to keep Matt Strahm in the bullpen, appear to be Mike Minor and Chris Young. We've already seen how the lack of a reliable fifth starter can torpedo a season. So it would seem the Royals need to find a better option than those two. Plus, extra depth is never a bad thing.
You may have missed it while you were traveling for Thanksgiving, or preparing your feast, but last week the Mariners and Diamondbacks made a deal, with Arizona acquiring starting pitcher Taijuan Walker. The Diamondbacks now have Walker, plus seven pitchers who started at least 10 games last year. And Arizona, coming off an extremely disappointing 69-93 season, has plenty of needs elsewhere. That disappointing season also cost a lot of front office jobs in the desert, meaning perhaps the new management is not attached to any of those starters.
So maybe, just maybe, the Royals could find an answer to their rotation problem there. If they did, and if they could find a deal that works for Arizona's needs (and I won't pretend to know what they might want), the pitcher that would interest me the most would be Patrick Corbin.
The left-handed Corbin was a very good pitcher very recently, piling up 4.3 WARP in 2013 in 208 1/3 innings. But he suffered the dreaded UCL injury in spring training 2014, and after his Tommy John surgery, he missed all of that year. He returned midway through the 2015 season and was pretty good (1.5 WARP in just 85 innings). But something bad happened to him this past season, as he went 5-13 and his ERA jumped from 3.60 to 5.15. Eventually, he was demoted to the bullpen and finished the year there.
Corbin's velocity didn't seem to be a problem. As you can see in this chart, his velocity was essentially the same as it was in 2015 and possibly even better than it was in 2013.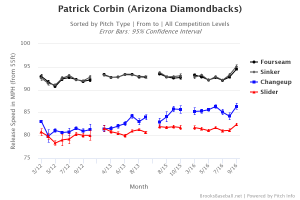 Actually, Corbin's biggest issue in 2016 seemed to be a lack of control, as his walks per nine innings jumped from 1.8 in 2015 (and 2.3 in 2013) to 3.8. As you can see below, he's always tried to work down and in to right-handers, but last year he seemed to lose his feel for the bottom of the strike zone. It makes some sense that he would miss low more often, as Corbin is a ground-ball pitcher who relies on his slider and sinker to get those grounders.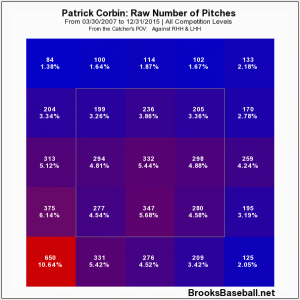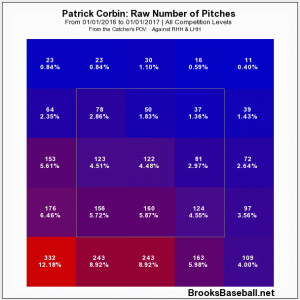 It appears that Corbin lost his feel for those pitches and his changeup in 2016, and didn't really recover the touch until he was sent to the bullpen in August. You can see below that his release points on those pitches was off ever so slightly from where it had been in previous seasons, and it really cost him.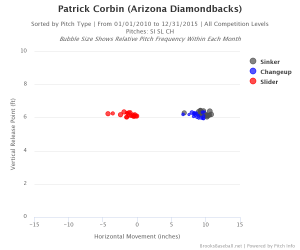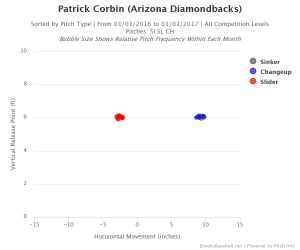 I'd like to think that this is an issue that can be tweaked by a good pitching coach, such as Dave Eiland. Corbin also had a problem with home runs, allowing 24 of them. Fourteen of those came in Chase Field, which yielded the second-most home runs in the National League. Also, given Corbin's ground-ball tendencies, I think he would benefit from having Alcides Escobar and Mike Moustakas behind him. Arizona basically used two shortstops last year—Nick Ahmed, who had a FRAA score of 9.5, and Chris Owings, who had a FRAA score of -6.5. Meanwhile, third baseman Jake Lamb was at -4.7. So Corbin wasn't getting much help from his fielders; indeed, he had a DRA number of 3.89, which is not far off from his decent 2015 season (when he had a 3.61 DRA). Since he has just in his second arbitration year, he is still fairly inexpensive ($2.525 million last year, and unlikely to get a big raise). That also means he would be around after the 2017 season, giving the Royals some stability (Vargas and, as of now, Duffy, could be free agents after this coming season). And the Royals would be buying low, reducing the prospect cost.
Now, it is true that Arizona could agree that lots of pitching depth is a wonderful thing and have no interest in trading Corbin. But if they are open to a deal, and the Royals can find a match, Corbin could help the Royals get back to the postseason in 2017.