It's never too early to look ahead to the offseason, at least not when your team is below .500 in mid-August. The Royals have lots of things to fix this winter: a popgun offense, a suddenly leaky bullpen, and a subpar rotation. I do think that some of the offensive problems will fix themselves; I think it is reasonable to expect better seasons from Alex Gordon and Lorenzo Cain, plus a more consistent one from Eric Hosmer. Add in that Cheslor Cuthbert will probably be in the mix at DH and that spot becomes more of a threat, too. To be sure, there are fair questions about Paulo Orlando regressing and whether Raul Mondesi is ready to contribute offensively in ways besides bunting and running really fast. But on balance, I would expect the Royals to have a more potent offense next year; much like the last two seasons, not great but good enough.
However, for the offense to be good enough to win, the pitching needs to improve. In fairness, the pitching hasn't been awful this year, even though it's felt like it sometimes. As a staff, the Royals have an ERA+ of 105. They've allowed 4.32 runs per game; the AL average is 4.48. But those numbers paper over a staff that gives up too many walks (370, fourth-highest total in the league) and home runs (158, third-highest in the league and a staggering figure for a team playing in Kauffman Stadium).
A look at the Defensive Runs Allowed stat on the mothership shows the Royals are 18th in baseball and eighth in the American League at 4.38. That fits the stats above, showing a staff that is basically middle-of-the-pack. It's been a team effort. The bullpen ranks 16th in baseball and ninth in the AL at 4.17; the starters are 19th and ninth at 4.50.
With a (presumably healthy) Wade Davis, Kelvin Herrera, Matt Strahm, and the possibility of adding free agent Greg Holland back to the mix, the bullpen should be fine next year. My main concern is that rotation.
Last year, the Royals got 109 combined starts from Edinson Volquez, Yordano Ventura, Jeremy Guthrie, and Danny Duffy. The other 53 starts were made by a grab bag of pitchers: Joe Blanton, Johnny Cueto, Kris Medlen, Yohan Pino, Jason Vargas, and Chris Young. Despite the impermanence of that fifth spot in the rotation, the Royals went 30-23 in those 53 games. And they did that despite going just 4-9 in Cueto's starts.
This year, the Royals have had 89 combined starts from their top four guys: Volquez, Ventura, Ian Kennedy, and Duffy. Despite some inconsistent years from three of those pitchers, the Royals have gone 50-39 in those games (14-3 in Duffy starts, if you were wondering). Even though the combination of Ventura/Kennedy/Volquez has been decidedly average, they've shown that as long as there is a Duffy-type leader of the rotation, they can be a serviceable group.
The other 29 starts this year have come from Young, Medlen, Dillon Gee, and Flynn. The Royals are 8-21 in those games. There's your season. Just six or seven more wins, just going about .500 in those games, and the Royals would be in the thick of the playoff race, even with their other issues. That record isn't a fluke, by the way. Those four have a whopping 7.17 ERA in 128 innings as starters.
So yeah, finding another dependable starter would be huge for the 2017 Royals. Volquez may not be a Royal next year; he and the team have a $10 million mutual option to discuss, or the Royals can buy him out for $3 million. Frankly, I'm not sure the Royals should pick up that option, even though that might add to their shopping list. After Sunday's start, he has an ERA of 4.95 and a WHIP of 1.46. He just hasn't been effective. As you can see from this chart, his velocity is dropping as the season goes on. It might be time to cut ties.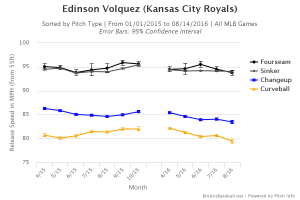 The good news is that Vargas should be fully recovered from Tommy John surgery by next spring. In fact, he would be at that 20-month mark that is considered the point when a pitcher is really ready to return to their previous level of performance. So with Duffy, Vargas, Ventura, and Kennedy, the Royals look to have a pretty solid group of starters. Just like last year, and just like this year. The difference is going to be in that fifth spot.
In-house candidates include Gee, Flynn, Mike Minor, Strahm, and Young. I think the performances of Gee and Young have eliminated them from consideration next year even though they've been fine as relievers. Flynn has also been effective in the bullpen. Strahm could be a starter someday, although I'm not sure he's ready. My guess is the Royals either keep him as a reliever to get used to the majors or send him to Omaha to continue developing as a starter. Either way, I'm not counting on him being in the rotation next April. Minor has been trying to complete a rehab assignment most of the season, so I'm not sure he's a consideration either. He will certainly be in the mix next spring, but it's hard to say he's a solution right now.
The Royals do have some intriguing possibilities in the minors, but I don't think any of them are ready to be in the majors for a team trying to win now. Jake Junis and Alec Mills have just reached Triple-A recently. Both have potential; both probably need more time.
The list of potential free agent starters available this winter is, uh, suboptimal. Andrew Cashner and Jeremy Hellickson might be the leading possibilities there. Those two are likely to get more money than they really should, and the Royals probably aren't winning a bidding war for their services. Both would likely be adequate, but not really worth the money.
That leaves a trade. With the current logjam developing at third base, perhaps the Royals could explore dealing Mike Moustakas, Cuthbert, or Hunter Dozier. Another possibility is trading Lorenzo Cain, if Dozier appears capable of playing right field, and letting Orlando be the starter in center field. Both options are gambles, but in the third base situation, at least between Moustakas and Cuthbert the Royals can feel assured that third base is in good hands.
However the Royals choose to solve this dilemma, it is encouraging that they really are that close to being good again. It's actually a bit shocking that the pitchers they assembled to possibly fill out the rotation this year all pitched so poorly. That's baseball, I suppose, but it's not much fun this year. The Royals will need better luck and better choices to contend in 2017.