It's been a few days. I'm still not happy the Royals traded Jarrod Dyson.
Look, I get it. The Royals feel they have a glut in their outfield. They also seem to have the desire to save a couple of dollars here or there. That means someone…Dyson, had to go. It's never fun to have one of your favorites leave the team, especially after what this group accomplished. It's funny, though. When the Royals shipped Wade Davis to Chicago earlier this winter, my reaction was somewhat tempered. Of course Davis will be missed. But it felt like good baseball sense to trade away from a surplus (or at least an area where the Royals have usually had success) to fill a need in the outfield. Then you have the contract status of the two players swapped and yeah…it's just a smart baseball move.
But Dyson? Man, that hurts.
When Dyson arrived in Kansas City, I didn't quite know what to expect. Here was this guy – this longshot – who had a super-plus tool and that was about it. Initially, it was easy to write him off as another one of Dayton Moore's athletic guys who probably didn't have anything to really add to the team other than his speed.
I didn't realize he would become one of my favorite players to ever wear the Royals uniform.
When we first saw Dyson it was as a pinch hitter, if you can imagine that. Batting for Alex Gordon. He stepped in the box on September 7, 2010 in the ninth inning of a game the Royals were losing by eight runs to the Twins. Facing Pat Neshek, he didn't see a strike, reaching base on a leadoff walk. The Royals deficit meant he was anchored to first, but he did eventually come around to score on a Gregor Blanco two-out single.
Dyson made his first pinch running appearance the next night, as the Royals sparked a mini-rally down three in the ninth. They cut the deficit to one on a Gordon single and Dyson was summoned to replace the Royals left fielder once again, this time on the bases. And this time, Dyson did in fact swipe second. He was stranded there when Mitch Maier flew out to end the game. Ahhh, the glory of the 2010 Royals.
From that introduction, Dyson, through parts of six more seasons in Kansas City, became an integral part of this franchise. Obviously, a massive amount of his value was derived from his speed. A couple of quick Dyson factoids about his wheels. Last year, he scored 41 percent of the time when he reached base. League average was around 30 percent. For his Royals career, he came around and touched home 36 percent of the time he reached base. Think about that. If Dyson was on base three times, he was scoring at least one of those times. That's because he's swiping a bag to get into scoring position or because he's taking the extra base. That's what speed do.
Speed also helps you swipe a base with regularity. Another fun Dyson fact: In his Royals career, he had exactly 600 stolen base opportunities, meaning he was on first or second base with the next base open. He attempted 206 stolen bases. Again, a three to one ratio. And he was successful 85 percent of the time.
The numbers don't lie. Mr. Zoombya was a legit threat on the bases. He changed the calculus of the game every time he reached or was inserted as a pinch runner. You know it. There were few things more thrilling than seeing Dyson jog out of the first base dugout to take up his position at first base in place of Billy Butler or Kendrys Morales. Because when that happened, you knew you were going to be treated to the thrill of speed.
Yet, Dyson's game was much more than his wheels. It was evident before he arrived in Kansas City. Twice, he was chosen as the Royals best defensive outfielder in the system by Baseball America. In 2009, he was tabbed as having the best outfield arm in the Texas League. I loved it when the opposition and the scouts glossed over his defense because he was a wiry burner. His defense added plenty to his game, making him an extraordinarily valuable fourth outfielder. Stereotypes will kick your ass.
Dyson was a delightful, electrifying player. It turns out he was the same in the clubhouse.
In his debut month, Dyson was first mentioned at Baseball Propectus in an article John Perrotto wrote about some long shots who scored a September cup of coffee.
"I don't have a chip on my shoulder, but I do feel like I have a lot to prove," Dyson said. "Going in the 50th round, they're giving me an opportunity to show what I got. That's what I have to do—show 'em what I got as a 50th-rounder to stay around the game. I guess I was blessed. They believe in me and I thank them for that, giving me the opportunity to play for them."
My god. The guy hadn't even been in the majors for a full month and that's just about the perfect Dyson quote. It was stories and quotes like this that revealed the true Jarrod Dyson. It was clear he knew how fortunate he was to have been taken in the 50th round on a flier because Royals scout emeritus Art Stewart had the honor of making the final selection and used it on a guy who caught his eye with the 80-grade speed. He knew how fortunate he was the Royals stuck with him and promoted him through the system. Of course, it wasn't all about luck and good fortune. Dyson worked hard.
For me, Dyson is a guy who crossed racial barriers. They just don't exist for him. You're either family, or your not. He is the loud guy in the clubhouse. On the Royals, it seemed everyone looked to Dyson.
Baseball can still be a fractured culture. On a lot of teams white players tend to stick together, African-Americans are in another part of the clubhouse, and the Latin players stay in their area. Dyson (along with Salvador Perez) transcended race and culture. He brought players together. In his interview with Danny Perkins and Carrington Harrison on KCSP on Friday, he mentioned Eric Hosmer, Lorenzo Cain, Mike Moustakas, Alcides Escobar and Salvador Perez as teammates he will miss. And if you've seen the Royals family photo shoot, you know he's not just listing names. Those guys have a bond that was established years ago on the buses of the minor leagues. It may sound sappy, but those guys have a brotherhood, and Dyson was a key figure in that.
In the late 1970's, the Pittsburgh Pirates had Willie Stargell and The Family. At that point in his career, Stargell was a veteran slugger who was on his way to the Hall of Fame. Pops. He was the leader, the patriarch of the Pirates family. Dyson will never be mistaken for a slugger, and there's no way he's ever getting to Cooperstown, but he filled essentially the same role for the Royals. That's kind of amazing, given that leaders on a team tend to have the pedigree of someone like Stargell, the superstar with the strong personality who pulls others into his orbit.
Dyson has that same kind of pull. His background, his attitude, and his sprit made him a leader on the Royals. He's not necessarily a regular. He's not an All-Star. But he's essential to the culture and the success of the team. He was the Royals glue guy.
And what about the Royals family photo shoot?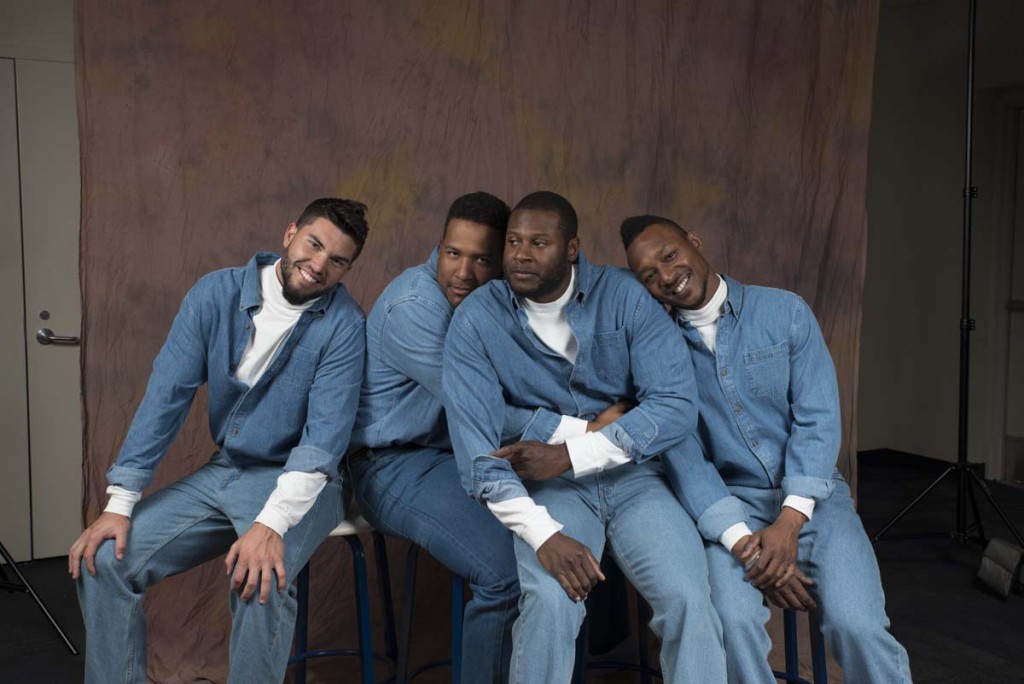 Finally, there was Dyson's swagger. How could you not love the swagger? It was perfect. It was never about showing up the other team, or about making himself the center of attention. It wasn't obnoxious. (I realize fans of other teams – maybe the Orioles – do not share this sentiment. That's sports.) It was genuine. It came from the joy inherent in his game. The backflip when the Royals defeated the A's that August night in 2014 that momentarily moved them to the front of the AL Central. The vroom-vroom motion after he swiped third in the ninth inning of the Wild Card game. Damn, those were some great moments.
Yet for me, the quintessential Dyson moment came on July 8, 2015 against Tampa. You may remember that game as the one where Alex Gordon injured his groin, trying to make a catch in left. Dyson replaced Gordon in that game and in the same inning, with the Rays threatening to blow the game open, gunned down Brandon Guyer at the plate. Then, he came to the plate with the Royals ahead by four in the bottom of the sixth. He hit a looper to left that David DeJesus dove for and missed. Dyson sprinted around the bags, sliding home headfirst with his first career inside the park home run. It was another couple of runs in a blowout, but it meant more that that. There was a symbolism in that moment. Gordon, one of the leaders of the team was going to be out for some time. Dyson, also one of the leaders, slid across home plate and essentially put the entire team on his back. It was going to be alright. And it was.
Teams don't last forever. Trades, free agency, retirements all conspire to separate. The Royals of the last several years have given us a tremendous number unforgettable moments, with Dyson in the center of many. He was a fan favorite here, an easy guy to root for along the way. It's just not going to be the same without Mr. Zoombiya.