As we begin preparing for the 2017 season, also perhaps known as The Last Ride Of Ned Yost And His Immortals, I don't think it can be overstated: a resurgence from Alex Gordon is absolutely crucial to the Royals' chances of squeezing one last playoff run out of this group of players.
As a brief recap, Gordon hit just .220/.312/.380 last year in 506 plate appearances. It was his worst season since 2010, ending a five-year stretch as likely the best left fielder in the American League. Gordon struggled out of the gate, hitting .211/.309/.337 through May 22, when he collided with Mike Moustakas chasing a foul ball and fractured a scaphoid bone in his right wrist. The Royals were scuffling along when he went down; when he returned a month later, they were even further out of first place. And then Gordon proceeded to hit .187/.283/.321 over the next 39 games, with his average bottoming out at .199 on August 9. Perhaps not coincidentally, the Royals found themselves 11 games out of first place at the end of that day. They tried hard to climb back in the race, but couldn't quite get there before fading at the end of the season.
The day the Royals re-signed Gordon, who had become a free agent after the 2015 season, was a happy day for Royals fans. The thought of a World Series hero who had been drafted by the team in a White Sox or Cardinals uniform was nearly unbearable. Sure, in most cases you would be a little leery of signing a 32-year-old outfielder to a long-term, big money deal. But given Gordon's famous workout and diet routine, he seemed like a good bet to remain productive.
Still, the man is human. It's not impossible, even if it's unquantifiable, that Gordon started the season feeling some pressure to live up to all that money. It was not the first time he started a season slowly, but it was his worst start since his rookie year, and it lasted longer than any other slow start he has had.
And then it's likely his numbers were impacted by the wrist injury after he returned. Sure, he had a minor-league rehab assignment. It lasted all of six games and 27 plate appearances. Gordon did hit .364/.481/.545 in those plate appearances, but it's easy to believe his timing was off a bit and his power was sapped some when he returned to the majors. Look at those numbers above for his first 39 games back. That looks like a hitter who's not quite right.
Of course, Gordon's biggest problem last year was swings and misses. Because he is a patient hitter, Gordon has always been prone to strikeouts. But last year he set a career high (148) in that category despite missing 34 games. For comparison, he struck out 141 times in 161 games in 2012.
Our own David Lesky covered Gordon's struggles in the early part of the season just about the time Gordon got hurt last year. To sum it up, Gordon was really struggling to catch up to fastballs, and therefore was not making hard contact on those. Pitchers then took advantage of that to bust him low and inside with breaking pitches, and he was flat-out missing those.
But in early August, something seems to have changed. From August 10 through the end of the year, Gordon hit .254/.330/.467.
As you can see here, Gordon turned it around by being more aggressive on pitches in the inner third of the strike zone. Was this due to his wrist feeling better? Possibly.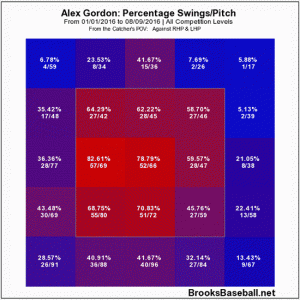 Pitchers responded by working further away, on the outer reaches of the strike zone.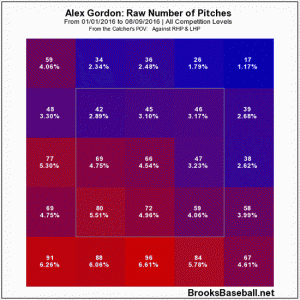 And the very encouraging news is that Gordon was making contact with more pitches. The decrease in swings and misses in the lower third of the zone is, uh, striking (sorry).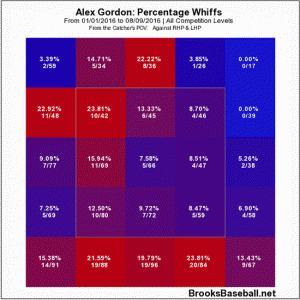 That's 188 plate appearances, so it's not exactly a small sample size; maybe a medium sample size. It's a slightly lower average and on-base percentage but a higher slugging percentage than his career numbers, but yeah: that's an Alex Gordon line. PECOTA has him projected for a .255/.337/.405 line in 2017, which seems in line with what you might expect. That, along with improved fielding (for whatever reason, FRAA did not approve of Gordon last year), gives PECOTA a WARP projection of 2.3, as compared to his -0.3 last year. And yes, that feels right. If Gordon hits that well, the Royals are almost certainly 2-3 wins better right there.