There aren't many positives swirling around this Royals team. Especially on the offensive side. They have scored just an average of three runs per game, dead last in the majors. They have eight hits in 52 at bats with runners in scoring position. Eight! They just endured a 19-inning scoreless streak where it seemed they would never touch the plate at The K. Nineteen!
This is brutal baseball. There's no way to sugarcoat this. Brutal.
Eric Hosmer is short-circuiting rallies with strikeouts and ground ball double plays. Alex Gordon is off to another slow start. The bottom third of the batting order is putting the kibosh on the rallies Hosmer isn't killing. And we'll discuss Brandon Moss in a moment.
Like many of you, I suffered through the latest loss to the A's on Wednesday. Seeing enough bad baseball from 1995 to 2012, maybe that's heightened the immune system so this latest stretch of futility doesn't phase me all that much. Instead of wallowing in the negative, I spent the last several innings looking for something, anything, that could be gleaned as a positive sign. Not so much that the offense is on the verge of pulling itself out of this death spiral. More just something to avoid the pitfall of total despair.
Would you believe I found something in Raul Mondesi?
Truth. The Royals second baseman hit three balls on the nose, and perhaps even more impressive, drew a four pitch walk. His map of pitches he saw in all four plate appearances is pretty damn close to perfection.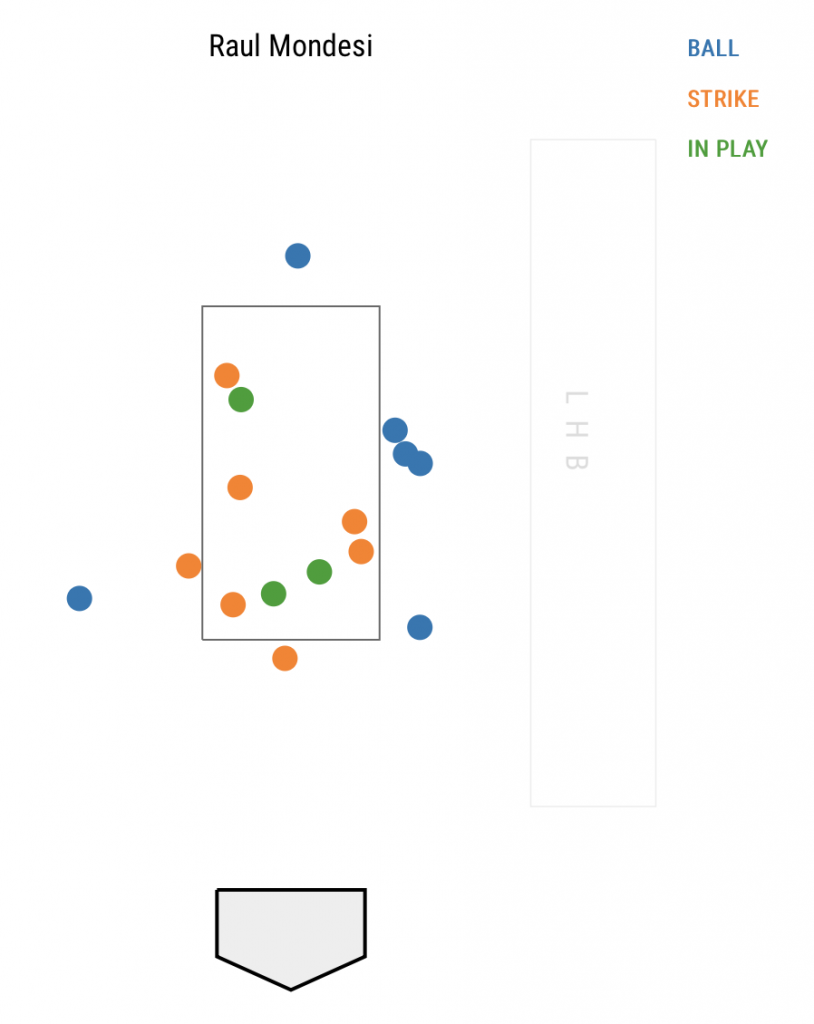 The two pitches that were logged as strikes out of the zone were called strikes. He didn't swing and miss all night. His first plate appearance was a 101 mph ground out (really a one-hop liner, but it will go as a ground out.) His second was a 95 mph lineout. Next, he walked and then he capped it with a blast to very close to dead center. A monster home run.

Still, he showed bunt in one plate appearance, although who knows how serious the attempt was as he quickly pulled back the bat and didn't show it again. This continues to be a source of frustration. If Mondesi is going to learn at the major league level, he needs to swing the stick. I've written this again and again (and now again) but he does himself a massive disservice by attempting to bunt for a hit. Yes, he's good at it. No, that's not what's going to help the Royals win, or help Mondesi improve as a player. He can help by developing his power and his hit tool, which his accomplished by swinging the bat. Tonight was one game, not a trend. There was plenty of discussion postgame that maybe this was the breakout game for young Mondesi. That seems doubtful. Given the depth of his struggles, he's not going to flip a switch and solve everything. But it's still possible to see a faint glimmer of the promise that had him rated so highly among prospects.
While combing through the charts on Baseball Savant from the game, a couple really stood out for the way the A's clearly had a game plan and executed it to near perfection. First, Salvador Perez.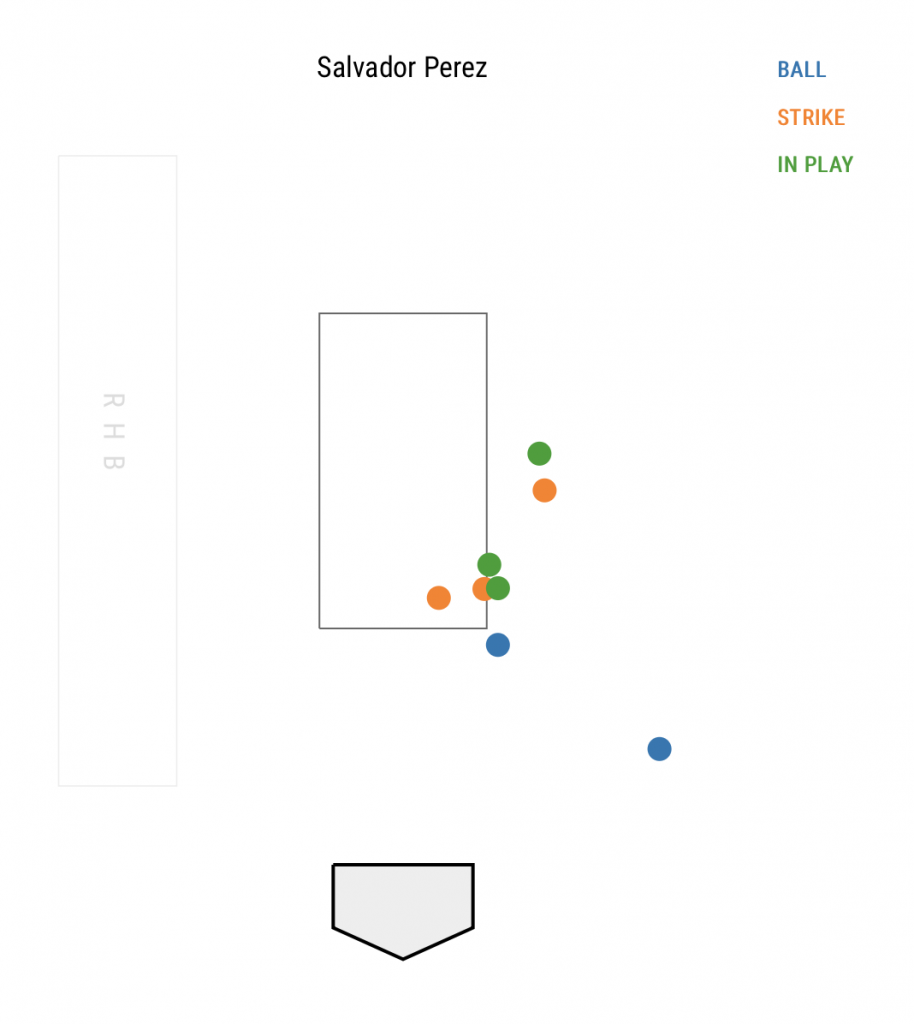 We've seen enough of Perez to know that he'll swing at just about everything low and away. And that's exactly where Andrew Triggs pitched him on Wednesday. Perez saw just seven pitches in three plate appearances and, as usual, expanded the strike zone. As will happen with Perez, he laced a double on the pitch furthest out of the zone, probably not a coincidence it was the highest pitch he saw all night.
The next graph belongs to poor Brandon Moss. What a miserable start to his Royals career. Away, away, and more away. Oh, when you need a swinging strike, just go ahead and spike a changeup.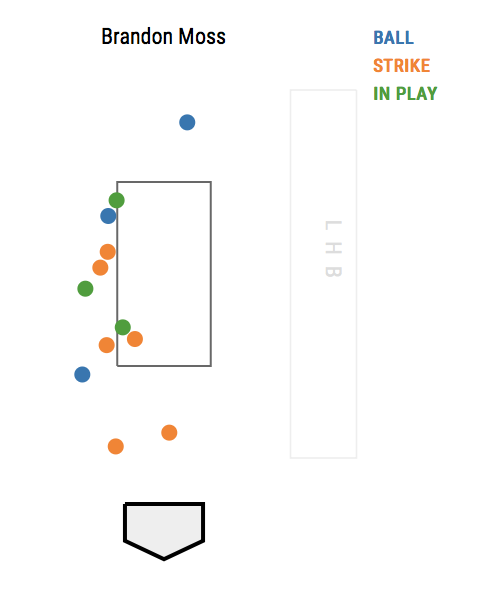 He's not going to get a damn thing to hit. And with good reason. He can't touch the pitches on the outer third.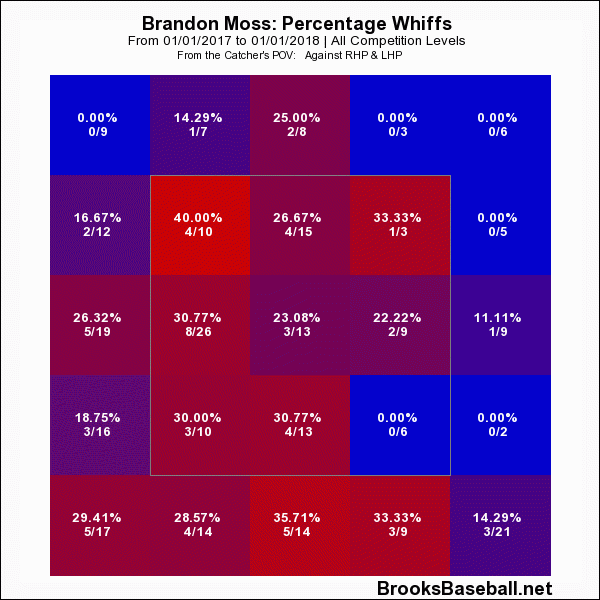 There's a lot of swing and miss on the whole zone profile, but it's accentuated outside and down. Remember, Moss had a dreadful September for the Cardinals. This is a pitiful run of offensive futility inside of six weeks spanning over six months. At this point, who knows if he can turn this around. After falling from 72 percent to 68 percent contact rate in 2016, his current contact rate is just 55 percent. (Small sample sizes apply.) Additionally, he's not making good contact when he actually puts the bat on the ball. His average exit velocity is 78 mph, which is 10 mph below major league average.
What we've seen over the first eight games of the season is just about the worst case scenario for this team. A fast start wasn't necessary, but a slow one needed to be avoided at all costs. A 2-6 record wasn't supposed to happen. Baseball is weird and at some point this team will hit. Maybe not all of them at once, but enough that they can score more than three runs in a game. The company line is Dayton and staff wait 40 games to evaluate, but if this team can't break out of this slump, it feels like we're a handful of games away from Ned Yost dropping Alex Gordon to the seventh spot in the lineup and elevating Alcides Escobar to leadoff. You know, to jumpstart the offense. And that's how you'll know the season is lost.