It is March 1942. The world is at war, but I have more local issues on my mind as I enter Wrigley Field on my first day as general manager. It has been over three decades since the Cubs won the World Series, and the fans (and ownership) are impatient. But I have an idea for a quick fix: pluck some of the most talented players out of the Negro Leagues and turn them loose on the National League. Jackie Robinson isn't even in professional baseball yet, but my sights are set on catcher Josh Gibson, shortstop Willard Brown, and, for a leadership boost, a first baseman named Buck O'Neil. Within days, all three are Chicago Cubs. And when Brown steps to the plate on Opening Day in St. Louis, baseball's color barrier is broken.
This alternate history is brought to you by the newest version of Out of the Park Baseball (OOTP), a text-based simulation game. Just like last year, I was given the opportunity to try out a copy of the game (which last year received Metacritic's 2016 PC Game of the Year award). And just like last year, and every year since I was introduced to the OOTP world, I am impressed by not just the gameplay, but the various upgrades from the previous version.
I always enjoy OOTP, mostly because it's a thinking game, and not dependent on reflexes like a video game might be. Rather than play as an actual (well, virtual) player, in OOTP you can be the general manager or manager (or both) of a current or historical major or minor league team. Or you can set up a league on your own and be commissioner if you just want to see how the whole thing plays out.
My usual method of checking out OOTP's new features each year is to take over the expansion Royals and see how soon I can get them to the playoffs. But this time, I tried something different, as mentioned above. That's because, just a year after OOTP added accurate historical minor league rosters dating back to 1919, they have partnered with the fine folks at seamheads.com to introduce accurate Negro Leagues rosters in this edition of the game.
For a historical buff like me, OOTP has long been a great way to explore baseball's past. Adding in Negro League players makes a great game even more awesome, and perhaps even educational. At last, great players like Josh Gibson and Cool Papa Bell can get their shot at the majors. And I would be lying if it didn't give me a little thrill to see Buck O'Neil on a major league roster. I think any Kansas City baseball fan can appreciate that.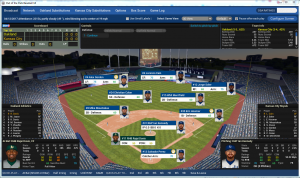 Of course, that very welcome addition to the game is not the only improvement from last year's version. The 3D mode (available for games you are managing or simply want to watch) is upgraded, allowing users to save highlights and watch them later. It also looks better, with more detail and improved on-field player pawns.
Also, for those of us who like to play as a general manager, OOTP has improved our ability to track team chemistry. This is a very nice development. Now teams have a special screen dedicated to this important part of the game—you can see who likes the manager and who might wish he'd get canned soon. You can also see which players fit into several new categories—some players might be called sparkplugs, while others might get the prankster label, and some get the dreaded selfish or unmotivated tags.
Other improvements include a new system for detailing injuries—some may be listed as day-to-day, or minor, but affecting some aspect of a player's ability. From there, it's up to you if they belong on the disabled list or if you'll take your chances on them not getting a more serious injury.
OOTP has also added some real-life touches, such as the Arizona Fall League and tournament setups like the World Baseball Classic and the Olympics, or the ability to create custom tournaments with modern or historical teams. There is even an option to set up a relegation league, for those of you who find that appealing in English soccer (raises hand).
And of course the option for online play is still there; in fact, OOTP also introduced Challenge Mode this year, where players can compare accomplishments via online profiles and leaderboards. The game has always supported leagues that play online, but this is perhaps the first step in improving the game's online experience for all players.
As always, OOTP has produced an enjoyable, highly addictive game. Whether you want to run a historic team, take over a current team and see what their future looks like, or just make up your own league, you can do it with OOTP.
I'd love to tell you that the signings I made catapulted the Cubs to the World Series, but I can't. At least not yet. Chicago reached the All-Star Break at 37-43. However, both Gibson and Brown will be starters in the All-Star Game. It's unfortunate that in real life these men never got the chance to do so, but at least in this alternate history they can. And that's what makes OOTP so enjoyable.