Another week in the books and it's time to see who's helping out down on the farm.
Stock UP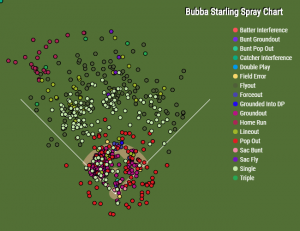 Bubba Starling – It's no secret that Starling has struggled over the past couple of years, as the outfielder has hit just .188 since the start of last season. Much of those struggles have been from his insistence to stick to his game plan no matter how the pitcher pitched him. That has lead to plenty of balls pulled into a shift to the left side. For the first time since he's been with Omaha, Starling started to work the ball to the opposite field, hitting away from the shift multiple times and also hitting his first opposite field home run since the start of '15 on Sunday.
Foster Griffin – The lefty could be ready for a promotion very soon after another outstanding start on Friday. In the past, the Royals have used the benchmark of 10 consecutive good starts at a level before a promotion. Currently, Griffin is at eight of nine this year at Wilmington, showing an effectiveness versus right-handed hitters who are hitting just .173/.241/.252 against him. One of the impressive things for Foster is how, in a league with a small number of teams, he's been better in the second meeting between clubs. This could be a sign that he is good at understanding hitter tendencies and using that against them, something he'll need to continue to do as he climbs the ladder.
Wilmington Bullpen – The Blue Rocks have a group of impressive arms in their bullpen, with hard-throwing Yunior Marte, Gabe Cramer, and Richard Lovelady. While I haven't had a chance to see Cramer or Lovelady in person, I've been given reports of them working in the upper 90s with a pair of hard breaking balls that can work against either side hitters. Since signing out of Stanford, Cramer has missed plenty of bats, striking out 12.8 per 9 while dominating High-A hitters this season to the tune of 22 K's in 11.2 innings.
Stock DOWN
Khalil Lee – The 18-year-old outfielder has struggled with the adjustments pitchers have made to him at Low-A, hitting .196 in May while striking out and hitting too many groundballs during the month. The game is all about adjustments and it should be fun to see what adjustment Lee, an intelligent hitter, can make going forward.
Ryan O'Hearn – Triple-A pitchers get overlooked in comparison to Double-A pitchers at times because some of the harder throwers reside at the Double-A ranks before making the quick step to the bigs. That could be the case, but Triple-A/Four-A pitchers can still attack a young or first timer at that ranks and that seems to be the case for O'Hearn in his second month in Omaha, limiting him to a .172/.250/.259 line in May.
Saturday: Reno Aces 7, Omaha Storm Chasers 3 – Boxscore – HR: Corey Toups (3)
Sunday G1: Reno Aces 14, Omaha Storm Chasers 3 – Boxscore – HR: Bubba Starling (2)
Sunday G2: Omaha Storm Chasers 6, Reno Aces 0 – Boxscore
The Chasers were rained out on Friday, setting up a doubleheader that they split on Sunday after a series-opening loss on Saturday. It was a rough one for starter Luke Farrell on Sunday in game one, giving up 11 runs in five innings of work with the D-Backs Triple-A affiliate going deep three times. The Chasers offense rebounded on their own in game two, pounding out 10 hits and six runs while the bullpen combined to work seven scoreless innings. The Chasers will finish their series with Reno on Monday before heading to Nashville for a four-game series.
Friday: NW Arkansas Naturals 5, Springfield Cardinals 4 – Boxscore
Saturday: Springfield Cardinals 8, NW Arkansas Naturals 2 – Boxscore – HR: Mauricio Ramos (6)
Sunday: Springfield Cardinals 6, NW Arkansas Naturals 2 – Boxscore
The Naturals lost two of three games over the weekend to fall into a first-place tie with their opponent, the Springfield Cardinals. The Naturals scored five runs in the fourth inning of Friday's game before the rain gave them the win in six innings. During Saturday and Sunday's games the Naturals bullpen struggled, giving up nine runs in just over eight innings of work. The Naturals will try to split the series Monday while moving back into first place.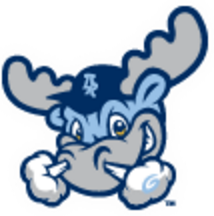 Friday: Wilmington Blue Rocks 2, Frederick Keys 0 – Boxscore
Saturday: Frederick Keys 10, Wilmington Blue Rocks 1 – Boxscore
Sunday: Wilmington Blue Rocks 6, Frederick Keys 1 – Boxscore – HR: Nicky Lopez (1)
The Blue Rocks sandwich a pair of well-pitched games around a Frederick blowout win to earn at least a series split that they'll try to turn into a series win on Monday. Starter Foster Griffin tossed 7.2 innings of shutout ball on Friday night while striking out seven to keep his strong season going. It pushed Griffin's quality start number to six in nine starts while allowing three earned runs or less in all but one start this season. In addition to Griffin, lefty Colin Rodgers worked seven quality innings with just one run allowed and seven K's on Sunday. Unfortunately, Scott Blewett's struggles versus lefties continued on Saturday, giving up three home runs to opposite-side hitters. Shortstop Nicky Lopez pushed his on-base streak to 20 games while also hitting a home run on Sunday.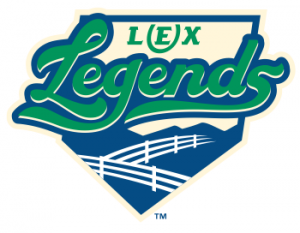 Friday: Lexington Legends 7, Rome Braves 6 – Boxscore – HR: Meibrys Viloria (4)
Saturday: Lexington Legends 12, Rome Braves 10 - Boxscore
Sunday: Rome Braves 8, Lexington Legends 7 – Boxscore
The Legends split a series between Rome despite having a late lead in all four games. In the first three games of the series, the Legends built big early leads only to watch the Braves answer back and make the games close. During Sunday's games, it was the reverse with the Braves building a lead only to watch Lexington close the gap before losing late. The Friday game was a crazy affair that went 18 innings and lasted just short of six hours before the Legends took home the win.