All four Royals affiliates moved over .500 with Lexington's two wins this weekend.
Stock Up – After being drafted last year in the fourth round, Jace Vines struggled at Idaho Falls where he couldn't get his sinking fastball to take advantage of hitters in the high octane league. That hasn't been the case this year in the South Atlantic League as he's earned plenty of groundouts while working more as a starter. The low 90s sinker has been effective while he continues to refine his two secondary offerings. Since a rough first appearance to his season, Vines has run off 11 straight appearances with a 1.77 ERA. One would like to see him miss more bats, but the improved results as a whole are a positive.
Saturday: Memphis Redbirds 6, Omaha Storm Chasers 1 Boxscore Link
The Chasers between Friday and Saturday gave up 17 unanswered runs in the team's two defeats. The Saturday contest featured Yender Caramo getting touched up for six runs on 12 hits in just four innings of work. Cardinals prospect Mike Mayers K'd 10 Chaser hitters in his seven innings, while allowing just one run to earn the win.
The Sunday contest was postponed due to rain and will be made up later this season as part of a doubleheader.
Saturday: NW Arkansas Naturals 9, Midland RockHounds 5 Boxscore Link
Sunday: Midland RockHounds 8, NW Arkansas Naturals 2 Boxscore Link
The Naturals won their Saturday game after a rain suspension forced them to complete it on Sunday. Another big day for Jack Lopez at the plate, with the infielder collecting three hits to push his average to .316 with a triple and a pair of runs scored. The middle infielder has been moved to third base with the addition of Corey Toups to the Naturals roster. NW Arkansas plated five runs over the final three innings to earn the win, while lefty Sam Selman struckout two more in 1.2 innings to earn the save and push his K total to 42 in 26.1 innings on the season.
Lefty Foster Griffin was touched up for five runs in six innings during his second start at the Double-A level on Sunday. After ripping off three consecutive strikeouts from the first to the second out of the second, Midland discovered they can find the barrel, hitting a solo home run in the second and getting a two-run triple before a sac fly in third. The final run came on a solo homer in the sixth before the lefty finished his outing. The Naturals went 2 for 11 with runners in scoring position, with the top four hitters in the order combining to go 0 for 15.
Saturday: Winston-Salem Dash 5, Wilmington Blue Rocks 2 Boxscore Link HR: Brandon Downs (3)
Sunday: Wilmington Blue Rocks 6, Down East Wood Ducks 4 Boxscore Link
The Blue Rocks were forced to settle for a split in Winston-Salem after getting outscored in the only two innings that featured runs in the game. Wilmington's A.J. Puckett matched the Winston-Salem starter with five consecutive scoreless innings to start the game before struggling to get through the sixth and seventh, getting touched up for four runs on four hits and a walk in those innings. The righty did match a season high with eight strikeouts. Those runs were too much for the offense that cooled down after a pair of big nights in the previous games, going 0 for 6 with runners in scoring position.
On Sunday, the Wilmington offense returned with all nine hitters reaching base at least once during the game. They went just 4 for 16 with runners in scoring position but did enough damage with a three-run seventh frame to earn the win. A pair of two out RBI hits by Wander Franco and Roman Collins accounted for all three runs with the second driving in two. The usually strong Wilmington bullpen worked the final three innings scoreless, with two perfect innings from Richard Lovelady for the save.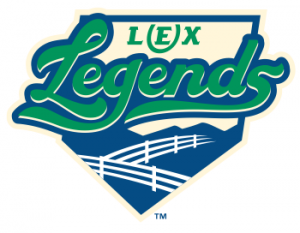 Saturday: Lexington Legends 8, Augusta GreenJackets 3 Boxscore Link HR: Marten Gasparini (4), Khalil Lee (7)
Sunday: Lexington Legends 5, Augusta GreenJackets 2 Boxscore Link HR: Khalil Lee (8)
The Legends evened up their record with a win on Saturday over Augusta. The Legends took control of a 3-3 game in the seventh with three consecutive singles after a leadoff double start the inning by Rudy Martin. That lead to three runs in the inning. It was Martin at it again one inning later, stealing a pair of bases in front of a Khalil Lee home run to push the advantage to 8-3. The home run for Lee ended a night that had featured four consecutive strikeouts in his first four appearances at the dish.
The Legends went over .500 for the first time this season thanks in part to another solid start from 2016 draft pick Vines. The righty normally doesn't earn many strikeouts, but posted a career high seven in seven innings while collecting his usual high amount of worm burners. The Legends bats bunched up all their scoring from the first through third innings, getting a three-run second inning with four singles including Rudy Martin's two RBI hit.