Mike Moustakas has stopped going the opposite way.
This isn't news to anyone who has watched Royals games this year. Moustakas started pulling the ball the opening series in Minnesota, and through the first two months, he hasn't shown any signs of stopping.
In fact, Moustakas is pulling the ball now at a rate higher than at any other time in his career. According to batted ball data from Inside Edge, Moustakas is pulling nearly 48 percent of all balls put in play. That's way up from his breakout 2015 season when he pulled the ball 39 percent of the time. In fact, his current rate is just off his career high pull rate of 51 percent, just one year prior in 2014.
We know all about Moustakas's 2015 season. That's absolutely accurate to refer to it as a breakout. At a career crossroads, Moustakas refined his approach and found immediate success. The simplest way to sum up the transformation is like this: The player who hit ninth and was removed for a pinch hitter in the Wild Card game in 2014 became a productive second place hitter on a World Championship.
It was built upon going to the opposite field. Moustakas went oppo 27 percent of the time in 2015, after going that way only 21 percent of the time the year before. That's not a massive change from year to year, but it was enough to rejuvenate his career. The 2015 season represented career highs in home runs, batting average, on base percentage, slugging, and TAv. His spray chart from that year was impressive.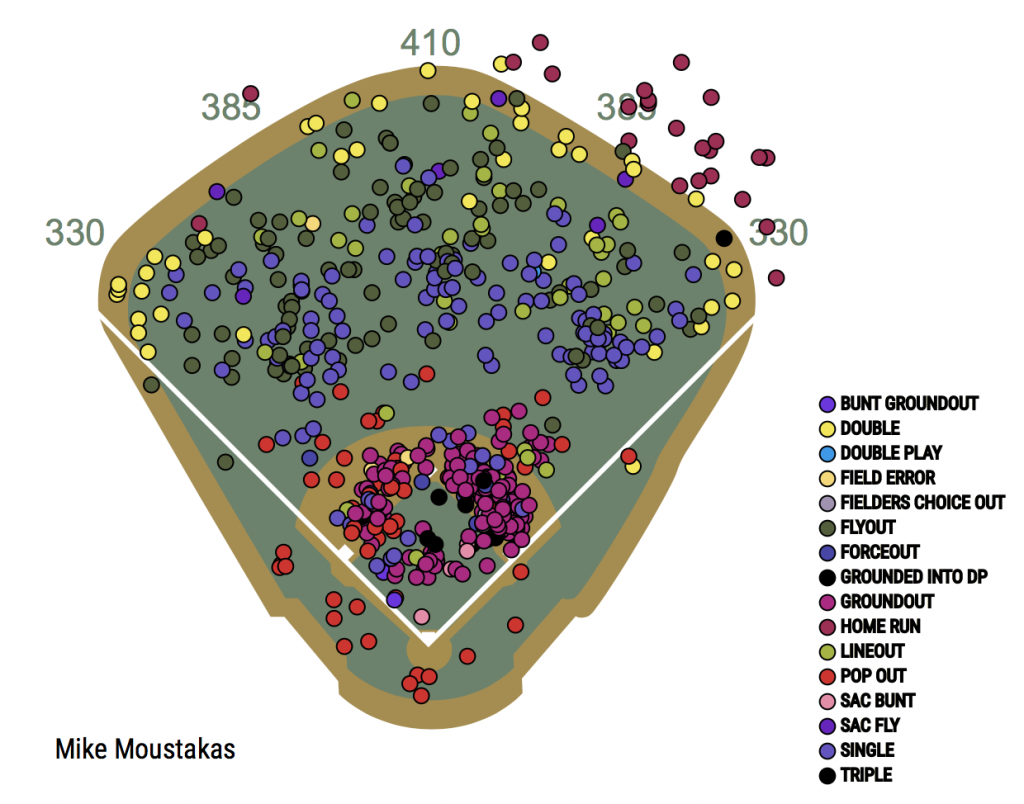 Last year, he kept his opposite field approach, going the other way over 30 percent of the time. Injuries, however, short-circuited his season. He also hit into some poor luck, but showed impressive power. At the time of his season-ending knee injury, Moustakas was slugging .500 with a .260 ISO, both of which would have represented career highs.
So far in 2017, Moustakas has kept the power he showed the previous season. With a .513 slugging percentage and .259 ISO, those numbers are in line with his performance in 2016. What's different is he is no longer taking the ball to the opposite field. His spray chart from this year shows how he's reverted to primarily a pull hitter.
Is this an alarming development? Is it smart for Moustakas, who found success in 2015, to revert to his old habits? Let's investigate.
For starters, his batting average on balls in play is down. There's a tendency to write of fluctuations in BABIP as luck. Certainly, sometimes that's the case. However, when a player like Moustakas purposefully changes his approach, BABIP movement tends to be less about luck and more about the different way the particular batter modifies his method at the plate. Again, turning to 2015, Moustakas posted a career-high BABIP (in a full season) at .294. That was a direct result of his focus on beating the shift. Bunting for hits or spraying singles (or doubles) away to left field – hitting them where they ain't – is definitely going to inflate the BABIP. What happens when Moustakas eschews going to left and reverts to his former pull-happy self? In this instance, he has surrendered almost 50 points of BABIP, down to .243. It's not quite a career low, but it's well below his career .264 BABIP.
He's also swinging at everything. Moustakas has always been a relatively selective hitter, posting swing rates just above the league average. During his tenure in the majors, league average swing rate is around 46 percent. Coming into the 2017 season, Moustakas owned a swing rate of just under 48 percent.
This year? Moustakas is gripping and ripping almost 57 percent of the time. That's a massive jump from his career rate and well above any other season swing rate he's posted. His chase rate (swinging at pitches outside the zone) is 42 percent, well above his career rate of 34 percent. That's the fourth highest O-Swing percent in baseball this year. (Naturally, since this is the Royals, Moustakas doesn't even have the highest chase rate on his own team. That belongs to Salvador Perez at 44 percent. Of course.) More swings and an expansive zone means his strikeout rate is up and his walk rate is down. Currently, he's striking out at a 17 percent clip. Not  bad, but well ahead of the strikeout rate of 12 percent he posted in 2015. He's walking around five percent of the time. He's never been one to take too many free passes, but that would be the worst rate of his career.
In 2015, Moustakas finished with a .291 TAv. It was, as we have said, a career year for the third baseman. He's down to a .277 TAv through Saturday. His wRC+ trends the same way. His high-water mark was that 2015 season when he posted a 122 wRC+. He dropped to a 110 wRC+ last year, and that's where he sits at the moment. OBP is life and he's given back some of his gains there, but he traded that for power. With 14 home runs in the Royals first 55 games of the year, that puts Moustakas on a pace for 41 home runs. The Balboni Watch is officially on at this point.
It's yet another interesting transformation of the Royals third baseman. He's evolved from a frustrating prospect who rarely had success at the plate, to opposite field hitter, to his current incarnation of pull-happy, power hitter with an off the charts swing rate. The advanced stats suggest he's not as valuable a hitter as he was in 2015, but for a team that has historically been in search of power, this isn't exactly an unwelcome development. In an ideal world, the Royals would have a couple of on base machines hitting in front of Moustakas so he could drive them in with a regularity the Royals miss. Moustakas has hit with just 83 runners on base this year. The average major league hitter with the same number of plate appearances has hit with 118 runners on base. The runner Moustakas has brought around the most frequently to score? Drew Butera.
The Royals offense stinks, but don't blame Moustakas. Moustakas 3.0 isn't as valuable as the previous version, but he's still plenty good enough to make a difference.