With a larger pool allotment this year, the Royals were able to add a deeper class over 2016 getting what I think is good value through round seven with Brewer Hicklen. As always, the character of the players chosen by the Royals speaks loudly, with each player chosen being classified as a high-quality individual. Despite choosing a pair of high school prospects at the top of the draft, they have the profile and many appearances in front of scouts similar to what you would find in college guys. That should help mitigate some of the risk the Royals are taking with them as they hope the tools come forward with most of the players chosen in the early portion of the draft.
For more information on rounds 5-10, click here with rounds 11-40 coming to you early next week.
1st Rd Pick #14 Overall
Nick Pratto 1b
6'1 195 lbs
DOB 10/6/98
Slot Value $3,727,600
On draft night I compared this pick to that of the 2008 Eric Hosmer pick. However, there are obvious differences with the two. Hosmer was the third overall pick and a consensus top-five talent, something Pratto wasn't. There are other valid comparisons, though, as Pratto has a long history of teams scouting him as a high-profile player. He appears to be comfortable with a microphone in his face and seems to be the type of leader in the clubhouse that Hosmer has been since his draft day. Do those things matter if you can't hit? No, but that Alpha Male personality in a locker room surrounded by other stud high school athletes stands out, and Pratto on the surface appears to have that same Hos swagger.
As a player, this first baseman has a sweet, smooth swing, a patient approach, and developing power. Going into this last year before the draft, Pratto worked his swing to left and left-center before realizing he needed to show off the power. Using a more pull-oriented approach, he did generate more pop this season. He is said to have a great feel for the strike zone, even to the point of questioning umpires that he didn't feel had as good of knowledge of it as he.
Baseball Factory Scouting report
Analysis – Taking a prep first baseman can be risky, but if you're going to take one, then take one who isn't afraid of the lights, has knowledge of the game, studies it and can convert those qualities on the field. From all indications, Pratto is just that player. Physically, he's not the big power hitting first baseman who is going to hit the ball to downtown Kansas City. His game is currently hit over power. The dream here is that the knowledge and approach helps the power play up with the plus hit tool while bringing to the field a great glove and a leadership mentality.
2nd Rd #52 Overall
M.J. Melendez C
6'1 175 lbs
DOB 11/29/98
Slot Value $1,295,700
Much like Pratto, Melendez has been a high profile player who scouts are quite familiar with as he's been on the showcase circuit since 2012. The defensive grades are well ahead of that bat to this point for Melendez, but scouts saw recently that he was able to unlock some of the power in his wiry 6'1 frame. A coach's son, M.J. does everything that a team would want from their backstop in terms of calling a game, controlling the running game, and receiving, which made him the best defensive catcher available by many publications.
Via MLBPipeline.com – He has all the tools to be a very good defender behind the plate, with outstanding catch and throw skills to go along athleticism that allows him to move well. He likes to throw from his knees, and while he can do so effectively, he can fall in love with it as well. Offensively, he has tremendous bat speed and he shows pull power now. A refined approach and continued added strength should help him become a better all-around hitter. 
Prep Baseball Report – Melendez would show his present pull side power with a home run over the right field wall. He has consistently shown the ability to pull the baseball with power and consistently hit the ball in the air hard. He has a strong lower half and a short quick swing with more power potential in it. He would also show the ability to go the other way, driving the ball off of the left-center field wall for a double and would finish 2-3 on the day. Melendez would also show what makes him one of the top catching prospects in the country, his defensive ability, and potential. He is noticeably in control of the game, with it appearing to be very slow for him. He showed off his arm strength, catching a runner stealing with a 1.87 pop time. He is one of very few catchers whose pop time is better from his knees as he has plus arm strength and the catch to release is a bit cleaner. He also showed off his athleticism with an impressive play on a bunt where he slid, picked up the ball and threw to first seemingly all in one motion. He showed off all of his tools and athleticism while also showing that even though he has a lot of present ability that the best is yet to come.
Analysis – I'm personally not a fan of prep catchers because of the amount of emphasis needed on the defensive part of the game leaves their offense lacking. From the sounds of reports, Melendez has that part of the game down, so maybe he can work on improving his offense.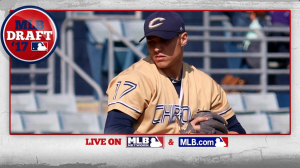 2nd Rd Competitive Balance Pick #73 Overall
Evan Steele LHP
6'5 210 lbs 
Chipola JC
DOB 11/14/96
Slot Value $791,700
Steele is a left-handed starter who began his career at Vanderbilt before deciding to transfer to one of the elite Junior College programs to try to get eligible for the MLB Draft.
According to Chipola College Coach Jeff Johnson, Steele hasn't yet scratched the surface of his talent. The big lefty works from a low 3/4 arm angle and throws four different pitches with his 89-93 mph fastball that peaks at 95 mph next to his curveball, slider/slurve and changeup. Coach Johnson believes his curveball is his best pro pitch going forward as Steele has the ability to command it and throw it in any count to hitters. Next to the curve, Steele offers a slider that operates more like a slurve but is a weapon with his deception against left-handed hitters.
Mechanically, a big part of Steele's game is the deception that comes from his arm angle. The Chipola coach believes that he needs to continue working on his glove side control and staying closed, but any tweaks that are made might need to be tempered or you run the risk of losing that deception that he offers.
The lefty is a student of the game who surprised his coach with how much he studied. In addition to that love for the game, Steele is a fiery competitor whose determination kept him on the mound against San Jacinto to get his team to the National Championship final, working 143 pitches into the ninth inning while telling the coach he wasn't coming out of the game earlier when it was discussed.
Despite being in front of the bright lights his entire career Steele is more concerned about the team and team success than his own.-Coach Johnson
Via Perfect Game – He's got a pretty solid chance to start long-term in professional baseball, even given his somewhat unorthodox mechanical profile; though even if he's moved to the bullpen, his profile is one of a pretty good bet to be a major leaguer. 
3rd Rd Pick #90 Overall
Daniel Tillo LHP
Iowa Western JC
6'5 215 lbs
DOB 6/13/96
Slot Value $607,300
The Royals doubled up their lefty, low 3/4 arm angle JUCO starters, with this pitcher who was a former Mr. Basketball in the state of Iowa. After just one season in which he pitched seven innings at Kentucky, Tillo decided to transfer to Iowa Western where he had a relationship with Coach Marc Rardin after being recruited by him in high school. The impact on Tillo by Rardin was felt almost immediately, as he was put into the pitching program and daily routine by the staff at another one of the best JUCO programs in the country.
These changes had Tillo impressing scouts almost immediately. With roughly a dozen scouts in attendance during the Iowa Western intrasquad game in November, Tillo worked six innings in the cold weather with 93-94 mph velocity on his fastball alongside his hard biting mid-80s slider.
That fastball works 90 to 93 while topping out around 95 mph with a solid control profile and repeatable mechanics presenting some armside run. The slider is a mid-80s hard biter from the same slot that he was able to back foot righties when I saw him. The combination of the two pitches work well together and Tillo's control allows them to play well while he repeats mechanics. The change is lagging far behind, having used it just four times per game on average, according to Coach Rardin.
Rardin believes that if a team wants to work Tillo from the bullpen, the combination of fastball/slider along with his control could have him in the majors within three years. He's become a student of the game and blew away teams in his interviews.
If the pitcher in him catches up to the person he is, then he'll be a big leaguer.  -Coach Rardin
Analysis – Based on projection, this is a nice lump of clay for the Royals to mold, in hopes that he can refine the secondary offerings. Personally, I like drafting talented basketball players that are adept shooters as the idea of touch could be a transferring tool from sport to sport as the former Royals pitcher Zack Greinke has said.
4th Rd Pick #120 Overall
Michael Gigliotti CF
Lipscomb Univ.
6'1 180 lbs 
DOB 12/14/96
Slot Value $441,700
The speedy Gigliotti went into this season as a possible top-30 overall pick after a Cape Cod season that showed he could hit capably with a wood bat against upper-level competition. A slow start to his season knocked those possibilities down, but as Coach Jeff Forehand mentioned, it played no factor into what he brought to the team every day.
Some think Gigliotti could be a 70 defender in center, with the only tool that lags somewhat behind there is his average but still accurate arm. With speed, long strides and ability to read the ball off the bat with off the charts instincts, the potential clearly exists.
Offensively, Gigliotti has an advanced feel for the strike zone according to his coach, and is a possible table setter with his speed on the bases and ability to bunt well. If there is something that Gigliotti needs to work on still, it is his ability to hit the ball the other way.
Perfect Game –  Lipscomb outfielder Michael Gigliotti is using the big stage of the Cape League to his advantage and everybody, scouts included, have taken notice. The looseness and athleticism are evident as he strides to the plate or tracks down a routine fly ball in center field with balance, coordinated footwork looking as though he's merely drifting underneath to make a catch. He's also moved atop the Falmouth Commodores lineup which is where he profiles nicely at the next level. The hands in his lefthanded swing are incredibly easy and the barrel feel is natural and over my few looks at the 6-foot-2 Gigliotti he's shown nothing but comfort working to all fields. While there are some slap and ability to work the 5-6 hole to which his speed plays, he's also capable of spinning on the inner half pitch like he did the other night for a hard two base hit to the pull side gap, turning around first at 4.58 seconds.
Analysis – This pick reminds me of last year's fifth round pick of Nicky Lopez. An elite defender at a premium position who lacks pop but makes up for it with an advanced feel at the dish. That '16 pick of Lopez looks like a gem now, and if Gigliotti's feel for the zone is accurate then he could make this one a diamond.