The affiliates went 3-5 on Tuesday with a pair of walk-off wins in the Dominican and Lexington.
HR Roll Call: Raul Mondesi (8), Angel Medina (1)

BPKC Hitter of the Day: Joe Dudek 2-3, R, 2b, RBI, BB
BPKC Pitcher of the Day: Anthony Bender 4 IP, 1 H, 1 R, 0 ER, 1 BB, 6 K, 3-3 GO-FO, 58p/40k
DSL Royals 3, DSL Braves 2
The DSL Royals walked off for another win in the 10th inning.
Each team exchanged solo runs in the third and fifth innings, with the Royals scoring on a wild pitch in the third and on a Felix Familia single in the fifth frame. The two teams were scoreless until the tenth when the teams were provided runners on second base. The Royals worked around the Braves runner in the tenth by earning a double play to get out of the inning scoreless. In their half of the tenth inning, a single pushed runner Reynin Reynoso to third base where he would score on Ismaldo Rodriguez's walk-off single.
Felix Familia 2-5, RBI
Adrian Alcantara 4 IP, 2 H, 0 R, 0 ER, 1 BB, 4 K, 6-0 GO-FO
Ismaldo Rodriguez 1-3, RBI, 2 BB
AZL Padres 7, AZL Royals 6
The AZL Royals fell behind early and came up just short late in a second consecutive loss.
Righty Malcolm Van Buren got back on the mound after Tommy John surgery, but lasted just three batters, walking a pair and giving up a hit before getting tagged for two runs in the inning and getting lifted. The Royals tied it up, but the Padres kept the pressure on, scoring two runs in the fourth and fifth innings before pushing their lead to 7-2 in the seventh.
The Padres gave some back in the Royals half of the seventh, allowing three runs in the inning, two of which came via a passed ball and a wild pitch. The Royals pulled within a run after an RBI single from Cristian Perez but could get no closer when Nick Pratto flew out to end the game.
Nick Pratto 1-5
Esteury Ruiz 1-4 R
Charlie Neuweiler 2.1 IP, 1 H, 2 R, 1 ER, 1 BB, 3 K, 1 HR, 3-0 GO-FO
Burlington Royals 4, Bluefield Blue Jays 2
After winning their first game of the year by completing their suspended game, the Royals added to the win column in game two.
In this one, they received good pitching from three different pitchers with JC Cloney, Tyler Falwell and Kevin Lenik each working three innings, with Falwell allowing the only two runs among the threesome.
In the fourth, Julio Gonzalez created his own offense by walking and stealing a pair of bases before scoring on groundout. Two innings later, Gonzalez scored the second run in the inning, stealing third again to set up a sac fly off the bat of Sebastian Rivero. The Royals scored in the seventh on a passed ball to pad their lead and take home a win despite being outhit 10-6.
Sebastian Rivero 2-3, RBI
Cal Jones 2-5, R, SB
Julio Gonzalez 0-4, 2R, 3 SB, BB
Grand Junction Rockies 14, Idaho Falls Chukars 3
The Rockies pummeled the Chukars pitching staff, connecting on 18 hits and scoring 14 runs in a rout.
The Idaho Falls lineup connected on just six hits of their own, while the Rockies had six extra base hits as part of their 18-hit output. The two teams combined for nine errors in the ugly affair that took three and a half hours to complete.
Andres Sotillet 3.2 IP, 6 H, 4 R, 4 ER, 0 BB, 5 K, HR
Amalani Fukofuka 2-5, R
Darrell Miller 2-5, 2 RBI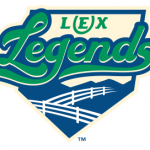 Lexington Legends 6, Columbia Fireflies 5
The Legends gave up a lead in the ninth only to come back and walk it off in their half of the inning.
Starter Andre Davis made it just 2.2 innings after Columbia ran his pitch count up in the third, leaving with one run allowed and six strikeouts before giving way to Anthony Bender. The righthander gave the Legends four quality innings, striking out six with just an unearned run allowed while leaving with the lead.
A pair of walks and an RBI single by Joe Dudek prior to an error that scored another run in the fourth helped Lexington take a 2-1 lead. Catcher Meibrys Viloria quickly expanded the lead to 4-1 with a two-run double on a line drive to right field.
Things were going swimmingly with two outs in the ninth but an ejection and a long drawn out walk off the field may have ruined reliever Matt Wynne's groove. After the ejection, the reliever gave up a single to bring up the leading run to the plate. That run was quickly converted with a three-run home run by Milton Ramos to give Columbia a brief lead.
It was brief because the Legends quickly came back in the home half, getting a Joe Dudek double prior to a run-scoring single by Gabe Cancel. After a sac bunt by Meibrys Viloria pushed Cancel into scoring position, outfielder Yeison Melo connected on a line drive to right that brought home Cancel to walk it off for the Legends.
Yeison Melo 2-4, RBI
Joe Dudek 2-3, R, 2b, RBI, BB
Meibrys Viloria 1-3, 2b, 2 RBI
Frederick Keys 5, Wilmington Blue Rocks 1
Starter Scott Blewett continued to get a few strikeouts, but the Orioles High-A affiliate connected plenty to limit him to just 4.2 innings.
The O's big time hitting prospect Ryan Mountcastle homered in the first inning and doubled in the third ahead of another home run by the Keys. A pair of doubles in the fifth did Blewett in and gave the Frederick a 5-0 lead. All of these extra base hits were sandwiched around eight strikeouts for the big righty. That gives him 20 strikeouts in his last 16.2 innings.
The Wilmington offense was no-hit until two outs in the eighth when Cody Jones singled to break up the no-no. The shutout ended in the ninth when the Rocks scored a run on a double play.
Brandon Downes 1-3, 2b, BB, 1.105 OPS in 15 games
DJ Burt 1-3, BB
Scott Blewett 4.2 IP, 7H, 5 R, 5 ER, 1 BB, 8 K, 2 HR, 3-3 GO-FO, 101p/65k
Colorado Springs Sky Sox 14, Omaha Storm Chasers 6
Colorado Springs Sky Sox 10, Omaha Storm Chasers 2
The Chasers pitching staff continued their struggles in Colorado Springs, giving up 24 runs in just 12 innings of pitching in the doubleheader on Tuesday.
While the Sky Sox were bashing Christian Binford, Seth Manness and Jon Dziedzic for five home runs and 28 hits in the two games, the Chasers offense wasn't doing near the damage. The Omaha offense connected on 15 hits and eight runs total, with Raul Mondesi connecting on the only home run in the two game sweep.
Boxscore Link G1
Boxscore Link G2
Raul Mondesi 2-6, HR, 2 RBI
Jorge Soler 1-3, BB
Ryan O'Hearn 2-7, R, 2 K