If you've been following along with the data revolution that is Statcast, you're aware that they released a new metric on Tuesday.
Sprint Speed is a measurement in terms of "feet per second in a player's fastest one-second window." A full explanation can be found here, but the ft/sec calculation makes sense, given that baseball is a game measured in feet. A runner like Billy Hamilton, who possesses a Sprint Speed of around 30 ft/sec, can go from first to second in about three seconds. It's not like we need a metric for speed. We know who's fast and we know who's slow. But exactly how fast and how an individual measures against his peers? Sure, that's useful.
The data is published on Baseball Savant where you can break it down by team. The data below has highlighted plot points that represents where a Royal player fits according to position. You can also see from the chart the average Sprint Speed is around 27 ft/sec.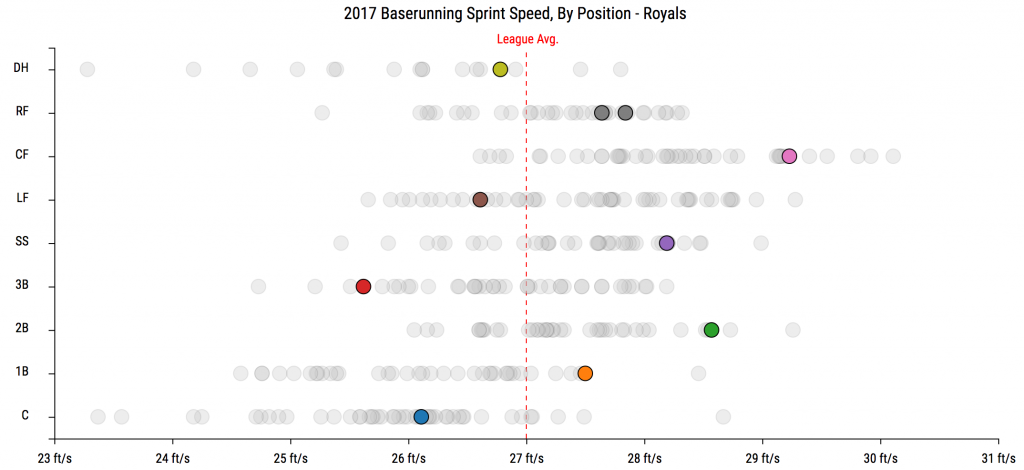 It's a fascinating look at something that has always been valued, especially in Kansas City. Let's look at individual Royals, as ranked by their Sprint Speed.
Lorenzo Cain
Sprint Speed: 29.2 ft/sec
It's no surprise Cain is the fastest man on the Royals. Nor is it a surprise ranks as one of the fastest centerfielders in the game. Cain also owns the third fastest singular sprint speed among outfielders this season. Cain takes the extra base 47 percent of the time. (That metric is from Baseball Reference and is defined as advancing more than one base on a single or two bases on a double.) He's also a perfect 14 for 14 on steals.
Top 2016 Sprint Speed by outfielders:
Billy Hamilton – 29.8 ft/sec
Byron Buxton – 29.7 ft/sec
Lorenzo Cain – 29.1 ft/sec
Paulo Orlando – 29.0 ft/sec
Whit Merrifield
Sprint Speed: 28.6 ft/sec
Merrifield has the third fastest Sprint Speed among second basemen. He had a .360 OBP when Ned Yost shifted him to the leadoff spot where you would think he could take advantage of that speed on the bases. Alas, he's hit just .240/.259/.347 through Monday since taking up residence at the top of the order. But when he's on, he's off to the races. He's tied with Cain in taking the extra base 47 percent of the time.
Alcides Escobar
Sprint Speed: 28.2 ft/sec
This one is a bit of a surprise. As noted before, it seems like he's lost a step ever since Brett Lawrie took him out with a nasty slide at second base early in 2015. Yet here he is, still with a motor that can get him around the bases. Not that Sprint Speed would translate to stolen bases, but despite having the third highest average on the team, Escobar is has only two successful attempts out of four.
Jorge Bonifacio
Sprint Speed: 27.8 ft/sec
Jorge Soler
Sprint Speed: 27.6 ft/sec
The Royals right field tandem puts up a respectable Sprint Speed. If Paulo Orlando had stuck around enough to qualify for the leaderboard, he'd be above those guys. The speed to cover the right half of the outfield is there. Now we just have to make sure they can catch the ball.
Eric Hosmer
Sprint Speed: 27.5 ft/sec
Hosmer is the second fastest first baseman by Sprint Speed, trailing only Wil Myers. He's fast and capable of making some ridiculously boneheaded attempts to take the extra base. He's made three outs on the bases this year (second most on the team to Merrifield's four) and has taken the extra base only 28 percent of the time. He's gone first to third on a single only once in 17 possibilities this year.
Brandon Moss
Sprint Speed: 26.8 ft/sec
Honestly, it's surprising he's had the required 10 measured sprint attempts to qualify. Also, he's the fourth fastest designated hitter in the AL.
Alex Gordon
Sprint Speed: 26.6 ft/sec
Gordon is now below average in this metric and in the lower half of the left field cohort. This is where his awareness in left is paramount to his defensive success. He can cover for the below average speed by running some of the best routes in the league.
Salvador Perez
Sprint Speed: 26.1 ft/sec
Thanks to this metric you can make the case that Perez runs surprisingly well for a catcher. For the season, he's taken the extra base 44 percent of the time. That's more because of a small sample size than anything. He's reached base at a .321 clip, but the batters behind him haven't been especially productive.
Mike Moustakas
Sprint Speed: 25.6 ft/sec
It's not a surprise Cain is the fastest Royal. Nor is it a surprise Moustakas is the slowest. Frankly, it doesn't matter so much given his position and his increased proclivity to hit dingers. He may be sprinting around the bases when he puts one in the fountains. How can we tell?