Omaha Storm Chasers 9 Colorado Springs Sky Sox 6 Boxscore HR Ryan O'Hearn 2 (13)
Colorado Springs Sky Sox 11 Omaha Storm Chasers 0 Boxscore HR None
The Chasers split their weekend games with Colorado Springs, getting a walk-off home run from Ryan O'Hearn on Saturday night. The win for Omaha snapped a six-game losing streak to Colorado Springs. The Sunday game was a lopsided shutout as Christian Binford was forced to go six innings despite allowing five home runs with a depleted bullpen.
NW Arkansas Naturals 6 Corpus Christi Hooks 3 Boxscore HR None
San Antonio Mission 1 NW Arkansas Naturals 0 Boxscore HR None
The Naturals received good starting pitching in both Saturday and Sunday's games, beating the Hooks and losing a close one to San Antonio on Sunday. The Naturals Foster Griffin set a career high with 10 strikeouts over six innings while giving up just five hits and two runs. The offense connected on 11 hits in the game versus the Astros farm club, scoring six runs in the process. Lefty Jake Kalish took a hard luck loss on Sunday despite giving up just one run in six innings. The Naturals were held at bay with 11 strikeouts in this one, keeping zeros on the board despite seven hits.
Wilmington Blue Rocks 8 Salem Red Sox 3 Boxscore HR Chris DeVito (16)
Wilmington Blue Rocks 2 Salem Red Sox 0 Boxscore HR Brandon Downes 2 (8)
The Rocks won their two games this weekend with possibly the two best pitching performances they have seen in the last 15 seasons. In Saturday's game, Andres Machado put down 14 Salem hitters with strikeouts, getting 20 swings and misses in seven innings to set a Wilmington Blue Rocks record for strikeouts by a starter pitcher. It was a well balanced offensive effort, too, with the team connecting on 12 hits, walking seven times and scoring eight runs with Chris DeVito driving in four runs. The Sunday game featured more spectacular pitching with Scott Blewett pitching the Rocks first complete game shutout in nearly 15 years, outdueling a Salem starter who gave up just two Brandon Downes solo home runs during the game. For Downes, it was his seventh and eighth home runs of the year in just 19 games played.

Greenville Drive 5 Lexington Legends 2 Boxscore HR Joe Dudek (3)
Lexington Legends 8 Greenville Drive 4 Boxscore HR Gabe Cancel (8)
The Legends banged out 14 hits and eight runs with a pair of walks on Sunday to secure at least a split series in Greenville. Seven different hitters reached base two times or more with Gabe Cancel scoring three times, hitting his eighth home run of the year in the process. Starter Jace Vines lost his second straight decision, walking four while earning just one strikeout in his Saturday start. The Legends offense had plenty of baserunners with nine hits but went just 2 for 10 with runners in scoring position in the loss.
Princeton Rays 5 Burlington Royals 4 Boxscore HR Dennicher Carrasco (3), Seuly Matias (1)
Burlington Royals 11 Princeton Rays 7 Boxscore HR Sebastian Rivero (1)
The Royals split a pair of games with the Rays rookie squad. In Saturday's game, Seuly Matias homered and the club took a lead in the 10th inning only to have their bullpen give up a pair of runs to drop the game. There was no blown save in the Sunday game when the offense blew open a 7-7 game with four runs in the ninth with five singles and an error by the Princeton defense. Catcher Sebastian Rivero hit his first professional home run in the win for the Royals.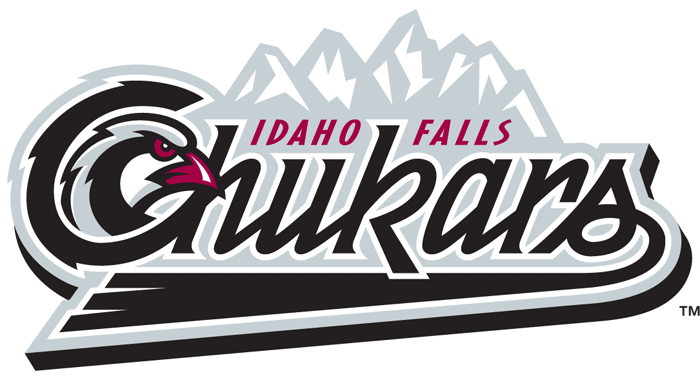 Idaho Falls Chukars 7 Ogden Raptors 0 Boxscore HR Chris Hudgins (1)
Ogden Raptors 6 Idaho Falls Chukars 5 Boxscore HR None
A mix of pitching over the weekend for the Chukars led to their 1-1 record. In Saturday's starter, Janser Lara was spectacular in his first start of the season, striking out eight hitters while working around four singles and a pair of walks in his six innings. The Dominican righty who can reach 99 mph hit the zone with 61 of 95 pitches while eliciting four groundouts, earning the win with 12 hits and seven runs by the offense including a home run in Chris Hudgins second game as a member of the organization. The Sunday game wasn't quite as good with starter Andres Sotillet getting knocked around for 11 hits and six runs in just two and two-third innings. The Chukars got a pair of doubles in a three-run ninth to pull within a run but the tying run was left stranded at second in the loss.
AZL Royals 3 AZL D-Back 2 Boxscore HR Esteury Ruiz (2)
AZL Royals 12 AZL Mariners 9 Boxscore HR None 
The Royals got good pitching on Saturday with four different pitchers tossing scoreless innings and a ninth inning run. The Royals run came without a hit, getting a walk from Brady Cox, pushing him to third with a sacrifice bunt and a rbi groundout by Cristian Perez. In Sunday's game, starter Josh Mitchell was knocked around in his two innings for nine runs (8 ER) on 10 hits in just two innings, putting the Royals into a 9-3 hole. The bullpen put the M's on ice for the last seven innings and the lineup mounted a huge comeback. The first two draft picks in the class, MJ Melendez and Nick Pratto each had multi-hit games while Esteury Ruiz continued with his hot bat with a pair of hits and a couple RBI in the win.