The dominoes finally tumbled.
With Atlanta announcing Alex Anthopoulos as their new general manager, both the Braves and the Royals can now move forward with their offseason plans. In Anthopoulos, the Braves get a young general manager who engineered a successful rebuild in Toronto and worked the last couple of years in the Dodgers front office. Meanwhile, the Royals will maintain their status quo as Moore begins to kickstart The Process all over again.
Questions still linger in Kansas City, specifically about the Glass family plan of succession, but clearly the move to prevent Moore from talking to the Braves wasn't a negotiating ploy. It was strictly business.
Dayton Moore said he was at peace with how the Atlanta process unfolded: "I simply left that in Mr. Glass's hands," he said." If he wanted to grant permission, then that would signal to me that he didn't want me here. If he denied permission, that would tell me he wants me here."

— Rustin Dodd (@rustindodd) November 13, 2017
A little weird that Moore is having to read the tea leaves on what it meant when Glass didn't give permission for his GM to talk to Atlanta. Maybe they should have a face to face meeting to clear the air.
One thing we did learn from this dance is that Moore is under contract until 2020. According to Ken Rosenthal at The Athletic, Moore wanted to explore the possibility of the Atlanta job. (Subscription required.) Faced with the prospect of either JJ Picollo or Scott Sharp taking charge of the front office, Glass opted for the status quo. This all became a bit of a soap opera over the last month and a half.
Moving on, there was plenty of front office housekeeping from the first day of the General Manager's meetings in Orlando. Despite reports the Royals would like to bring back both Eric Hosmer and Mike Moustakas, Moore doesn't sound bullish on that option.
The Royals, in other words, remain in wait-and-see mode with Hosmer and some of their other free agents. "The truth of the matter," Dayton Moore said, "is it wouldn't surprise me if some of our players received offers that are beyond our level."

— Rustin Dodd (@rustindodd) November 13, 2017
That's the reality. This isn't Alex Gordon 2.0. There will be multiple suitors for both Hosmer and Moustakas and that will likely drive the bidding out of the Royals comfort zone. Hell, the Red Sox alone could drive the Royals out of their comfort zone for Hosmer. The Angels the same for Moustakas. And let's never, ever forget The Mystery Team.
It makes a lot of sense for the Royals to regroup, collect the draft picks and the budget that goes along with it, and start the process of rebuilding. Tanking isn't something that's ever going to work in Kansas City. The scars are too real. But mistakes since the World Series title have put the Royals in a dire position for the next couple of seasons. It's going to be grim, but the sooner the Royals face reality, the faster this can happen.
And now it sounds like Moore will be around for the next rebuild. It's time to break out this gem from before the 2011 season:
If you make enough good decisions, three-year plans turn into two-year plans and five-year plans turn into three-year plans. If you make bad decisions, 10-year plans turn into no plan.
Ned Yost may have just a year left on his contract, and it's uncertain how much longer he will manage the Royals beyond 2018, but it sounds like he's fortunate to be managing whomever is wearing the Royal blue next summer. He spoke to reporters by phone on Monday and recounted the moments after he fell from a tree stand on his property near Atlanta. Apparently, the mortality rate for such accidents runs around 25 percent.
Yost had his cell phone with him, called his wife, who phoned 911 to get the emergency response to the field. Yost was airlifted to a local hospital where it was touch and go while he was in surgery.
He'll be in a wheelchair for the next couple of months, but expects to have full mobility by the start of spring training. This is serious business. Yost is truly fortunate he's still around. Then again, this is the man who returned to the field less than a day after having his gall bladder removed. Still, this could have been a tragic story.
Then again, Yost has always been kind of a badass.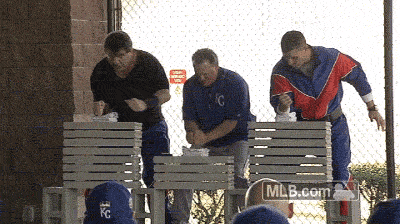 Here's to a speedy recovery.
Meanwhile, the Royals announced on Monday that Mike Groopman, Baseball Prospectus alum and head of the Kansas City analytics department, has moved on to Milwaukee to go to work for the Brewers. He will work in international scouting.
We've said it a number of times, but it always seems worth repeating: The Royals really bulked up their internal analytics department just ahead of their championship run. We've held three BP Nights at Kauffman Stadium, and each year it seemed like they had just doubled the staff. The team is always super secret about what they actually do, so the Q and A sessions ran a little dry at times, but Groopman was there from the beginning, seemingly building the entire department.
If there's any consolation in his move, it's that there are a number of very bright and dedicated individuals still in the department. The smart money has John Williams or Daniel Mack assuming the leadership role.