The Royals have a bit of an accounting problem on their hands.
#Royals GM Dayton Moore told KC radio station in November that payroll would be in $110M-$120M range. Sources now indicate number will be no more than $110M. Only way Hosmer fits is if #Royals trim in other areas. KC listening on everyone, getting significant interest in Duffy.

— Ken Rosenthal (@Ken_Rosenthal) December 13, 2017
Sure, the above Tweet is old news, fired across the interwebs during the boredom of the Winter Meetings. Doesn't make it any less relevant, though.
Let's discuss.
The Royals have 11 players under contract for the upcoming season. They are paying another to not play for them. (And the Padres as well, it seems.)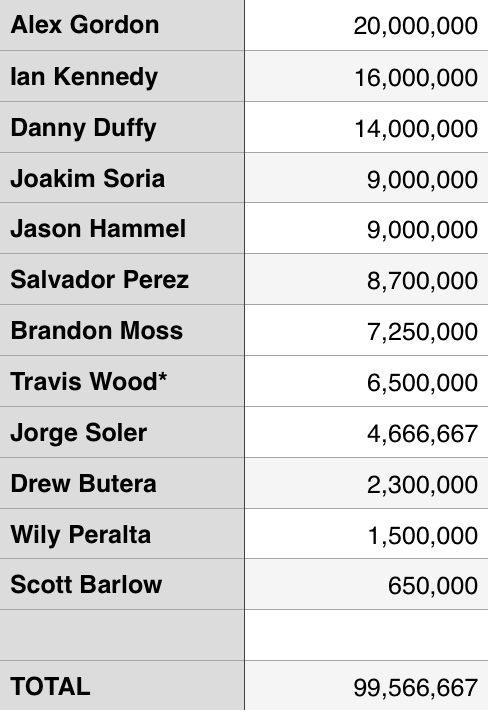 With less than 50 percent of their team signed for 2018, their payroll is approaching $100 million. That leaves, if the reports on the budget are accurate… $10 million for the remaining 14 players.
Whoops.
Contracts, like elections, matter. Look, there will be misses, especially on the free agent market. The Alex Gordon contract felt like it had the potential to hurt the last two years of the deal, which would be happening around this time. Instead, the Royals have already paid for a pair of negative WARP seasons totaling -0.9 WARP overall. And that's factoring in superior defense in left. You can't win them all.
It's not especially interesting to relitigate the Ian Kennedy signing, but damn, is that a poor piece of business. A ballooning home run rate coupled with a decline in strikeouts for a starting pitcher entering his age-33 season. And let's not forget the forfeiture of a draft pick when the Royals decided they just had to sign a pitcher with a qualifying offer strung around his right arm.
Gordon and Kennedy get the spotlight because they are positioned to be the largest earners for the Royals next season. They are also, thanks to age and ability and cost, two who will be very difficult to move off this roster no matter how committed to a rebuild the Royals are. And if the budget is at $110 million, they represent 33 percent of payroll.
My god.
The fact is, you could perform this exercise down almost the entire roster that's currently promised cash from the Royals. Joakim Soria is present to reinforce the fact that teams with limited resources should rarely, if ever, splurge for a free agent relief arm. Travis Wood isn't included among the 11 on the roster because he's sitting at home waiting for a team to call because there are now two teams who have decided he's not worth the bother. The Royals are paying all of his 2018 salary at $6.5 million. Drew Butera has nice hair, but $2.3 million for a backup catcher is a luxury a team like the Royals can ill afford.
No general manager has a perfect record when it comes to contracts. Some have a little more leniency and ability to recover from mistakes than others. The Royals roster looks like when you come home from that business trip where you ate steak and lobster for days while throwing back glasses of premium Scotch, only to realize your expense account is capped at $40 per meal. Hey, big spender…austerity bites.
Whoa. We haven't even talked about the three pitchers eligible for arbitration. Let's fold them into this payroll with their estimates from Major League Trade Rumors.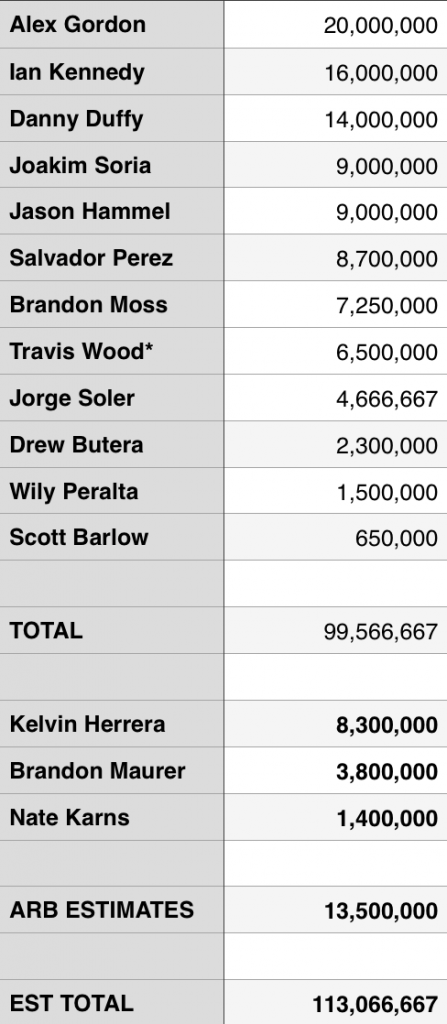 We went ahead and broke the damn bank.
Just over $113 million for 14 players. That puts the Royals above the Rosenthal Budget with 11 spots remaining. Major league minimum in 2018 is set at $545,000. So throw another $6 million or so into the fire for the under three years of service time crew and the Royals are clocking in right around $120 million.
And that's before re-signing Eric Hosmer.
This feels like a good place to note that GMDM has pledged austerity in one form or another since the parade ended at Union Station. And both times he blew past the previously (loosely) stated budget. So things are fluid. Opportunities arise. Stuff happens.
But as Mick says, you can't always get what you want.
See where this is heading? There really isn't any way the Royals can have their Hosmer and keep payroll around $110 million. Sure, there are movable contracts on the ledger. As mentioned in this space, Danny Duffy and Salvador Perez are a couple of players who are affordable for the right team, would net a nice prospect haul and kickstart the rebuilding process. But does jettisoning a pair of productive players on decent contracts so you can fit Hosmer on the roster make any kind of sense? One can start to see the pushback on the "Hosmer as a leader" theme pushed by the general baseball media. Sure, he may be a leader in Kansas City, but that doesn't necessarily translate across organizations. Hosmer is a Royal. He came up with his crew and they put in the work together to get to the promised land. Relationships forged on buses in the Texas League matter when everyone is kept together for the long haul. How does that translate when it's a new guy dropped into the middle of a different clubhouse?
The Royals are like the guy driving the Ford Taurus who stops in at the BMW dealership. Dream all you want, but your fiscal situation will only let you kick the tires. It's going to take time, planning and a few breaks to get to where you want to be. It's going to be difficult, no matter the path. But it's extremely difficult to see Hosmer back in Kansas City and the Royals trimming payroll. Wish upon a free agent star all you like, sometimes reality is a different matter altogether.